All eight people rescued from cable car dangling above valley in Pakistan
4 min read
All eight people have been rescued from a stricken cable car high above a remote Pakistan valley, a spokesperson for the state-run emergency services said.
Pakistani authorities said army commandos, with the help of civilians, made the final rescues after an operation lasting hours. Floodlights were installed and a ground-based operation reached the remaining three people late on Tuesday more than 12 hours after their cable car snagged, leaving it hanging precariously at an angle.
A helicopter had earlier plucked two children to safety before darkness. High winds meant the air rescue had to be called off. Rescuers used the cable keeping the gondola from plunging into the valley as a zip line to rescue three more children.
Relatives of those trapped prayed while watching the operation and anxious crowds gathered on both sides of the ravine, which is in a mountainous area of Battagram, about 125 miles (200km) north of Islamabad.
"The rescue operation has been completed," said Bilal Faizi, a spokesperson for the Pakistan emergency service Rescue 1122. "The two adults were the last to be rescued."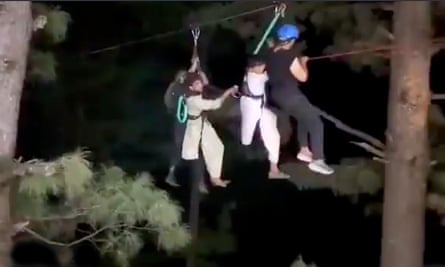 Pakistan's interior minister, Sarfraz Bugti, tweeted: "Thankful to Allah that the rescue process at Battagram has successfully concluded. All appreciation for our valiant armed forces personnel, administration and locals for their selflessness and determination in carrying out this complex operation."
Anwaar-ul-Haq Kakar, Pakistan's caretaker prime minister, said: "Relieved to know that, Alhamdulillah [praise be to God], all the kids have been successfully and safely rescued. Great teamwork by the military, rescue departments, district administration as well as the local people."
Umar Mohammed Khan, deputy commissioner of the rescue mission, denied earlier reports that a teacher was on board the cable car, as well as the claim of two adults being present. "We have rescued all seven children [and] a 21-year-old man," he told the Guardian. "We have done the medical checkup of all children as well and they are medically fit. We have handed them over to their parents. A local was with seven children in the cable and he was not a teacher."
The children had been on their way to school when the chairlift broke down at about 7am (0200 GMT) midway through its journey, above the valley. Local people used mosque loudspeakers to alert neighbourhood officials of the emergency.https://interactive.guim.co.uk/uploader/embed/2023/08/archive-zip/giv-13425V58G3FNS0Jbl/
Several military helicopters had earlier in the day flown sorties and an airman was lowered by a harness to deliver food, water and medicine. Tanveer Ur Rehman, a local government official, told Agence France-Presse. "This is a delicate operation that demands meticulous accuracy. The helicopter cannot approach the chairlift closely, as its downwash [air pressure] might snap the sole chain supporting it," he said.
A video of the first rescue showed a child strapped into a harness swinging from underneath a helicopter as crowds cheered in the background.
Commandos could be seen on local TV trying to lower themselves on ropes from the helicopters to the cable car. An expert confirmed that the rescue was delicate because the wind created by the helicopters' blades could further weaken cables holding the car aloft.
"For God's sake, help us," Gulfraz, the adult who was stuck in the cable car, had earlier begged on the Pakistan television channel Geo News by phone.
Ali Asghar Khan, the school's headteacher, told AFP by phone that the children were teenage boys studying at his government high school, Battangi Pashto.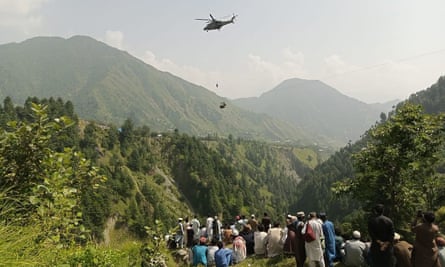 "The school is located in a mountainous area and there are no safe crossings, so it's common to use the chairlift," Khan said. "The parents are gathered at the site of the chairlift. What can they do? They are waiting for the rescue officials to get their children out. We are all worried."
People who live in the northern mountainous regions of Pakistan often use chairlifts for transport from one village to another.
The rescue effort has transfixed Pakistan, with people crowded around television sets as local media showed footage of an emergency worker dangling from a helicopter cable close to the small cabin, with those on board cramped together.
According to Pakistani TV stations, some of those trapped were in contact with their families by mobile phone.Cable cars that carry passengers, and sometimes even cars, are common across the northern areas of Khyber Pakhtunkhwa province and Gilgit-Baltistan, and are vital in connecting villages and towns in areas where roads cannot be built.
In 2017, 10 people were killed when a chairlift cable broke sending passengers plunging into a ravine in a mountain hamlet near the capital, Islamabad.