Biden press chief violated Hatch Act with 'mega Maga' remark – watchdog
3 min read
White House press secretary Karine Jean-Pierre violated the Hatch Act by referring to "mega Maga Republicans" before last year's midterm elections, an official watchdog said.
In a letter first reported by NBC News and confirmed by other outlets, the Office of Special Counsel (OSC) said: "Because Ms Jean‐Pierre made the statements while acting in her official capacity, she violated the Hatch Act prohibition against using her official authority or influence for the purpose of interfering with or affecting the result of an election."
According to the OSC, the Hatch Act, passed in 1939, "​​​​​​​​​​​​​​​​​limits certain political activities of federal employees".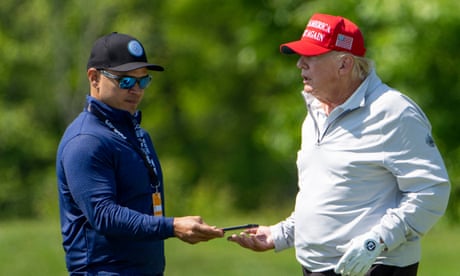 The act is meant to "ensure that federal programs are administered in a nonpartisan fashion, to protect federal employees from political coercion in the workplace, and to ensure that federal employees are advanced based on merit and not based on political affiliation".
The Hatch Act was often in the news during the administration of Donald Trump.
In November 2021, a year after Trump left power, the OSC said at least 13 Trump officials intentionally violated the act, not least in connection with a 2020 Republican convention held on White House grounds.
Officials named included Mike Pompeo, the secretary of state; Mark Meadows, Trump's chief of staff; Kellyanne Conway, a senior White House counselor; Jared Kushner, a senior adviser to Trump, his father-in-law; Kayleigh McEnany, the press secretary; and Stephen Miller, a senior speechwriter and adviser.
The OSC report said: "The cumulative effect of these repeated and public violations was to undermine public confidence in the nonpartisan operation of government."
The Trump White House ignored Hatch Act violations. In June 2019, for example, an OSC recommendation that Conway be fired over repeated Hatch Act violations did not lead to further action.
In November 2021, the OSC said "such flagrant and unpunished violations erode the principal foundation of our democratic system – the rule of law".
Regarding that OSC report, the Washington Post noted the existence of "a two-tiered system of consequences" the OSC having "fined and in some cases fired hundreds of career employees for violations during the four years when Trump was in office".
In the case of Jean-Pierre, the OSC said the press secretary violated the Hatch Act at a briefing on 2 November 2022, in referring to "mega Maga Republican officials who don't believe in the rule of law" and in references to Republican candidates for office.
A conservative watchdog group complained.
The OSC did not recommend disciplinary action against Jean-Pierre.
Its letter said: "Although we have concluded that Ms Jean‐Pierre violated the Hatch Act, we have decided to close this matter without further action.
"We note, in particular, that the White House Counsel's Office did not at the time believe that Ms Jean‐Pierre's remarks were prohibited by the Hatch Act, and it is unclear whether OSC's contrary analysis regarding the use of 'Maga Republicans' was ever conveyed to Ms Jean‐Pierre.
"We have advised Ms Jean‐Pierre that should she again engage in prohibited political activity, OSC would consider it a knowing and willful violation of the law that could result in OSC pursuing disciplinary action."
A White House spokesperson told NBC: "As has been made clear throughout the administration, we take the law seriously and uphold the Hatch Act. We are reviewing this opinion."