Bordeaux town hall has been set on fire as French protests continued over plans to raise the pension age.
More than a million people took to the streets across France on Thursday, with 119,000 in Paris, according to figures from the interior ministry.
Police fired tear gas at protesters in the capital and 80 people were arrested across the country.
The demonstrations were sparked by legislation raising the retirement age by two years to 64.
Fire engulfed the front door of the town hall in the southwest city of Bordeaux on Thursday evening after a day of protests and clashes.
It was not clear who was responsible for the blaze, which was quickly put out by firefighters.
In Paris, generally peaceful demonstrations saw occasional police clashes with masked rioters who smashed shop windows, demolished street furniture and attacked a McDonald's restaurant, according to Reuters news agency.
One police officer who lost consciousness was dragged to safety by fellow officers.
Police used tear gas and were pelted by objects and fireworks, AP news agency reported, with 33 people arrested in the capital.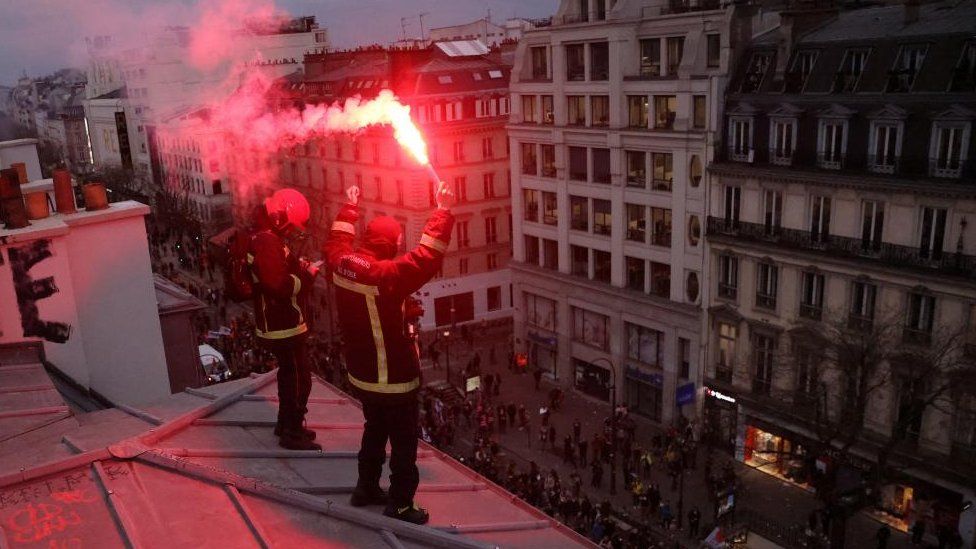 "I oppose this reform and I really oppose the fact that democracy no longer means anything," a demonstrator told Reuters. "We're not being represented, and so we're fed up."
"It is by protesting that we will be able to make ourselves heard because all the other ways… have not allowed us to withdraw this reform," another told AFP news agency.
The protests also disrupted train travel, oil refineries and saw teachers and workers at Paris's Charles de Gaulle Airport walk out of work.
In the northern city of Rouen a young woman was seen lying on the ground after sustaining a serious injury to her hand. Witnesses said she lost her thumb after she was hit by a so-called "flash-ball" grenade fired by police to disperse demonstrators.
There were other clashes in the western cities of Nantes, Rennes and Lorient.
"The street has a legitimacy in France," said a protester in Nantes. "If Mr Macron can't remember this historic reality, I don't know what he is doing here".
Unions and the political left have deemed the day a success, but where the situation goes from here is an open question.
The government is banking on there being a certain loss of momentum. It will also be hoping the bursts of violence on the streets will turn people away from the protests.
The opposition promises that the protests will not dwindle, but unions will need to devise a strategy going forward, rather than promising more days like Thursday.
https://emp.bbc.com/emp/SMPj/2.47.3/iframe.htmlMedia caption,
Watch: Rubbish and e-scooters set on fire in France pension protests
Since January, there have been nine days of protest and French unions have called for a tenth next Tuesday. This would involve further strikes and coincide with the last full day of King Charles III's state visit to the country, with Bordeaux included in the itinerary.
Parisian garbage collectors, who started their strike against the pension reform on 6 March, have renewed it until next Monday.
The unrest follows the government's decision to force the legislation to raise the pension age through the lower house of parliament – where it lacks an absolute majority – without a vote.
French President Emmanuel Macron defended the move, saying the reform is a necessity.
France's prime minister, Élisabeth Borne, has said the changes are essential to prevent a major deficit in the system in the future.