China has finished simulating "sealing off" Taiwan for three days of drills as it appeared to use an aircraft carrier to launch jets towards the island.
Taiwan said it had detected jets to its east, while China said its Shandong aircraft carrier had taken part.
Beijing began the exercises on Saturday after Taiwan President Tsai Ing-wen met the US House Speaker in California.
The drills have not been as big as those that followed Nancy Pelosi's visit to Taipei last August.
Taiwan considers itself a sovereign state. China sees it as a breakaway province that will eventually be brought under Beijing's control – by force, if necessary.
On Monday, China said its drills had ended successfully. Taiwan had earlier said it had spotted another 70 warplanes and 11 ships in its surrounding waters.
A map of flight paths released by Taiwan's defence ministry showed four J-15 fighter jets to the island's east – suggesting that the Chinese military is for the first time simulating strikes from the east, rather than the west where China's mainland lies.
Analysts said it was likely the jets had come from China's Shandong aircraft carrier – one of two such carriers it possesses – which is currently deployed in the western Pacific ocean, about 320km (200 miles) from Taiwan.
The Chinese military confirmed on Monday in a statement that the Shandong had "participated" in Monday's exercises. It said fighter planes loaded with live ammunition had "carried out multiple waves of simulated strikes on important targets".
Japan's defence ministry said on Monday that the Shandong had also conducted air operations in the preceding days.
Jet fighters and helicopters took off and landed on the carrier 120 times between Friday and Sunday, the Japanese ministry said.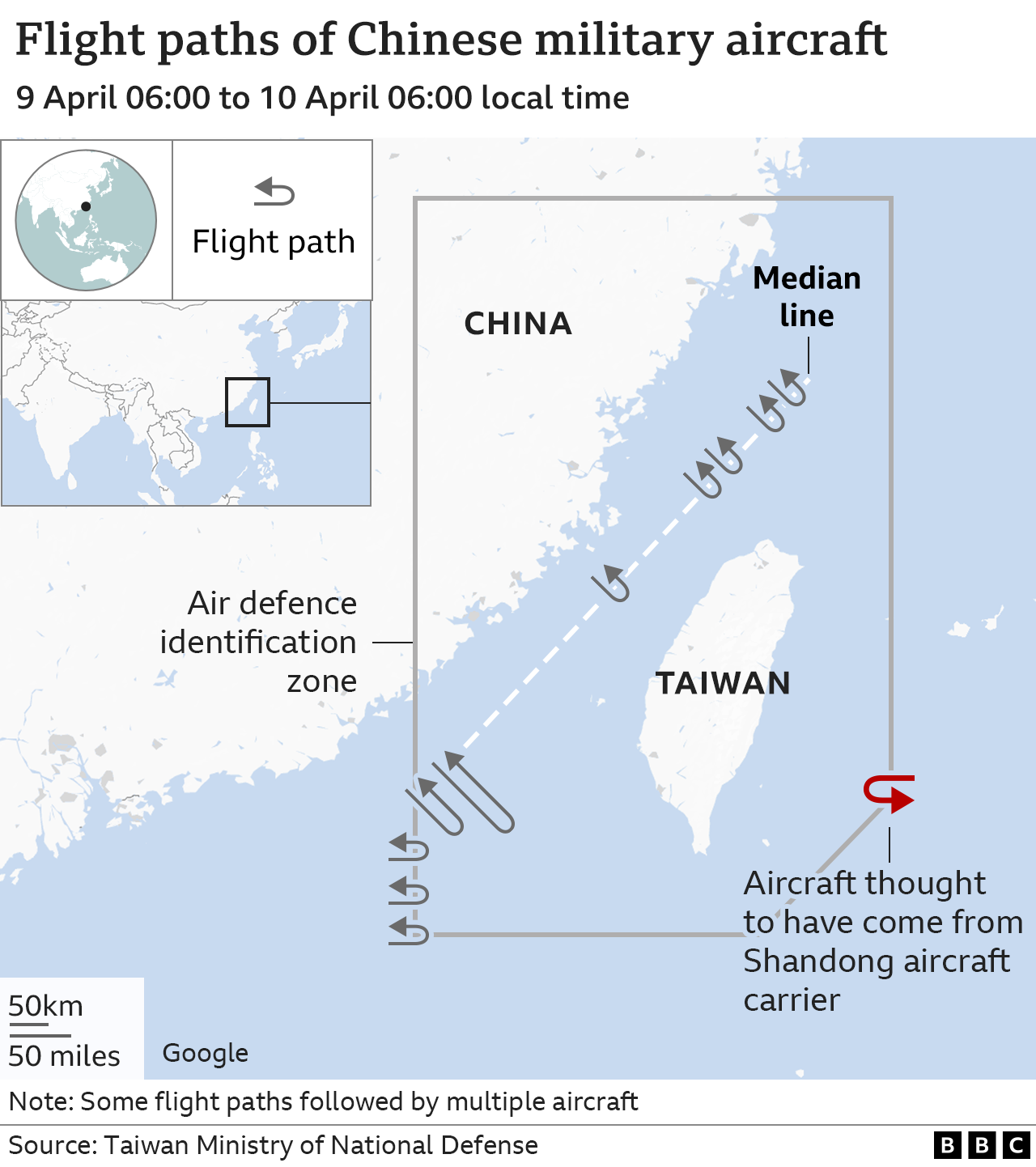 Also on Monday the US sent the USS Milius, a guided-missile destroyer, through part of the South China Sea about 1,300km (800 miles) south of Taiwan.
China said the ship had "illegally intruded" into its waters, while the US maintained the operation was consistent with international law.
Washington had repeatedly called for China to exercise restraint following President Tsai's meeting with Kevin McCarthy, the third most senior US government figure. Beijing, meanwhile, had warned the US and Taiwan of "resolute counter-measures" if Ms Tsai met Mr McCarthy.
China announced the drills after top foreign leaders whom it was hosting – including French President Emmanuel Macron and European Commission President Ursula von der Leyen – left the country.
Mr Macron later urged Europe not to get dragged into a confrontation between Washington and Beijing over Taiwan, in remarks that have attracted some criticism.
On his flight out of China, he told reporters that Europe risked getting "caught up in crises that are not ours" and this would make it harder to build "strategic autonomy".
China's drills began on Saturday after Ms Tsai had returned from her 10-day trip to the US and Central America.
Ms Pelosi's high-profile visit to Taiwan last August, while she was the US House of Representatives Speaker, was followed by four days of unprecedented military drills, which saw China fire ballistic missiles into the seas around Taiwan. Ms Pelosi was the highest-ranking US official to land in Taiwan since the 1990s.
However, some analysts say such military exercises may have diminishing impact over time.
"To maintain the same fear factor, [China will] have to ramp it up bigger and bigger each time as their actions will have a normalising effect after a while," said Ian Chong, a non-resident scholar at Carnegie China.
Taiwan's status has been ambiguous since 1949, when the Chinese Civil War turned in favour of the Chinese Communist Party and the country's old ruling government retreated to the island.
China's President Xi Jinping has said "reunification" with Taiwan "must be fulfilled".