'Countries are drowning': climate expert calls for urgent rethink on scale of aid for developing world
4 min read
The world must rethink its approach to the climate crisis, by investing trillions of dollars instead of billions in the developing world, and moving beyond conventional ideas of overseas aid, one of the world's most influential climate economists has urged.
"We need a complete rethink of the whole nexus of climate, debt and development," Avinash Persaud told the Observer, before a key summit. "What we are seeing today is new – countries affected by climate disaster, this is happening now. Countries are drowning."
He called for a tripling of the finance available from the World Bank and similar institutions, and a huge influx of cash from the private sector, driven by the careful use of public funds and regulation to remove the current barriers to investment. "This is the biggest financial opportunity in the world," he said.
Persaud is economic adviser to Mia Mottley, the prime minister of Barbados, who is co-hosting a meeting of world leaders this week with French president Emmanuel Macron. More than 50 heads of state and government are expected to attend the summit in Paris this Thursday and Friday, including Lula da Silva of Brazil, Germany's Olaf Scholtz and the Chinese premier Li Qiang.
Rishi Sunak is likely to snub the conference. Joe Biden is sending his climate envoy, John Kerry.
In Paris, Mottley and Persaud will set out the "Bridgetown agenda", named after the Barbados capital where it was first mooted last year. They will call for debt relief for some of the poorest nations facing climate catastrophe, a tripling of funding from the world's multilateral development banks, including the World Bank, and new taxes to fund climate action, including, potentially, a levy on shipping.
They will also call for reforms to the way the World Bank, International Monetary Fund and other institutions operate, to make it easier for them to "de-risk" private sector investment in developing countries, such as by providing guarantees or long-term loans.
"The private sector has to be involved," Persaud said. "The numbers needed would swamp developing countries' balance sheets, but private companies can do it."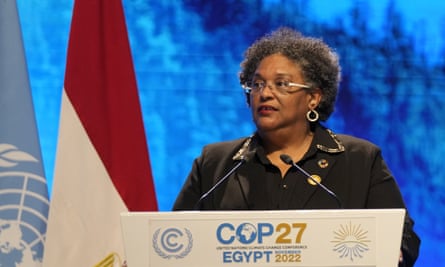 Persaud values pragmatism above ideals, and above traditional economic thinking. "If you ask economists for ideas, they will come up with an infinite number of ideas that are clever, elegant – and completely impractical," he said.
Many approaches have been tried or discussed, he points out: insurance for countries at risk of climate disaster; raising money from carbon offsets; green and blue bonds. "None of these is the answer," he said.
Some of the cherished ideals of many campaigners will also have to be sacrificed, he warns. NGOs rail against the use of loans for climate finance, saying non-repayable grants should be given instead, but Persaud finds this unlikely.
Conventional overseas aid will also never be enough, Persaud added. "These sums are far too big, we need to think beyond that."
Work by the distinguished UK economist Nicholas Stern, and Vera Songwe, last year found that about $2tn a year would be needed to transform the economies of developing countries to cut emissions and enable them to deal with the effects of extreme weather. While this sum seems large, it is not much greater than the investment that is currently poured into fossil fuels and high-carbon infrastructure.
Persaud breaks this down further, estimating that about $1.4tn a year will be needed from mainly the private sector, for the green transformation of poor countries; about $300bn will be needed to help them adapt to the effects of the climate crisis; and about $100bn a year must go to "loss and damage", which is the rescue of countries stricken by climate catastrophe.
Calls for reform of the World Bank, to enable it to deal with devastating effects of the climate crisis on poor countries, have intensified in the past year. The former president, Trump appointee David Malpass, resigned earlier this year after struggling to defend his apparent climate sceptic views, and his replacement Ajay Banga, a former banker, is thought to be amenable to change.
Persaud contrasted the treatment of developing countries today with the terms that were agreed by the World Bank in its early days for the reconstruction of Europe after the second world war. "Germany was told its debt repayments would never exceed 3.5% of its exports," he said. "Those are terms the developing world would love to see today."