Delegation from west African bloc meets Niger's ousted president
3 min read
A delegation from west Africa's economic bloc has arrived in Niger and met the ousted president on Saturday, as it sought a peaceful solution after army officers seized power in a coup.
Mohamed Bazoum was "in good spirits", a source close to the Economic Community of West African States (Ecowas) told AFP – though he remained under detention and his electricity was still cut off.
He has been held with his family at the president's official residence since the coup, as international concern about his conditions in detention increases.
The Ecowas delegation was also in Niger for talks with the officers who seized power from Bazoum on 26 July.
Led by the former Nigerian leader Abdulsalami Abubakar, the Ecowas representatives met some of the senior officers who seized power, said the source, without saying whether they included coup leader General Abdourahamane Tchiani. An Ecowas delegation led by Abubakar earlier this month had tried and failed to meet him and Bazoum.
On Saturday, Tchiani said Niger did not want a war and remained open to dialogue, but that it would defend itself if Ecowas tried to restore democracy by force.
"Our ambition is not to confiscate power," he said in a televised address. Any transition of power "would not go beyond three years", he said. But he added: "If an attack were to be undertaken against us, it will not be the walk in the park some people seem to think."
Saturday's visit came after Ecowas military chiefs announced that they were ready to intervene to reinstate the ousted president.
Ecowas has agreed to activate a "standby force" as a last resort to restore democracy in Niger. But it says it favours dialogue to defuse the crisis. A source close to Saturday's delegation said it would send "a message of firmness" to the army officers and meet Bazoum.
The Ecowas chair and Nigerian president, Bola Tinubu, on Friday threatened Niamey with "grave consequences" if the regime allowed Bazoum's health to worsen, an EU official said.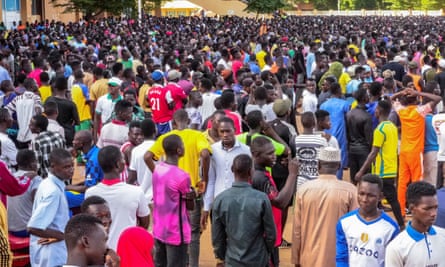 Niger's military-appointed prime minister, Ali Mahaman Lamine Zeine, told the New York Times that Bazoum would not be harmed.
"Nothing will happen to him, because we don't have a tradition of violence in Niger," the most senior civilian in the new regime told the daily.
Niger's new rulers have so far shown little flexibility and warned against an "illegal aggression".
Thousands of volunteers turned out in central Niamey on Saturday, answering a call to register as civilian auxiliaries who could be mobilised to support the army.
Ecowas defence chiefs had met this week in the Ghanaian capital Accra to fine-tune details of a potential military operation to restore Bazoum if negotiations with coup leaders fail.
"We are ready to go any time the order is given," Abdel-Fatau Musah, an Ecowas commissioner for political affairs and security, said on Friday after the military chiefs' meeting. "The D-day is also decided.