Democracy on the line in Thailand as parliament to vote on new PM
4 min read
hailand's parliament will gather for a high-stakes vote on Thursday that will determine whether the leader of the country's most popular and progressive party can take power after almost a decade of rule by the former army chief Prayuth Chan-ocha.
The Move Forward party, which has promised major changes to the economy and Thailand's power structures, shocked opponents by winning the most seats in May's election.
The party faces various hurdles, however, including a parliamentary vote and a legal case accusing its leader, Pita Limjaroenrat, of breaching election rules by owning shares in a media company, which he denies.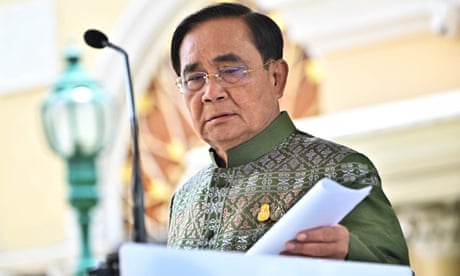 On Wednesday, the election commission referred the case to the constitutional court, recommending Pita be suspended as an MP – though even if this happens he is still eligible to run for prime minister. Pita has denied any wrongdoing and Move Forward said in a statement the decision to refer the case to the constitutional court had been rushed, with its leader not given an opportunity to respond.
Later in the day, the constitutional court said it had also accepted a second complaint against Pita and his party that said its plan to reform the strict lese-majesty law that shields the monarchy from criticism amounted to an attempt "to overthrow the democratic regime of government with the king as a head of state".
If Move Forward were to take power, it would mark a dramatic turnaround for Thailand, which has been ruled by Prayuth, a staunch royalist and conservative, since he took power in a 2014 coup. He was re-elected in 2019.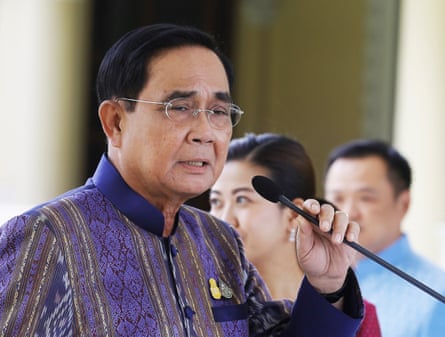 On Tuesday, Prayuth said he would retire from politics but would remain as caretaker prime minister until a new government was formed. But while he may be stepping back, analysts say the undemocratic structures introduced under his rule remain in place.
Under Thailand's election laws, Pita will need to win majority support from the 500 elected MPs in the lower house and the 250 members of the Senate. The Senate members were appointed by the military after the last coup, and it is unclear if they will back Pita, despite his party coming first in May's election.
If Pita fails to get enough votes in parliament, that could result in political deadlock and demonstrations by supporters.
After the election commission announcement recommending his suspension, there were signs of possible protests, with activists in several areas, including Bangkok, Chiang Mai, Lampang, Korat, Surin and Ubon Ratchathani, saying on social media that they would gather.
'Vote for democracy'
Pita, who has said he is confident he has enough support, has formed a coalition with other opposition parties that will grant him 312 votes. This means he needs at least 64 votes from either senators or MPs outside his coalition in order to become prime minister.
The big sticking point is Move Forward's promise to reform Thailand's lese-majesty law, under which criticism of the monarchy can lead to up to 15 years in prison. The law has been used against more than 250 people, including children, since 2020, when mass youth-led protests erupted against the long-held notion that the monarchy must be revered and not questioned.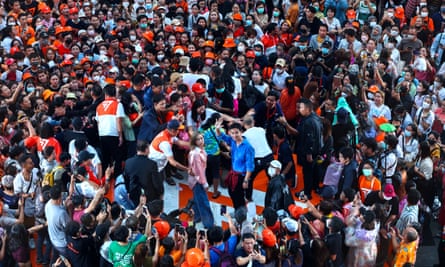 One senator, Seree Suwanpanont, said he would not support Pita because of his party's stance on the law. "If they reduce the sentence, then anyone can criticise [the monarchy] or do whatever. That will create more problems for the nation, and most of the senators think the same way."
However, some senators have said they will support Move Forward in order to reflect the will of the people. Many others have remained silent about how they will vote, making the outcome of Thursday's ballot hard to predict.
Conservatives concerned
The prospect of a Move Forward-led government is alarming to conservatives, not only because of the party's stance on the lese-majesty law but owing to its broader promise to change Thailand's power structures, according to Punchada Sirivunnabood, an associate professor at Mahidol University.
The party has promised to cut the military budget, decentralise power and break up the big monopolies so that the economy is more fairly distributed.
"There are connections among the Senate and the current administration," Punchada said. "It's about the advantages that the old generation of the conservative side will lose if Move Forward get into power."
If Pita fails to secure enough support, the vote in parliament can be rerun. Three days have been designated for the ballot.
Senator Prapasri Suchantabutr said she planned to support Pita for democratic reasons. "I think it will go smoothly. If the first party doesn't get it, we still have the second party," she said, referring to Move Forward's coalition partner Pheu Thai, the party associated with the exiled leader Thaksin Shinawatra.
Pheu Thai has promised to stick by Move Forward, though experts have speculated that if Pita fails to gain support, it could propose its own leader as a prime ministerial candidate, either as part of the existing coalition arrangement or by joining with conservative parties.
Analysts say there is a risk of demonstrations if the public will is seen to have been undermined. If protests were to erupt, these could involve Move Forward's very broad support base, said Panuwat Panduprasert, an assistant professor at Chiang Mai University.
"Move Forward gained votes from pretty much all over Thailand," he said. "All sectors, all generations, all kinds of people."