Ecuador heads to the polls amid high security after candidate's murder
3 min read
Ecuadoreans are choosing a new president in early elections amid a powerful display of security after the assassination of the presidential candidate Fernando Villavicencio less than two weeks before the vote.
Voters are heading to the polls in the backdrop of rising crime, violence and economic turmoil.
Villavicencio, a former journalist and lawmaker, was shot dead leaving a campaign event in Quito on 9 August. Six suspects, all Colombians who police say belong to criminal gangs, are being held in connection to the murder. Another suspect died of injuries sustained in a shootout.
Flanked by dozens of police and army special forces, Villavicencio's replacement, Christian Zurita, cast his ballot at a polling station in the Republica de Bolivia school in northern Quito, wearing a bulletproof vest and a helmet.
Zurita, who was a close friend of Villavicencio, became the new Construye 25 (or Build 25) party candidate just a week before the vote. A fellow investigative journalist, he too had received death threats, some attributed to drug cartels linked to massacres in prisons and a homicide rate that has risen fivefold in as many years.
"These are difficult and dark moments for the country but we are up to it," Zurita told journalists.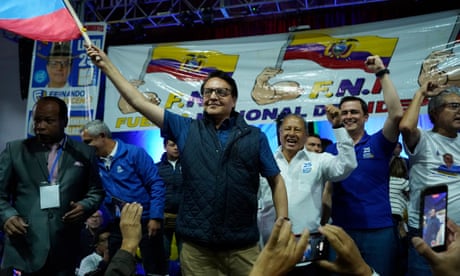 "We will face with determination [the challenge] to move our country forward under the principles and programmes which we have proposed.
"We must expose all the possible threats against us. Remember that's how they killed Fernando," he added.
Candidates have pledged to fight the wave of crime as well as improve the flagging economy, which has forced many Ecuadoreans without work to migrate.
The murder of Villavicencio, the third politician to be assassinated this year, appeared to be foremost in voters' minds at a polling station in Quito, just metres from where the killing took place.
"Here, what we need is a leader who first of all guarantees that all citizens can move freely," Jose Luis Hernandez, 37, said.
"In the building next door, they killed Fernando Villavicencio, so these are situations that we as Ecuadoreans – in a country that used to be one of peace and tranquillity – did not see coming."
Janet Castro, 55, a teacher who voted for pro-market candidate Otto Sonnenholzner, said: "I think that he has a good plan for our safety because that is our main problem. He also has good ideas for our economic situation."
Voting in the capital, Lucio Gutiérrez, a former president and a parliamentary candidate, said Ecuador needed international help to combat Mexican and Balkan drug cartels operating in the country.
"Ecuador is bleeding to death, Ecuador is falling apart, and if there is no unity between the executive and the legislature, the state could collapse, it could become a failed state."
At the same polling station, former interior minister, Patricio Carrillo Rosero, denied accusations that the country was becoming a "narcostate" but said organised crime and illegal economies had infiltrated the state.
"We have to fight corruption and break with this agenda of impunity, that is fundamental," he said.
The interior ministry said 100,000 soldiers have been deployed across the country to protect the electoral process.
The snap election was called by outgoing president, Guillermo Lasso, in May to stave off being impeached by a hostile parliament – which he then dissolved in a constitutional move.
Whoever is elected will only govern for less than a year and a half, until 2025. If no candidate wins an outright majority a runoff vote will be held in October.