Exclusive | Despite 'no limits' ties, China has moved carefully on Russian energy since Ukraine invasion
5 min read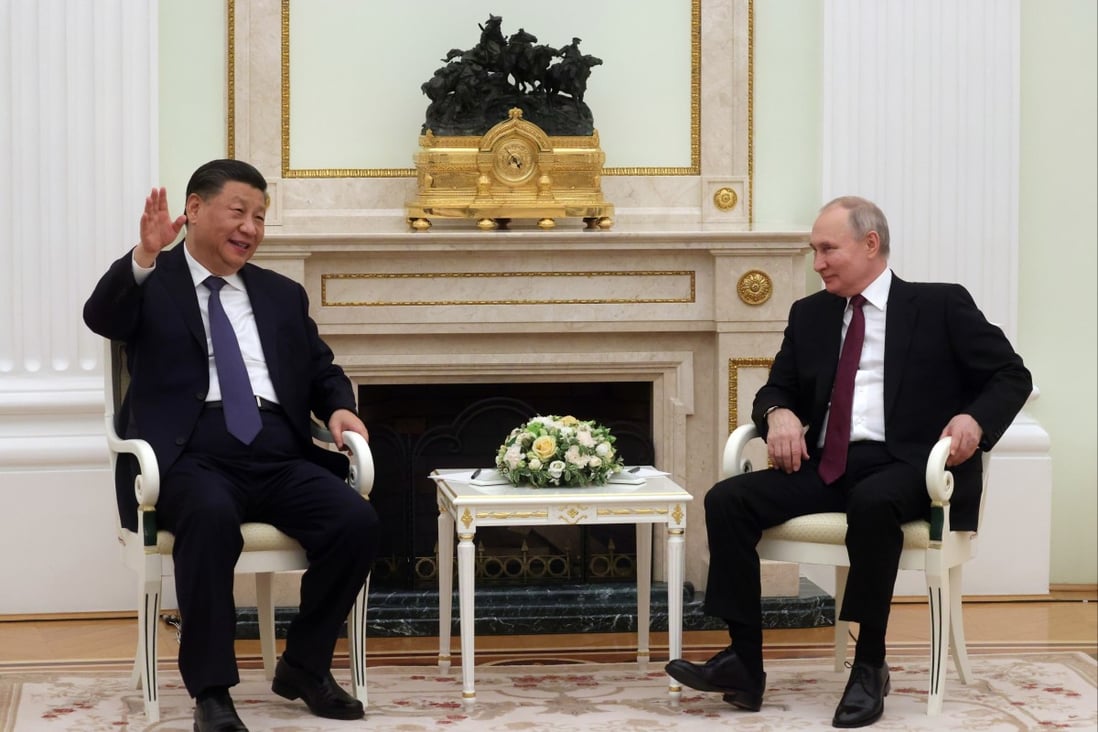 Chinese President Xi Jinping with Russian counterpart Vladimir Putin at the Kremlin in Moscow in March. Photo: AP
China has only moderately expanded its energy ties with Russia since Moscow's invasion of Ukraine in February 2022, in a cautious approach that jars with the "no limits" partnership proclaimed by Presidents Xi Jinping and Vladimir Putin before the war began, according to a new analysis.
Russian oil and gas as a share of China's overall imports of those products rose from 14 per cent to 16 per cent in value terms in 2022 from a year earlier. It ticked up to 16.9 per cent over the first four months of 2023, according to a comprehensive new analysis by the Swedish Institute of International Affairs shared exclusively with the Post.
Chinese companies have made no new investments or transactions in Russia's hydrocarbon sector since Putin's invasion was launched, nor have any new oil or gas pipelines or long-term import contracts been agreed.
And while Beijing has railed against the West's blitzkrieg of sanctions on Russia's energy sector, it has broadly refrained from undermining them, the study points out.
China has not supplied its state-owned tanker fleet to transport Russian oil – a move that would "single-handedly" wipe out most of the discount at which Russia is now forced to sell its oil, the research said.
Nor has it provided alternative shipping insurance after Western insurers were forced to cut ties with Russia.
It has continued to buy Russian oil above a price cap imposed by the G7 in December, but only through third parties or private Chinese enterprises.
The findings show Beijing's balancing act between "supporting its most important strategic partner in its challenge of the Western-led world order" in Russia, and "looking after its own more self-centred interests, which include maintaining economic ties with its Western trade partners", the report said.
China may not wish to become dependent on Russian energy, while it also has the luxury of time: as the war grinds into its 16th month, the oil and gas will be available at a discount for some time to come.
Many expected China to step into the void left by Western buyers and investors, as a suite of stinging sanctions on Moscow were unfurled over the course of 2022.
Instead, the past 15 months have expedited an asymmetry in the Sino-Russian relationship – a trend described last month by French President Emmanuel Macron as "a form of vassalisation".
Russia remains an important but not dominant contributor to China's energy mix, while China's share of Russian energy exports has almost doubled – from 16 per cent to 30 per cent.
While China is now the number one buyer of Russian energy products and the largest foreign owner of hydrocarbon assets in the country, this is because Western companies pulled out, rather than a huge escalation in Chinese purchases.
An eye-catching 44 per cent increase in the value of imports of Russian liquefied natural gas (LNG) and a 50 per cent jump in piped gas last year were largely down to higher prices, the report says, and also in line with a broad trend of China hoovering up gas from around the world as it looks to wind down the use of coal.
China's caution may continue so long as relatively cordial relations with the West – in particular Europe – are maintained, said Wachtmeister.
This may soon be put to the test: Brussels is currently debating the first Russia-centric sanctions to target Chinese operators since the war began.
Eight companies from mainland China or Hong Kong are on a draft list of companies that would be penalised for re-exporting dual-use goods made in the European Union to buyers linked to Russia's military.
Furthermore, a new instrument is under discussion that would curb exports to third countries involved in sanctions contravention. This, however, has run into opposition from countries including Germany, who were mindful of further damaging the EU's relationship with China.
While these potential sanctions do not have an energy focus, some fear they would push China closer to Russia.
Beijing's ambassador to the EU, Fu Cong, has warned that China would retaliate, while EU officials refused to be drawn on an offer he made to help investigate these eight firms during an interview with the New Statesman last Sunday.
"Sanctions circumvention is definitely a big priority for the EU," said Eric Mamer, the European Commission's chief spokesman. "I cannot say whether we have had any specific bilateral contact with China at this stage – I'm not aware of that, but we certainly take note of the comments that you are referring to."
Wachtmeister suggested that for the sake of encouraging China to maintain its "initially cautious approach" to energy trading with Russia, Europe should tread carefully.
"It is possible it's too early to use the stick in these fields as well, the carrot approach might still be effective without the need for escalation. Perhaps [Theodore] Roosevelt's 'speak softly and carry a big stick' approach could be enough, not using it, but making the necessary preparations," he said.
The sanctions are unlikely to be concluded this week.
EU ambassadors met on Wednesday to discuss a fresh proposal from the commission, while some member states continue to balk at anything that resembles the extraterritorial sanctions wielded by the United States down the years, which have been much to Europe's chagrin.
"The danger is we move towards too much extraterritoriality," said a senior EU official of the debate about targeting specific countries rather than companies. "We need to make sure this holds up in court."
The official said the EU had been underwhelmed by a Chinese peace envoy who toured European capitals including Brussels last month.
"We did not learn any new information on China's position," they said of a meeting with Li Hui, Beijing's special envoy for Eurasian Affairs. "We want peace in line with international law. This was a chance to repeat our stance and hopefully when he reports back to Xi, he hears the same line [from all European capitals]."