'Fear is contagious but so is courage': the Ukrainian soldiers training to retake Bakhmut
5 min read
A US-made armoured vehicle careered over a muddy field flying a large Ukrainian flag, coming to an abrupt halt by a tree line, its metal tracks churning up the sticky black soil.
Fire from its machine gun cut through the undergrowth, amputating branches, as the back door lowered, emptying out a platoon of soldiers who ran into the trees firing, working through a system of hidden trenches until they were deemed cleared.
The soldiers were from the first battalion of Ukraine's 3rd Assault Brigade, who had been defending the town of Bakhmut for the past five months. Bakhmut fell some 10 days ago, seized by Russian mercenaries and convicts at huge human cost, and now the brigade is already preparing to fight back, as part of a long-anticipated Ukrainian counteroffensive.https://interactive.guim.co.uk/uploader/embed/2023/05/bakhmut_ukraine/giv-13425Q0ubUZrNppAV/Location of Bakhmut in eastern Ukraine
The officers and soldiers doing live fire training in the Donetsk countryside are under no illusions about the task ahead of them. Once one platoon had performed the exercise, they got out of the armoured vehicle and another platoon got in immediately to do the same drill: storm the treeline, clear the trenches and form a defensive perimeter until they are picked up. Elsewhere, soldiers from the brigade are also rehearsing urban and village combat.
"We're training in certain places where there are certain landscapes that are the exact landscapes that we will have to fight in, so we train there for every stage of the operation," the battalion commander, Petro Horbatenko, said.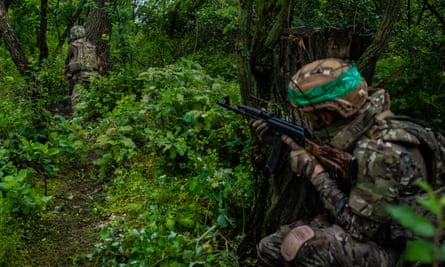 The Wagner group mercenaries pulled out of the ruined city of Bakhmut in the past 10 days, but according to the Ukrainian military the company has left some of its convict battalions behind, now under the direct command of the defence ministry in Moscow and renamed Storm Z. But it is not just prisoners being left to hold Bakhmut. Russia has also sent the 11th Parachute Brigade, an assault unit.
"The Russian regular army is a complex fighting system, and so a much more dangerous enemy than Wagner," Horbatenko said. "They are preparing for attacks. They want to catch our attack and then counterattack themselves."
The battle for Bakhmut lasted nine months, and the 3rd Assault Brigade was on the line for more than half of that, but its soldiers claimed not to be demoralised by its fall.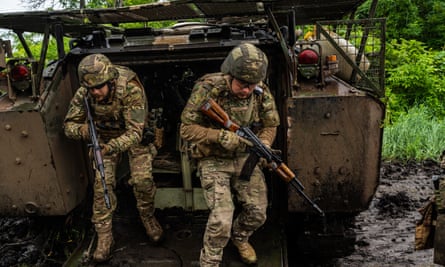 "You win battles not by conquering and occupying land but by destroying your enemy and their equipment and their storage depots," Horbatenko said. "We killed 10 of them for every one they killed of ours, and that is not counting artillery casualties. So we did kill off a lot of them, but they were mostly from the Wagner group. To them they were just meat. So it is hard to say who won."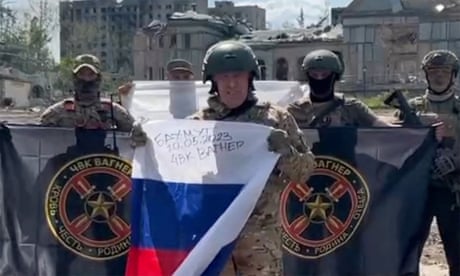 Dmytro Kukharchuk, the second battalion commander, said that Wagner lives were counted so cheaply by their own side that when they were in close-quarter fighting with Ukrainians, Russian guns would open fire on the frontline, killing both sides.
"We saw it with our own eyes, they used artillery to kill their own people," Kukharchuk said.
The Ukrainian army does not disclose its own losses, but they have clearly been considerable. About a third of the soldiers training on Wednesday were new recruits. Among them, unusually for a combat unit, was a woman, who identified herself by her call sign, Heavy, chosen for her taste in rock music.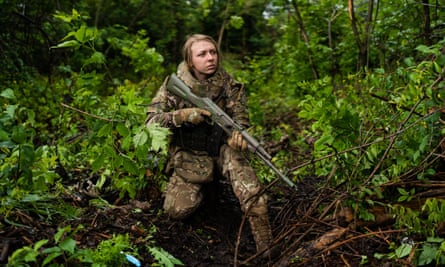 Heavy is from a village in Sumy region that was occupied by Russian troops in the first days of the war. She lost people close to her, but she did not want to talk about the details. She joined the army in September and volunteered for the 3rd Assault Brigade a few weeks ago. She has already been in combat once. Asked why she had volunteered for a combat unit, Heavy said she thought it would be "interesting".
"Assault units are going to be the first ones to liberate our citizens, so I want to be part of it," she explained. As for the counteroffensive, she said: "I can't wait. I am excited."
Heavy said her platoon leader, call sign Darwin, likes to tell her: "Fear is contagious, but so is courage."
Darwin took part in a raid behind Russian lines just over a week ago, to disrupt supply routes in woodland south of Bakhmut. Video footage from a camera mounted on his helmet showed an intense exchange of gunfire among the trees that ended with images of Russians dead in the trenches they had been defending.
Even as Bakhmut was falling, the Ukrainians remained on the offensive in the nearby countryside, but Kyiv's claims that they are working towards encircling the town's Russian defenders are optimistic at best, the soldiers said. There are many more gruelling battles ahead.
The brigade has US-made M113 armoured vehicles like the one in use on Wednesday, which are a generation older than the Bradley infantry fighting vehicles being reserved for the counteroffensive, along with donated western tanks. The first battalion's assault rifles and machine guns were all from the eastern bloc but modern and upgraded.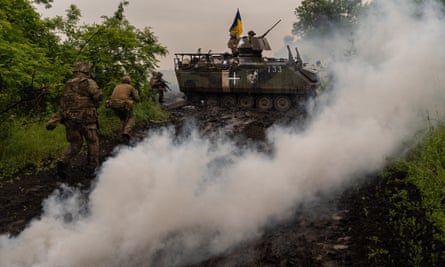 The battalion has improvised some weapons of its own, such as little robot vehicles that can carry explosives into enemy lines. The Ukrainians say they have the upper hand in small rotary drones used for surveillance or to drop grenades over short range, but they have no means of shooting down the longer-range fixed-wing Orlan drones the Russians use to guide daily artillery fire on to Ukrainian-held towns behind the lines, such as Kramatorsk and Kostyantynivka.
Some of the first battalion's new recruits had come straight from training in the UK, but the officers here say that is not enough to prepare them for the fight they are about to face.
"We have a certain experience that can't be taught in the British army training camps," the company senior sergeant, call sign Uncle Fyodor, said. "We train where there is similar landscape, the same treelines and villages."
"The European training is a bit different," Horbatenko said. "They do have experience but it is fighting the Taliban, and that is different from fighting a regular army like the Russians. So our soldiers have to retrain here."
"The Russians are a professional army, and they definitely know how to build defensive lines and dig trenches. They do that perfectly," the battalion commander said. "Their equipment is not modern at all, but there is a huge amount of it and it's quite enough to carry on this war. The only way for us to win is to be more professional and more technically advanced."