Florida shooting: 'White supremacy has no place in US,' Biden says after killings
6 min read
Joe Biden declared on Sunday that "white supremacy has no place in America" after three people were killed in a racist shooting in Florida and it emerged that the gunman had been turned away from a historically Black college or university (HBCU) campus moments before opening fire at a discount store.
Florida's governor, Ron DeSantis, on Sunday called the gunman in the attack a "hateful lunatic" and said "we will not allow HBCUs to be targeted".
The FBI is investigating Saturday's shooting as a hate crime after officials said the attack at a Dollar General store in Jacksonville, Florida, was racially motivated, and community leaders also expressed horror.
A white man, armed with a high-powered rifle and a handgun and wearing a tactical vest and mask, entered the store just before 2pm on Saturday and shot and killed two men and one woman, before fatally shooting himself. All three victims were Black.
TK Waters, the sheriff of Jacksonville, on Sunday afternoon named the victims, saying that the gunman was caught on video shooting Angela Michelle Carr, a 52-year-old woman, in her car outside the Dollar General. He then entered the store where he shot and killed 19-year-old Anolt Joseph "AJ" Laguerre Jr and Jerrald De'Shaun Gallion, 29.
Sherri Onks, special agent in charge of the Jacksonville FBI office, said federal officials had opened a civil rights investigation and would pursue the incident as a hate crime.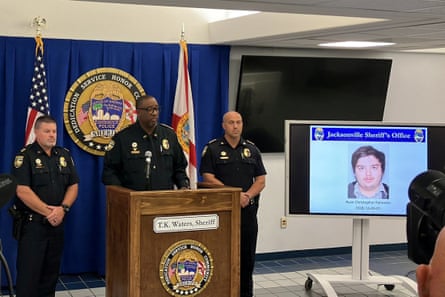 "Hate crimes are always and will always remain a top priority for the FBI because they are not only an attack on a victim, they're also meant to threaten and intimidate an entire community," Onks said.
Waters, also on Sunday, named the gunman as Ryan Christopher Palmeter, 21, who bought his guns legally and had no criminal history. He lived with his parents in a suburb of Jacksonville and left a suicide note.
Palmeter legally purchased his guns despite having been involuntarily committed for a mental health examination in 2017, the Associated Press reported.
According to Waters, Palmeter purchased the weapons in April and June, and the dealer had followed all necessary laws and procedures including background checks.
Because Palmeter was released after his mental health examination, it would not have appeared on his background check.
Waters had already stated on Saturday that the shooter "hated Black people" and left behind "several manifestos" detailing such hatred.
"The manifesto is, quite frankly, the diary of a mad man," Waters said. "He was just completely irrational. But with irrational thoughts, he knew what he was doing. He was 100% lucid."
It emerged that Palmeter had been noticed on Saturday at a private, historically Black college, Edward Waters University (EWU), in Jacksonville, near the library. He was questioned by security there after refusing to identify himself, and turned away, EWU said in a public release. The man drove away and the university said the encounter was then reported to the Jacksonville sheriff's office.
"He had an opportunity to do violence at [Edward Waters] and did not. There were people in very close proximity," the Associated Press reports Waters saying.
EWU announced it would hold a prayer vigil on Sunday evening for the college community "particularly our students, faculty, staff, alumni, and all those impacted by yesterday's heinous act of racial violence".
Following services earlier in the day, about 200 people showed up at a Sunday evening vigil a block from the Dollar General store. The Republican governor of Florida, Ron DeSantis – who is trying to run for president, has loosened gun laws and has antagonized civil rights leaders by deriding "wokeness" – was loudly booed as he addressed the vigil.
Ju'Coby Pittman, a Jacksonville city councilwoman who represents the neighborhood where the shooting happened, stepped in to ask the crowd to listen. "It ain't about parties today," she said. "A bullet don't know a party."
DeSantis said that on Monday the state would be announcing financial support for security at Edward Waters University
Gallion attended St Paul Missionary Baptist Church in Jacksonville, Bishop John Guns told the crowd. He was the 33rd murder victim in the 27 years Guns has been there, the bishop said.
"In two weeks I have to preach a funeral of a man who should still be alive," Guns said. "He was not a gangster, he was not a thug — he was a father who gave his life to Jesus and was trying to get it together.
"I wept in church today like a baby because my heart is tired. We are exhausted."
DeSantis then told the crowd the gunman was "a major-league scumbag" and said in Florida "we're not going to let people be targeted based on their race."
Shortly after DeSantis spoke, Jeffrey Rumlin, a pastor at the Dayspring Church in Jacksonville, took the microphone and said of the shooter: "At the end of the day, respectfully, governor, he was not a scumbag. He was a racist."
Biden, who is a moderate Democrat, issued a statement from the White House on Sunday saying that while many details about the crime were still unknown: "Even as we continue searching for answers, we must say clearly and forcefully that white supremacy has no place in America."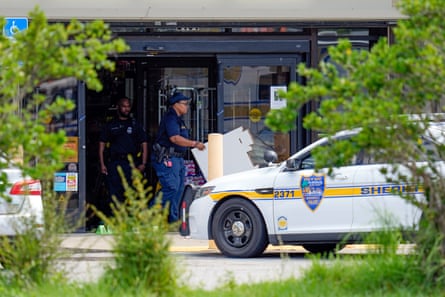 It continued: "We must refuse to live in a country where Black families going to the store or Black students going to school live in fear of being gunned down because of the color of their skin. Hate must have no safe harbor. Silence is complicity and we must not remain silent."
Biden also noted that the shooting had occurred on the same day as a huge demonstration in Washington DC that marked the 60th anniversary of Martin Luther King Jr's I Have A Dream speech, which the president called "a seminal moment in our history and in our work towards equal opportunity for all Americans".
He added of Saturday: "But this day of remembrance and commemoration ended with yet another American community wounded by an act of gun violence, reportedly fueled by hate-filled animus and carried out with two firearms."
DeSantis, a candidate for president in the 2024 election on Saturday, called the shooter a "scumbag" and denounced his racist motivation, also calling him a coward for killing himself "rather than face the music".
Speaking at a press conference in Tallahassee on Sunday, DeSantis also said that he promised EWU's president that the the state will ensure that the school has adequate security.
"Perpetrating violence of this kind is unacceptable, and targeting people due to their race has no place in the state of Florida," DeSantis added.
On Sunday, the US attorney general, Merrick Garland, said that the justice department is "investigating this attack as a hate crime and an act of racially motivated violent extremism".
Speaking to CNN on Sunday morning, Arndrea Waters King, president of the progressive thinktank Drum Major Institute and the wife of Martin Luther King III, said: "Yesterday, the same day when we had almost 200,000 people gathering together to stand for democracy in our country, we saw what happens with hate."
She added: "And for a lot of people that question of why are we coming back together and how different are things from 1963, it unfortunately gave the demonstration of the work and why we are, and where we are, in 2023 compared to 1963, which is not far at all."