France struggles to stub out 'explosion' in contraband cigarettes
5 min read

utside a station in Pantin, a town that nudges up against Paris's north-eastern border, young men hollered "cigarettes!" at commuters. They flashed two or three packets of what looked like ordinary Malboros or Camels for €5 (£4.35), about half the legal price. "There are so many illegal cigarette sellers near stations, they're taking over the pavements," said a customer at a local bakery.
The French government has warned of an "explosion" in contraband cigarettes since the Covid lockdowns, as the number of smokers in France remains stable and has even risen among women over 18. Men selling cheap contraband packets near stations in and around Paris, from the Gare du Nord to Barbès or Noisy-le-Sec and La Courneuve, are so commonplace that some residents' groups deem greater Paris a "giant, open-air, illegal tobacconist's".
But France's cigarette wars are a sign of deeper problems running through society. International criminal gangs are putting millions of euros into setting up secret illegal cigarette factories in western Europe and France is a key target market – it has among the highest taxes on cigarettes in the EU with the average price of a pack about €11. At the bottom of the chain, the young men selling a handful of packets on the street – many from Maghreb countries or Afghanistan – are often without legal papers and unable to find other work, vulnerable to gangs and making a tiny profit to survive. Those who buy the cigarettes say they cannot make ends meet so have no choice, despite risking a €135 fine if they are caught purchasing illegal tobacco.
More than one-third of cigarettes smoked in France in 2021 were bought illegally, according to KPMG research, funded by the tobacco industry. French authorities seized 600 tonnes of contraband cigarette products in the first 10 months of last year, more than twice the amount captured in 2020.
"If there weren't buyers, there wouldn't be any sellers; you see all types of people coming here to buy the cigarettes," said Sandrine, a restaurant worker at a brasserie near Hoche station in Pantin. Her restaurant, offering "couscous every day", had lost customers who feared cigarette sellers' turf wars on the pavement outside. "My boss has lost 80% of the turnover on our pavement tables. The sellers think they control the street. I live above the restaurant and I don't feel safe," she said.
Sandrine, alongside a local pharmacist, baker, estate agents and bookshop staff, held a protest over the cigarette sellers in March. More than 1,500 people signed a petition. The police presence was increased and the sellers decreased but Sandrine said in recent weeks smaller numbers of sellers had returned.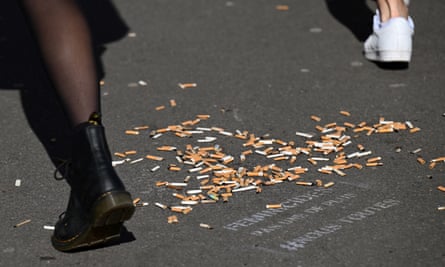 Bertrand Kern, Pantin's Socialist mayor, said: "It's a similar mechanism as cannabis – you have apartments where the packets of cigarettes are stocked, and people who deliver them regularly so that the sellers only have three or four packets on them, which means for prosecutors it's very hard to pursue."
Municipal police arrested 495 cigarette sellers across Pantin in 2021 and 2022 but most were released. Kern said that near Hoche Métro station, the atmosphere had been particularly bad because sellers themselves inhaled nitrous oxide. Asked who was buying the contraband cigarettes, he said: "It's everyone. I've done campaigns to warn about what's in these counterfeit cigarettes – they're even more dangerous than real cigarettes – but when a pack sells for €5 or €6 instead of €11, people don't really hear that health message."
He said a key issue was the international crime groups behind the illicit tobacco trade.
A turning point came earlier this year, when gendarmes raided a vast illegal cigarette factory in an abandoned building in a village near Rouen, Normandy. Nine workers, Moldovans and Greeks, aged between 21 and 55, had been housed on camp beds, completely cut off from the outside world. The full production line of machinery was estimated by police to have made 250 cigarettes a minute, labelled as well-known brands. At least 19.4m cigarettes and 15 tonnes of cut tobacco were seized, alongside 50 tonnes of packaging materials including filters and labels. The value was estimated at about €17m on the illegal French market.
Europol, the EU police agency, which shared information to trace the Rouen factory, sees illicit tobacco as a key focus in its fight against economic crime. It is working to trace illegal factories across Europe and some are set up in dire conditions. In Spain in 2020, an illegal cigarette factory was found in a bunker 4 metres underground where workers were locked in toxic conditions and criminal bosses made an estimated €625,000 profit a week.skip past newsletter promotion
"There have always been attempts by criminals to produce cigarettes illegally," said Sebastian Bley, of Europol's European Financial and Economic Crime Centre. "But we're seeing an increasing trend for this over the past couple of years, and it is moving west." He identified "a strong increase, particularly in countries which have a high number of smokers and where there are high cigarette prices".
Crime groups are moving production sites closer to target markets such as France or the UK. Setting up an illegal factory can cost a criminal network more than €1m, Bley said. In 2021, Europol detected and reported 74 illegal cigarette factories in the EU, up from 47 in 2018.
Bley said criminal groups worked together setting up factories and distribution, but rivalries were common. He said: "They are willing to use violence against each other."
Philippe Alauze, the head of the tobacconists' federation in Île-de-France, Oise and Seine-Maritime, said the illegal trade was not only crushing independent tobacconists – the only people licensed to sell cigarettes in France – it put minors at risk and was allowing violent crime groups "to map out a territory, with mafia networks setting themselves up in France".
At her independent bookshop near Hoche station, Morgane Payock-Monthé said: "This is about who is illegally occupying the public space. Sometimes there have been so many cigarette sellers, childminders with pushchairs can't get past. Sometimes the sellers fight, pushing each other up against our windows. It's becoming difficult for everyone."