Germany coalition staves off implosion with 11th-hour heating law amendment
3 min read
The German government has staved off a power battle that threatened to cause the ruling coalition to implode after finally agreeing an 11th-hour amendment to a controversial new heating law.
Negotiations over the legislation have dominated the headlines for weeks, with the economy minister, Robert Habeck, of the Greens clashing with the pro-liberal Free Democratic party (FDP) over how much consumers should be burdened with the costs of replacing fossil fuel heating systems with cleaner, climate-neutral energy.
Environmental groups have criticised the revision of the law, arguing it will delay Germany's ambitions to reach net zero targets by many years.
Under the original proposals – to which all three members of the coalition signed up, but to which the FDP subsequently voiced its opposition – from January heating systems replaced in existing buildings had to be green, such as heat pumps or systems drawing at least 65% of their energy from clean sources such as wind or solar power, rather than gas or oil. Every new-build would have had to comply with the rule.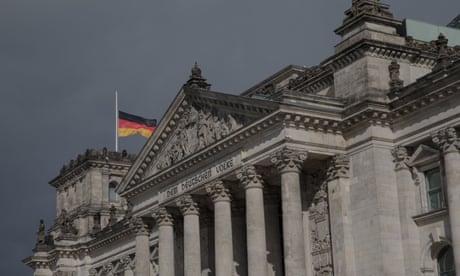 Under the new proposals the onus is shifting from individual households to municipal authorities, which will be expected to scale up their goals for district heating planning, which often draws on geothermal energy, and to assess the needs of every household, including their suitability for connection to such a system.
Pressure was on the coalition to reach agreement in time for the energy law to be put to the parliament, or Bundestag, before 7 July, its last sitting before the summer recess. The draft law will start its passage through parliament this week.
Instead of stiff rules, Habeck said, the coalition now had a set of "guidelines" that would help households transition to renewable energy. "In this way we're giving people more time … I think this is the right thing to do and is completely in keeping with my interest," he said in Berlin.
The chancellor, Olaf Scholz, of the Social Democrats (SPD), said the coalition had experienced "judders" over the intense, often angry debate that had accompanied the creation of the draft, but that "this has now juddered to a conclusion".
Under the new law, if it is passed, people will still be allowed to install gas heaters from 1 January if they can be converted to hydrogen, including in new buildings, a clause the FDP insisted on. However, in zones of new development heating systems will have to use 65% renewable energy or more.
For all other homes and buildings, this requirement will only apply once municipal authorities have presented their heating plans, which they are required to do by 202
With those plans in place, homeowners would then be in a position to decide which system to switch to, whether a heat pump – the preference of the Greens – district heating, or a gas heater able to be converted to run on hydrogen.
A record number of heat pumps have been installed in Germany since the start of the Russian invasion of Ukraine, which led to the dramatic stoppage of Russian pipeline gas to Germany. However, despite technical developments, they are still often deemed unsuitable for older homes and cost between €25,000 (£21,400) and €40,000 (£34,200) to install, which despite generous government subsidies is too expensive for many households. In addition, a shortage of technical parts and of engineers capable of installing them has made access to them a challenge.
Systems using wood and pellets will continue to be allowed.
The switch to cleaner energy systems, estimated to cost €9.2bn (£7.8bn) a year until 2028, falling to €5bn (£4.3bn) a year from then on, is to be subsidised from the government's climate and transformation fund, with levels of support tailored to individuals' needs.