Harvard affirmative action challenge partly based on Holocaust denier's work
6 min read
Backers of the legal challenge to Harvard University's affirmative action program currently pending in the US supreme court have based their case in part on evidence drawn from the flawed analysis of a Holocaust denier who publishes virulent antisemitic, anti-LGBTQ+ and neo-Nazi screeds.
The challenge to Harvard's race-conscious admissions policy is the most hotly awaited decision from the court as it enters the critical final month of its judicial term.
The six rightwing justices commanding the super-majority are widely expected to side with the petitioners and eviscerate the use of race as a factor in evaluating students – a practice that has been commonplace in American higher education for more than 40 years.
Their ruling could come as early as this week.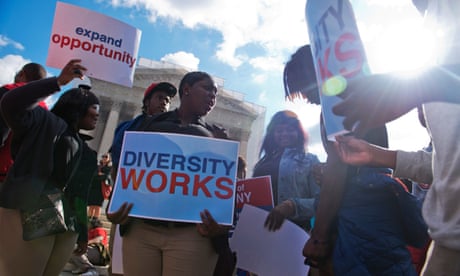 The case is one of two challenges to affirmative action (the other involving the University of North Carolina) that have been brought before the supreme court by the conservative group Students for Fair Admissions (SFFA). Its complaint accuses Harvard of racially discriminating against Asian Americans in the name of "diversity".
The complaint, as well as four supporting briefs presented to the justices by aligned groups also calling for an end to affirmative action, draws heavily from a 2012 article by Ron Unz, a Californian multimillionaire and former Silicon Valley entrepreneur with a controversial track record. That 2012 piece has been criticized for being riddled with errors and for espousing views verging on antisemitism.
Since publishing that work, Unz has moved steadily towards the extreme right. His website, the Unz Review, carries columns from avowed neo-Nazis and racists, including an article published on Wednesday about the former police officer who murdered George Floyd.
The story is headlined: "Derek Chauvin Case Shows That in Jewish-Dominated US, Whites Are Regarded as DOGS Relative to Blacks Who Are Regarded as FELLOW HUMANS of Jews and Homos."
In January, Unz went on Iranian television to talk about "Holocaust worship" among the American public, which he blamed on the plethora of Holocaust movies coming out of "overwhelmingly Jewish-dominated" Hollywood. Asked by the Iranian interviewer what he thought about the "obvious nonsense" of the 6 million Jews who were killed in the genocide, and how many Jews he thought had actually died, he replied: "A couple of hundred thousand Jews died in the concentration camps."
SSFA's supreme court complaint refers extensively to Unz's 2012 article The Myth of American Meritocracy, which was printed in the magazine he published at the time, the American Conservative. The petitioners cite the work as proof that there was "rampant discrimination against Asian Americans by Ivy League universities generally and Harvard specifically".
Unz is credited in the complaint as having exposed a pattern at Harvard in which Asian undergraduate enrollment was kept at a fixed proportion despite high fluctuations in the actual number of applicants. SSFA uses that evidence to argue that the university applied a quota system that amounted to racial discrimination against Asian Americans.
None of the groups which draw on Unz's work in their bid to topple affirmative action make any reference in their supreme court filings to the problematic nature of his research.
Unz is ethnically Jewish and is himself a Harvard graduate. He accuses Harvard and other elite universities in the 2012 article of sharply increasing Jewish admissions at a time when Jewish academic achievement "saw a collapse".
He goes on to blame this "massive apparent bias in favor of less-qualified Jewish applicants" on the Jewish ancestry of the presidents of many Ivy League institutions – in other words, Jewish presidents were giving a leg up to their own people irrespective of academic merit.
The Myth of American Meritocracy brought Unz to the attention of monitors of antisemitism, including the Anti Defamation League. Marilyn Mayo, senior research fellow at the ADL's Center on Extremism, told the Guardian that the article deployed tropes that were already circulating among hate groups.
"The arguments he used about Jews being given favorable admission to Ivy League schools were already being promoted by antisemites and white supremacists to attack affirmative action as discriminating against whites," Mayo said. She added that Unz's article was seized upon by influential figures on the extreme right including the former Grand Wizard of the Ku Klux Klan, David Duke.
It wasn't just the contentious nature of the arguments that Unz was making that troubled observers. It was also the accuracy.
Statistical experts and mathematicians sharply criticised the American Conservative piece for its questionable methodology. Professor Janet Mertz, a microbiologist at the University of Wisconsin, Madison, was one of several scientists who called into doubt the veracity of the paper.
She was alerted to problems in the article when she noted that Unz based his claim that academic achievement of Jewish students had slumped in recent decades on a dramatic decline in the proportion of the US Math Olympiad team – an exceptionally elite intellectual group – that was Jewish. Unz in turn came to that conclusion by counting the number of team members with Jewish-sounding last names
Mertz was aware that several Jewish team members had been left out of his calculations because their family names had been anglicised. One of those uncounted individuals was her own son, whose paternal grandfather had changed his name from Cohen to Kane in the late 1930s due to discrimination in employment.
"Unz's count of Jewish team members wasn't a little off, it was totally off – by more than fivefold," Mertz said. When she and other scientists began digging further into the article, their concerns grew: "It was clear as we looked at the data that the methodology Unz was using was suspect. There were multiple serious errors that call into question the primary conclusions of the paper."
Mertz added that she was disturbed that Unz's 2012 work was still being heavily cited despite its "multiple mathematical problems", even in a case of such enormous potential consequence as the one now before the supreme court.
Unz has long been a controversial figure.
In 1998, he sponsored Prop 227 in California, which effectively ended bilingual education in public schools, replacing it with intensive English language in an overt attempt to force migrants to assimilate. (The referendum passed but was repealed in 2016.)
He has also championed views typically embraced by progressives, including raising the minimum wage and campaign finance reform.
A year after The Myth of American Meritocracy was published, he was forced out as publisher of the American Conservative – "purged" as he put it. In its place, he set up the Unz Review as a gathering place for articles that reflected his own increasingly extreme political tastes.
"He started off dabbling in the paleoconservative, libertarian side of things but has moved to the extreme far right with multiple extremists writing for him," said Megan Squire, a data analyst at the Southern Poverty Law Center who tracks extremism. "His website has become a one-stop shop for hate from many different vantage points."
Among those whose writings Unz republishes are Andrew Anglin, founder of the neo-Nazi Daily Stormer website. Anglin is currently a fugitive, having been made liable for millions of dollars of damages for online harassment. Another is Eric Striker (real name Joseph Jordan), a founder of the neo-Nazi National Justice party, which proposes a complete ban on all immigration, measures to counter "unnatural sexual practices" in the LGBTQ+ community, and caps for Jewish representation in banks, businesses and the media.
In his own writings, Unz has also veered into extremism. In 2018, he self-published a 17,000-word article on Holocaust denial which said that "anyone who reads serious history books knows that Jews have generally enjoyed a reputation for producing many of the world's greatest swindlers and frauds, hardly surprising given their notorious tendency to lie and dissemble".
The Guardian asked Unz to comment on errors contained in his 2012 article now being cited in the supreme court, and on his more recent curation of hate speech. He claimed that "subsequent evidence" had "strongly confirmed" his 2012 analysis.
"The issue was thoroughly thrashed out at the time, and I'm completely unaware of any persuasive arguments on the other side."
On the hate speech, he said his mission on his site was to provide "interesting, important, and controversial perspectives largely excluded from the American mainstream media. I have explicitly stated that I do not necessarily stand behind any of these other articles, though I certainly do completely stand behind my own writing."