Hong Kong: Cantonese language group shuts down after targeting by national security police
3 min read
A Cantonese language group has shut down after Hong Kong national security police raided the founder's home over a fictional essay submitted to the group's literary competition three years ago.
Andrew Lok Han Chan, who created and convenes the Societas Linguistica Hongkongensis (SLHK) group, said in a Facebook post that the officers from a police division set up to enforce the 2020 national security law, visited a home where some of his family members live last week when he was out of town. The officers, who did not have a search warrant, asked that he remove the essay from his group's website immediately, he said.
Citing legal risks and a lack of resources, Chan said he immediately dissolved the organisation "in order to ensure the safety of my family and former members".Chan told the Guardian he was no longer in Hong Kong, and didn't feel he could return in the current climate.
"Since I am now a suspect under the national security law, and the conviction rate is 100%. The action of national security police entering my home without a warrant had actually scared me. It made me feel that they could do anything they want," he said.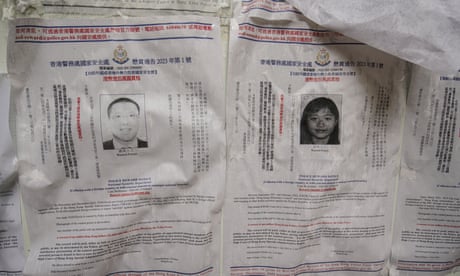 The SLHK, also known as the Hong Kong Language Association, formed in 2013 with the aim of promoting and protecting the Cantonese language, and use of traditional Chinese characters. Both are primarily used in Hong Kong, differentiating the region from the mainland where Mandarin and simplified characters are dominant.
There has been a push for Mandarin to be more widely taught and used in Hong Kong amid increasing influence by mainland China's government.
Since 2020, the SLHK has run a Cantonese essay competition, through a local district council funding scheme. The essay in question was one of 18 shortlisted pieces, titled "Our Time", by a writer named Siu Gaa.
According to an English translation by Quartz reporter Mary Hui, the dystopian essay imagines Hong Kong in 2050, 25 years after a crackdown on linguistic, religious and cultural minorities. It describes people forced to join a "Patriotic Church" with their religious teachings conducted in Mandarin. It ends by quoting a famous phrase by late Czech writer Milan Kundera: "The struggle of man against power is the struggle of memory against forgetting."
Chan said that when police arrived at his family's home last Tuesday, they asked them to tell him to remove the essay from the website immediately. Chan said he contacted the police after receiving the message and was told that his former residence had also been searched, and he was told again to remove the essay.
"Considering the circumstances and the safety of my family, I took immediate action to remove the article on the same day," he said in a Facebook post.
He said he would also initiate dissolution procedures in accordance with legal advice.
"Due to the current circumstances and in light of the SLHK's lack of financial resources and personnel, coupled with the associated legal risks, I have made the decision to halt all operations of the association," he said.
Police declined to address the matter directly in an emailed response to a request for comment, but said that any moves by police were taken according to the circumstances and the local laws.
After Beijing imposed a national security law in Hong Kong in 2020, after massive pro-democracy protests, dozens of civil societies have disbanded and more than 260 people have been arrested. The shutdown of Chan's group showed that the crackdown on dissidents has expanded in to cultural activities.
Chan said he believed it was the basic right for Hongkongers to promote their own language and culture, and the group could help foster social harmony. But the action of the authorities proved that his belief was wrong "at least in their eyes", he said.
"It is a pity that we could not continue since we have contributed a lot to Cantonese affairs," he said.