How much has been pledged to help rebuild Ukraine – and is it enough?
3 min read
The World Bank, in conjunction with the government of Ukraine, the European Commission and the United Nations, has put the cost of reconstruction and recovery at $411bn after a year of war.
That bill will only be getting higher. But as a conference in London on the reconstruction and recovery of the country begins, humanitarians and political leaders have warned that bricks and mortar is not all that is needed.
What has been pledged so far?
The EU pumped €30bn into Ukraine in the last year, diverting cash from energy and cohesion funds to respond to the crisis.
On Tuesday it pledged a further €50bn in loans and grants, with the UK and the US following suit with a promise of $3bn and $1.3bn respectively in financial supports.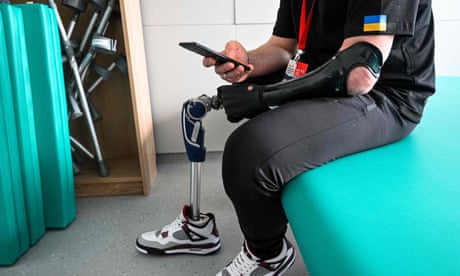 Is it enough?
No. The World Bank's estimate represents three times Ukraine's GDP and the money pledged by the EU, UK and the US will be disbursed over a number of years.
The €50bn in EU money is spread out over four years. The goal is to help stabilise the country's finances not build back blown up towns and cities.
But it will go a long way to meet Ukraine's request for up to $40bn for the first part of a programme being dubbed a "Green Marshall plan".
Can physical reconstruction begin?
How can you rebuild a country when it is still at war?
"You don't know how long the war will be there, whether what you invest in will be destroyed the week after. So it's very challenging," Odile Renaud-Basso, president of the European Bank for Reconstruction and Development (EBRD) told reporters in Brussels recently.
How has the country been functioning up to now?
Contributions to Ukraine's defence resources have dominated the headlines in terms of international support for the fight against Russia.
Day to day needs have been put at €3bn a month – half of which has been paid by the EU.
Financing from the EBRD, set up in 1991 to help secure financial stability in post-cold war central and eastern Europe, has enabled salaries of teachers, civil servants, doctors and nurses to continue to be paid.
The bank expects to invest €3bn this year and is hoping to put together guarantees that can leverage some €12-13bn in additional funding from the public and private sector.
What about the bereaved and the bombed?
Financial systems are already in place for state compensation for those whose homes have been bombed with a government app, DIAA, allowing rapid applications.
But long term human capital is the key to recovery, Ukraine's ambassador to the EU Vsevolod Chentsov said this week in Brussels with investment not just in factories, agriculture and IT but in mental health.
A director of the Danish Red Cross, Peter Klanso, told a conference that there were an estimated 9 million people directly impacted by the war, both soldiers and civilians. He warned that the poor and the marginalised will be "further marginalised" if their voices are not heard. And those on the recovery leadership planning must find a way of reaching them too.
The leaders of the EU will meet next week and are expected to reiterate this point, restating the need for "psychological and psycho-social rehabilitation" alongside bricks and mortar.