Japan's prime minister, Fumio Kishida, has said he wants almost a third of executive positions at the country's top companies to be occupied by women by the end of the decade.
In an apparent attempt to address Japan's poor record on gender equality ahead of the G7 leaders' summit in Hiroshima next month, Kishida said more boardroom diversity would boost the world's third-biggest economy.
"We seek to have the ratio of women among executives at 30% or more by 2030 in companies that are listed on the Tokyo stock exchange's prime market," Kishida told officials, including the minister of state for gender equality – who is male – at a meeting this week. His 19-member cabinet includes just two women.
"Securing diversity through promoting women's empowerment, and enabling innovation as a result, is crucial to achieving new capitalism and an inclusive society," Kishida added.
Japan has drawn criticism for the lack of women in senior positions in the private sector and in public life. Women represented only 11.4% of executives in major listed companies in Japan last year, according to a cabinet office survey, although the figure has been rising in recent years.
In politics, too, there are signs of progress, with parties attempting to recruit more women to run for office after a 2018 gender equality law required them to "make efforts" to select similar numbers of male and female candidates.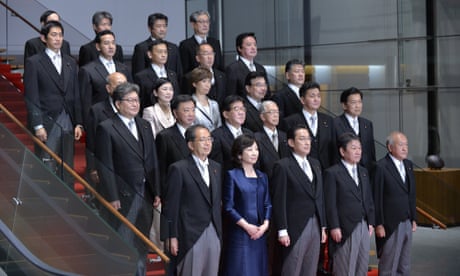 Although women occupy only about 10% of seats in the lower house of parliament, a record number of female candidates won seats in last summer's upper house elections. 28% of upper house seats are held by women.
In another encouraging sign, Shoko Takahashi, a female member of a government panel, this week joined a meeting accompanied by her two-month-old baby. Takahashi, the founder of the personal genome company Genequest, is thought to be the first person to take their newborn to a work gathering at the prime minister's office.
And a recent round of local elections saw a record seven women voted in as mayors in smaller cities, while Arfiya Eri, a woman of Uyghur and Uzbek descent, won a byelection for a seat in the lower house as a candidate for the ruling Liberal Democratic party.
But Japan's corporate sector still has a long way to go to catch up with comparable economies, and has also struggled to narrow the gender pay gap – Japan ranked 116th out of 146 countries in the World Economic Forum's 2022 Global Gender Gap report.
Few observers believe change will come until more women, who form the backbone of the part-time, low-pay economy, are given permanent positions and help balancing work with family commitments.
Japan, this year's G7 host, has come under pressure to address its record on gender equality. This month, Norway's sovereign wealth fund – the world's biggest – said it would vote against board nominations at Japanese firms in which it invests that do not have any female directors, Nikkei Asia reported – a move that could affect as many as 300 listed companies.
In a recent interview with Kyodo news, the EU commissioner for jobs and social rights, Nicolas Schmit, said Japan's gender gap resembled the situation in Europe "20 or 30 years ago".
Precedent indicates that Kishida could struggle to reach his goal. In 2003, the then prime minister, Junichiro Koizumi, set a similar quota for female executive representation by 2020, but the number of women in managerial positions by that date fell short of the target.