Joe Biden left Ireland in the early hours of Saturday vowing to run again for president, promising to formally announce his decision to run for a second presidential term "relatively soon".
At the same time he spoke of his hope of an epoch of renewal in Northern Ireland, restating the "incredible" US investment opportunities that lay ahead if peace endures.
Speaking to reporters in Ireland before leaving Ireland West airport on the last leg of his four-day visit to Ireland, Biden was asked whether the last few days had changed his calculus on when to make his announcement on his plans to run.
"No, no I have already made that calculus. We will announce it relatively soon," he said.
"The trip here just reinforced my sense of optimism about what can be done. I told you my plan is to run again."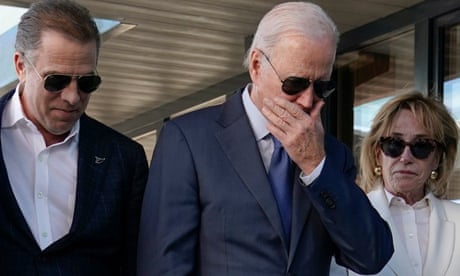 On Friday night he bounded on to the stage in Ballina by the banks of the River Moy in a display of energy and stamina after a hectic four-day visit.
Arguably, the speech was pitched at the US teatime audience to put to bed voter doubts that, at the age of 80, he is too old to run for another term in the White House.
Asked if he had got what he wanted from his four-day trip where he was welcomed like a deity, he said there was "more to be done" in Northern Ireland.
But he said he wanted to imbue a sense of "optimism" about the future there, once again citing the huge economic opportunities for the region, particularly in the cybersecurity sector, a tech sector for which Northern Ireland is already known.
"There's a lot at stake. A lot at stake. And I think the combination of Ireland – the whole island – Great Britain, Northern Ireland, the United States can change the way things occur on the continent.
"Look, think about it. Think about how much the economy is growing. Think about what's happening here. Think about the technology. Think about the cybersecurity capabilities."
At the start of his visit on Wednesday Biden dangled a $6bn (£5bn) carrot in front of Northern Ireland's leaders with a promise to boost the country's economy with US investment if power sharing is restored.
The US focus on Northern Ireland has now been handed over to the former US president Bill Clinton, a key player in securing the Belfast Good Friday agreement.
As the 46th US president delivered his passionate speech in front of a crowd of 27,000 in Ballina, County Mayo, the 42nd POTUS was landing in Belfast.
He is in Northern Ireland for a series of events scheduled for Monday to Wednesday bringing together the key figures behind the peace deal, including Tony Blair, Bertie Ahern and the former US senator George Mitchell.
Rishi Sunak and the president of the European commission, Ursula von der Leyen, will also visit Belfast on Wednesday as efforts continue to get power-sharing restored in Stormont.
While Biden's visit to Ireland was seen as a political and diplomatic success, questions were being asked about taxpayers funding such an extended trip involving a huge delegation that involved the secretary of state and countless other politicians.
Asked if he was sad to leave, he said: "No, I'm anxious to get home. I'm always – I love Ireland, I love the people, and I love working with the taoiseach. But, you know, home is where my heart is. And it's real."
Biden was also asked about the suspected leak of hundreds of secret defence documents by a former air national guardsman Jack Teixeira.
"I've instructed the department to make sure that they get to the root of why he had access in the first place, number one.
"And number two, to focus extensively on the extent to which it all occurred. And that's going on right now. I have nothing to report beyond what's already been reported."
Asked how long it would take, Biden said: "There's no way to predict how long an investigation will take. But I don't think it's going to take very long."