'Just pathetic': France's 'make do and mend' green strategy proves divisive
5 min read
ance is saving the planet one shirt, one plastic fork and one washing machine at a time. With refunds to be offered on repairs to clothing and household appliances, limits on single-use plastics in fast food and other restaurants and punitive parking fees for SUV owners, the recent green focus has targeted the consumer.
It is the latest phase in the government's environment roadmap, pledged by Emmanuel Macron in his presidential re-election campaign last year and announced by the prime minister, Élisabeth Borne, in May.
Borne described it as a "complete strategy" to reduce waste and emissions in each economic sector, from large companies to individual households. "In total, half of the effort will be made by businesses, particularly large companies, a quarter by the state and local authorities, and the final quarter by households," she said.
Environmental campaigners and critics, however, question whether putting the responsibility on individual consumers is the right approach as the country faces another scorching summer of record temperatures, wildfires and water shortages.
Arash Derambarsh, the centre-right deputy mayor of the town of Courbevoie, north-west of Paris, who instigated a 2016 law forcing supermarkets to stop dumping and destroying unsold food, was dismissive of the government's latest measure: a €6-€25 "repair bonus" to have clothes and shoes mended.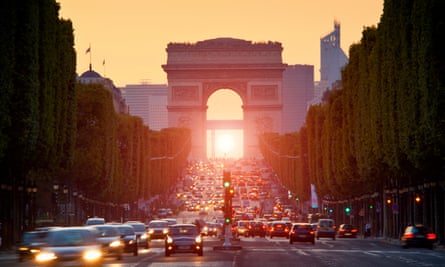 "It's just pathetic, a pittance," Derambarsh said. "The government is talking about zips and buttons when far more ambitious measures are needed. And why should the French taxpayer be subsidising this? If the government was really serious about this it should make clothes manufacturers and sellers offer to repair clothes for a period of time, say five years. It would also encourage them to produce better quality goods."
Sophie Bussière, a spokesperson for the Europe Écologie Les Verts party (EELV), agreed. "What we need is for companies to be encouraged to act with constraints and fiscal advantages. Personal actions make up 25% of the effort necessary but what is really needed is action by businesses and local authorities. Of course we should encourage individual people to evolve their behaviour, but there needs to be structural change in the politics and less cynicism."
The government argues its environment and climate policy is ambitious, coordinated and far-reaching. As a follow-up to the 2009-10 Grenelle laws, in 2020 France passed an anti-waste and circular economy law (AGEC), which outlines five main areas of attack in five-year chunks until 2040, and the following year a climate bill addressing France's pledges under the 2015 Paris agreement.
Legislation now includes a more ambitious target of a 55% reduction of greenhouse gases by 2030 (the EU's new target) compared with 1990, up from 40%, with the slogan Fit for 55. There are also small, soundbite policies, including vegetarian meals in schools, a watered-down policy on short-haul flights, rent caps for landlords with badly insulated property, and an obligation for public buildings to have water fountains – policies critics call "pragmatic ecology" they say has little impact.
The 2021 legislation emerged from Macron's climate convention, a panel of 150 randomly selected people brainstorming ideas, which the president was accused of then mostly ignoring or allowing business leaders to dilute them.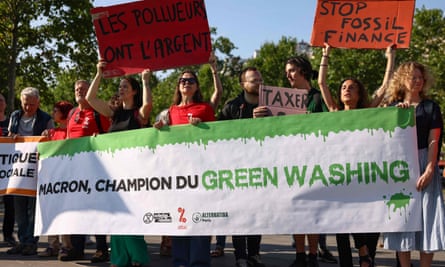 Greenpeace said the law did not address "the emergency of the situation" and described it as a missed opportunity. "This isn't a question of left or right it's about going forward and doing so more quickly," Derambarsh said. "But we don't seem to be even going forward under this administration."
The criticism has come not only from political opponents. In 2021, France's top administrative court, the Council of State declared the government's efforts "insufficient" and threatened sanctions and fines. It concluded France was not on track to meet its emissions goals. The country's independent High Council on Climate has repeatedly warned the government was falling short of its commitments and the rapporteur public, an independent commissioner, has also judged the government's actions inadequate. In a historic judgment in February 2021, the Paris administrative tribunal convicted the government for "non-respect of its engagements" on combatting global heating.skip past newsletter promotion
Environmental groups who brought the case were further outraged when in May this year Macron called for a "pause" on EU environment regulations, a suggestion Bussière said was "scandalous and goes against all the scientific evidence".
"When he was elected, people naively believed Emmanuel Macon was an environmentalist. He said France would be an example in Europe and would lead the way on the environment. But while he speaks the right words and makes engagements and promises – and in different languages – we see that in reality there is little of substance in what he says."
She added: "There's a tendency to lay this on the French people to make them feel guilty when what we need is major political change. And it's not just EELV saying this but the courts."
Barbara Pompili, a former minister for ecological transition, has defended the consumer-targeted politics, saying a "cultural shift" was needed. This was brought home last year in what Le Monde described as "the summer that ended French indifference to climate change", with record temperatures, rampant wildfires, drought, thunderstorms, flooding and hailstones the size of marbles. When a Beluga whale, normally found in the Arctic, was stranded in the Seine, it seemed a potent symbol of impending climate apocalypse.
A few months later, France introduced rules requiring new items of clothing in shops to carry "eco-labels" detailing where they were made, with what and how they could be recycled.
In one supermarket this week, shoppers were surprised to be shown the labels. "I hadn't noticed them to be honest, and I can't see how adding another label is good for the environment," said Marie, 62, a retired teacher. Jeanne, 20, a law student, had not noticed the labels either, but was more impressed. "Anything that encourages people to recycle is good, but perhaps it could have been better publicised."