Kosovo: 'fascist mobs' guided by Serbia causing violence, says country's PM
3 min read
Kosovo's prime minister has blamed violence in the north of the country on "fascist mobs" controlled by the government of neighbouring Serbia, and said he had rejected a US request to relocate recently installed mayors out of their official offices.
More than 30 Nato peacekeeping soldiers were injured in clashes on Monday, prompting the alliance to announce it would send another 700 troops to the country. Serbia's president Aleksandar Vučić put his country's army on high combat alert.
The Nato peacekeeping mission, Kfor, said Italian and Hungarian peacekeepers were subjected to "unprovoked attacks and sustained trauma wounds with fractures and burns due to the explosion of incendiary devices".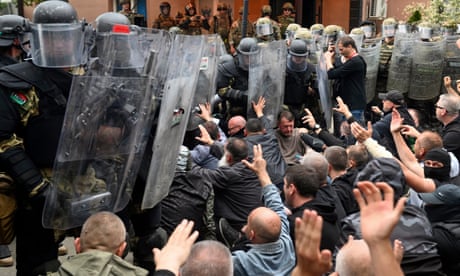 "Yesterday was very severe, we were very lucky that no life was lost," Kosovo prime minister Albin Kurti told the Guardian by telephone from Pristina on Tuesday. He said "several" Nato peacekeepers were still in hospital.
Italy's prime minister, Giorgia Meloni, called the attacks "unacceptable and irresponsible".
The violence came after ethnic Albanian mayors took office in Serb-majority areas of northern Kosovo, after elections in April which Serbs boycotted. Kurti blamed Belgrade for orchestrating the boycott, which led to an extremely low turnout.
The area's majority Serbs have never accepted Kosovo's 2008 declaration of independence from Serbia, and consider Belgrade their capital more than two decades after the Kosovo Albanian uprising against repressive Serbian rule.
Ethnic Albanians make up more than 90% of the population in Kosovo, but northern Serbs have long demanded the implementation of an EU-brokered 2013 deal for the creation of an association of autonomous municipalities in their area.
The violence has been widely condemned, but western allies of Kosovo have also sharply criticised the government in Pristina for the decision to install the mayors.
On Friday, the US secretary of state, Antony Blinken, issued an unusually strong rebuke to a US ally, saying the decision to use force to access municipal buildings in the north had been taken "against the advice" of the US and European partners and had "sharply and unnecessarily escalated tensions".
Kurti expressed his displeasure at the statement, calling it "appeasement" of Vučić.
"I think it's not just unfair and wrong and hurtful but at the same time very naive," said Kurti, speaking to the Guardian by telephone from Pristina. "Perhaps secretary Blinken will explain this further one day, but definitely it was not helpful."
Since then, Kurti said he had spoken to Gabriel Escobar, the US special envoy for the Balkans. He said Escobar had asked the Kosovan authorities to move the mayors to different premises, or to have them work from home, a request he had rejected.
"We cannot have Zoom mayors, we are a democratic republic," said Kurti. "A democratic republic cannot surrender to fascist militia," he added
In a sign of how much the recent events have damaged the relationship between Washington and Pristina, the US ambassador to Kosovo, Jeff Hovenier, told the Financial Times on Tuesday that the US will cancel joint military drills with Kosovo and put diplomatic meetings on hold.
"I would be surprised if, in this situation, Kosovo officials would visit the US," Hovenier said.
Kurti insisted that the new mayors would continue to work from municipal offices.
"These are administrative, technical mayors who are necessary for smooth functioning of municipalities … I acknowledge that the political legitimacy of these mayors is low, however the legitimacy of others is zero," he said.
Kosovo has been backed strongly by the west, but non-recognition by Russia, China and even five of the 27 EU nations has meant it has not been able to take up a seat at the UN or most other international organisations.
A deal signed earlier this year, mediated by the EU, foresaw Kosovo granting rights to Serb municipalities in the north and Belgrade agreeing to Kosovo's accession to international institutions, but the recent violence shows that there is still a long way to go to implement the agreement.
On Tuesday, the Nato secretary general, Jens Stoltenberg, told a press conference in Oslo that the alliance would send additional troops to Kosovo.
"We have decided to deploy 700 more troops from the operational reserve force for western Balkans and to put an additional battalion of reserve forces on high alertness so they can also be deployed if needed," he said.