Kyiv strikes: three die in early morning attack by Russia
3 min read
Three people including a child were killed and at least 11 people were injured in an early morning missile attack on Kyiv that hit apartment buildings, two schools and a children's clinic, according to city authorities.
The attack, on what is International Children's Day in many post-Soviet countries, reportedly involved 10 Iskander short-range missiles, and there was only a few minutes' warning before they hit. Most of the damage appeared to be from falling debris after the incoming missiles were intercepted by the capital's air defences.
Initial reports said an 11-year-old girl, her mother and another woman were killed. There was also a child among the wounded. Nearly 500 children have been killed in military attacks in Ukraine since the start of Russia's full-scale invasion in February 2022.
According to the Ukrainian air force, the attack used seven Iskander-M ballistic missiles and three Iskander-K cruise missiles, all of which it claimed were intercepted. It continued a pattern of near daily strikes – 17 in May alone – using a mixture of drones, ballistic and cruise missiles, apparently aimed at demoralising the population and exhausting supplies of anti-aircraft ammunition before an anticipated Ukrainian counteroffensive.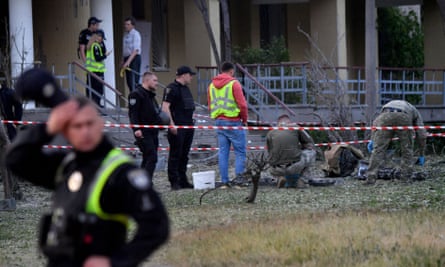 A distraught man interviewed on Kyiv television said his wife was one of the victims of Thursday's attack. He said she had run to a local shelter after an air raid siren went off but the shelter was closed and she was caught out in the open and struck by falling metal from an intercepted missile.
Much of the damage was in Kyiv's eastern district of Desnianskyi, where debris fell on a children's hospital and a block of flats, also damaging two schools and a police station. In a second eastern district, Dniprovskyi, another apartment block was damaged by burning debris setting nearby parked cars on fire. In the nearby Darnytskyi neighbourhood, there was damage to a water pipeline and a residential area.
Meanwhile, Ukrainian-backed Russian rebel groups claimed to have made another incursion into Russia's Belgorod region, this time at the village of Shebekino.
"Very soon we will see the outskirts of Shebekino," a spokesperson for the Russian Volunteer Corps said in a video posted on Telegram on Thursday morning. "Unfortunately, we are unable to provide evacuation for the civilians, from the border area, because the army of the Russian Federation is shelling these areas and in such way prevents the evacuation. Therefore, remain at home and don't be afraid, the fighters of Russian Volunteer Corps are not fighting civilians."
A video message from a second group, the Freedom of Russia Legion, said: "Very soon we will set off into Russia again, to bring freedom and peace."
The statement said a rebel raid into Belgorod last month had led to the capture of Russian military equipment. "Thanks to these we'll be able to arm more of our comrades," the spokesperson said. "We are going to liberate the entire Russia from Belgorod to Vladivostok in order to raise white-blue-white flag of freedom in Moscow."
Belgorod authorities reported shelling in Shebekino and claimed a battle was under way to stop an incursion by what they called "saboteurs". There have been sporadic blasts in the region along Ukraine's north-eastern border since last month's raids.
In Krasnodar, a Russian city just east of occupied Crimea, an oil refinery caught fire after being hit by a drone, according to the local authorities, who did not say where the drone had come from.