Li Shangfu: China's defence minister at Shangri-La Dialogue warns of 'cold war mentality' in digs at US
4 min read
China's defence minister, Li Shangfu, has said a cold war mentality is resurgent in the Asia-Pacific region, but Beijing seeks dialogue over confrontation. The remarks came after Li refused to formally meet the US defence secretary, Lloyd Austin, at the Shangri-La Dialogue in Singapore.
Speaking at the dialogue, Asia's top security summit, on Sunday, Li took thinly veiled digs at the US, repeating familiar grievances and accusing "some countries" of intensifying an arms race and interfering in the internal affairs of others.
"A cold war mentality is now resurgent, greatly increasing security risks," he said. "Mutual respect should prevail over bullying and hegemony."
Li, a general of the People's Liberation Army, has been under US sanctions since 2018 over the purchase of combat aircraft and equipment from Russia's main arms exporter, Rosoboronexport. The Singapore speech marked his first significant international address since he was made defence minister in March.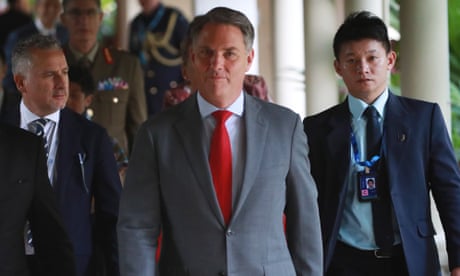 The general told the dialogue audience that China would not tolerate attempts by Taiwan independence forces or external forces to separate Taiwan from China.
Taiwan is a self-governed island that considers itself independent and has never been ruled by China's Communist party regime. China's president, Xi Jinping, has made it a goal to see Taiwan reunited with the Chinese mainland, by force if necessary.
Austin rebuked China in his own speech on Saturday for refusing to hold military talks, leaving the superpowers deadlocked over democratically ruled Taiwan and territorial disputes in the South China Sea.
Ties between Washington and Beijing are strained over a range of issues, including Taiwan, the South China Sea and President Joe Biden's restrictions on semiconductor chip exports.
"China and the US have different systems and are different in many other ways," Li said.
"However, this should not keep the two sides from seeking common ground and common interests to grow bilateral ties and deepen cooperation. It is undeniable that a severe conflict or confrontation between China and the US will be an unbearable disaster for the world."
A senior US state department delegation arrived in Beijing on Sunday as Washington seeks to boost communication with China. Daniel Kritenbrink, assistant secretary of state for east Asia and the Pacific, would discuss "key issues in the bilateral relationship" during his visit, the state department said. Kritenbrink was being accompanied by Sarah Beran, the White House national security council's senior director on China and Taiwan.
On Sunday, China's military rebuked the US and Canada for "deliberately provoking risk" after the allies' navies staged a rare joint sailing through the Taiwan Strait. The US Navy's 7th Fleet said the guided-missile destroyer USS Chung-Hoon and Canada's HMCS Montreal conducted a "routine" transit of the strait on Saturday "through waters where high-seas freedoms of navigation and overflight apply in accordance with international law".
The US military said that during the transit, a Chinese navy ship cut across the bow of the Chung-Hoon twice, forcing it to slow down to avoid collision. It was the second close encounter between the American and Chinese militaries in less than 10 days after one of Beijing's fighter planes swerved in front of one of Washington's surveillance planes.
Li on Sunday questioned why vessels of the US and allies were there in the first place. China did not have any problems with "innocent passage" but "we must prevent attempts that try to use those freedom of navigation [patrols], that innocent passage, to exercise hegemony of navigation".
Li suggested the US and its allies had created the danger, and should instead focus on taking "good care of your own territorial airspace and waters".
"The best way is for the countries, especially the naval vessels and fighter jets of countries, not to do closing actions around other countries' territories," he said.
"What's the point of going there? In China we always say, 'Mind your own business.'"
Li told the Singapore summit: "In essence, attempts to push for Nato-like [alliances] in the Asia-Pacific is a way of kidnapping regional countries and exaggerating conflicts and confrontations, which will only plunge the Asia-Pacific into a whirlpool of disputes and conflicts.
"Today's Asia-Pacific needs open and inclusive cooperation, not buddying up into small cliques. We must not forget the severe disasters brought by the two world wars to peoples of all countries, and we must not allow such tragic history to repeat itself."
Li did not explicitly name any country but appeared to be referring to the US, which has been shoring up alliances and partnerships in the region. The US is a member of the Aukus alliance, which groups it with Australia and Britain. Washington is also a member of the Quad with Australia, India and Japan.
Li shook hands with Austin at a dinner on Friday but the two have not had a deeper discussion, despite repeated US demands for more military exchanges.
Speaking privately the sidelines of the conference, two Chinese military officers said Beijing wanted clear signs from Washington of a less confrontational approach in Asia – including the dropping of sanctions against Li – before military-to-military talks could resume.