Libya flood: international aid arrives as authorities open investigation
4 min read
International aid is arriving in Libya from the UN, Europe and Middle Eastern countries, offering some relief to thousands after flooding submerged the port city of Derna.
The World Health Organization said "the bodies of 3,958 people have been recovered and identified", with 9,000 more still missing, as it announced 29 tonnes of aid had arrived in the eastern city of Benghazi, enough to help 250,000 people.
The aid includes essential medicines and emergency surgical supplies, as well as body bags to allow corpses to be moved and the deceased to be given a "dignified burial".
Libyan authorities have opened an investigation into the collapse of two dams that caused a devastating flood in the coastal city.
Libya's general prosecutor, Al-Sediq al-Sour, said prosecutors would investigate the collapse of the dams, which were built in the 1970s, as well as the allocation of maintenance funds. He said prosecutors would investigate local authorities in the city, as well as previous governments.
"I reassure citizens that whoever made mistakes or negligence, prosecutors will certainly take firm measures, file a criminal case against him and send him to trial," he told a news conference in the port city of Derna on Friday.
Aid groups have warned of the growing risk posed by the spread of disease that could compound the humanitarian crisis, as hopes of finding more survivors faded days after deadly flooding.
Sunday's flood submerged Derna, washing thousands of people and homes out to sea after two upstream dams burst under the pressure of torrential rains triggered by the hurricane-strength storm.
Conflicting death tolls have been reported, but official estimates place the overall figure at more than 11,000.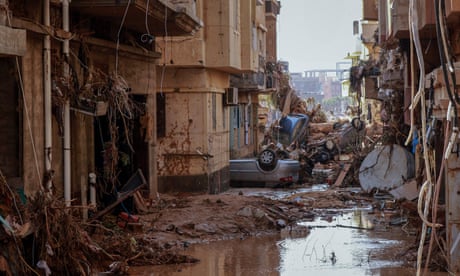 Aid organisations such as Islamic Relief and Doctors Without Borders (MSF) have warned that the coming period could see the spread of disease as well as grave difficulties in delivering aid to those most in need.
Islamic Relief warned of a "second humanitarian crisis" after the flood, pointing to the "growing risk of water-borne diseases and shortages of food, shelter and medicine".
"Thousands of people don't have anywhere to sleep and don't have food," said Salah Aboulgasem, the organisation's deputy director of partner development.
"In conditions like this, diseases can quickly spread as water systems are contaminated. The city smells like death. Almost everyone has lost someone they know."
MSF said it was deploying teams to eastern Libya to assess water and sanitation.
"With this type of event we can really worry about water-related disease," said Manoelle Carton, MSF's medical coordinator in Derna, who described efforts to coordinate aid as "chaotic".
Libyan authorities have largely sealed off Derna from civilians in an effort to give space to emergency aid workers and amid concern about contamination of standing water.
Salem al-Ferjani, director general of the ambulance and emergency service in eastern Libya, said only search and rescue teams would be allowed to enter parts of the town most affected by the flooding. Many citizens have already left the town voluntarily.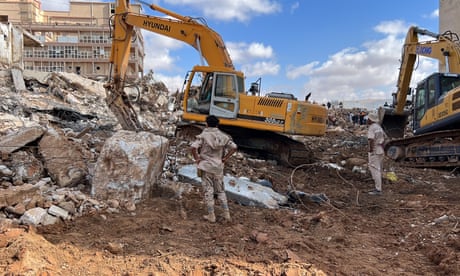 However, the Red Cross and the World Health Organization (WHO) said that contrary to widespread belief, the bodies of victims of natural disasters rarely posed a health threat. The organisations issued a joint statement on Friday urging Libyans to stop burying the dead in mass graves.
The statement said: "Some may move quickly to bury bodies, such as in mass graves, in part in an attempt to manage this distress, and sometimes because of the fear that these bodies pose a health threat.
"This approach can be detrimental to the population. Though local authorities and communities can be under immense pressure to bury the dead quickly, the consequences of mismanagement of the dead include long-lasting mental distress for family members as well as social and legal problems."
An Agence France-Presse journalist in Derna said central neighbourhoods on either side of the river, which normally dries up at this time of year, looked as if a steamroller had passed through, uprooting trees and buildings and hurling vehicles on to the port's breakwaters.
Stephanie Williams, a US diplomat and former UN envoy to Libya, urged global mobilisation to coordinate aid efforts after the flood. She warned of the "predilection of Libya's predatory ruling class to use the pretext of 'sovereignty' and 'national ownership' to steer such a process on their own and in a self-interested manner".
In a news conference on Friday, Ahmed al-Mesmari, the spokesperson for the warlord Khalifa Haftar, who is based in eastern Libya, pointed to "enormous needs for reconstruction".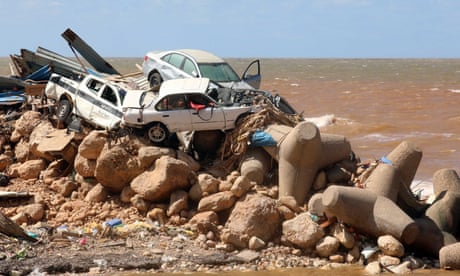 The UN launched an appeal for more than $71m (£57m) to assist hundreds of thousands in need and warned that the "extent of the problem" remained unclear.
"We don't know the extent of the problem," said the UN's aid coordinator, Martin Griffiths, as he called for coordination between Libya's two rival administrations – the UN-backed, internationally recognised government in Tripoli and the one based in the disaster-hit east.
Tawfik Shoukri, a spokesperson for Libyan Red Crescent, said its teams were "still searching for possible survivors and clearing bodies from the rubble in the most damaged areas" of Derna.
Other teams were trying to deliver much-needed aid to families in the eastern part of the city, which had been spared the worst of the flooding but was cut off by road, he added.
Shoukri pointed to the "very high" level of destruction in the city, but declined to give figures for the number of victims.
While most fear the death toll will be much higher than the current figures, Tamer Ramadan of the International Federation of Red Cross and Red Crescent Societies said there was still hope of finding survivors, while also declining to give a figure.
The International Organisation for Migration said "over 38,640" people had been left homeless in eastern Libya, 30,000 of them in Derna alone.