Libya floods: warlord using disaster response to exert control, say observers
4 min read
As search and rescue teams continue to hunt for bodies trapped underneath the mud and rubble of their homes in the Libyan coastal city of Derna, observers say the warlord Khalifa Haftar and his sons are using the disaster response as a way to exert control rather than ensure vital humanitarian relief reaches civilians.
At least 11,300 people have died and more than 10,000 are missing, according to the Libyan Red Crescent, after two dams burst during a powerful storm last week.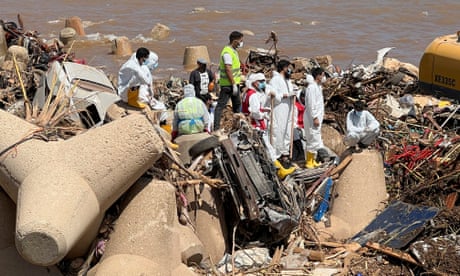 The resulting floods have completely destroyed almost 900 buildings in Derna, according to the country's National Unity government, based in the north-western city of Tripoli. More than 200 buildings were partly damaged and almost 400 others were completely submerged in mud, it added, meaning that a quarter of all buildings in Derna had been affected by the flooding.
Desperate rescue efforts continued in an attempt to find any remaining survivors as bodies continued to wash up on the shoreline. First responders on the ground often worked while surrounded by militants from the Libyan National Army, a sprawling military coalition loyal to Haftar, amid what observers described as efforts to keep an iron grip over vital assistance arriving in the crisis-stricken city.
Public access to the centre of Derna, worst-affected by the flooding, has been shut off, and the city has been officially declared a disaster zone. Derna's citizens are struggling to survive without access to electricity, safe drinking water or food.
Late last week, the head of Libya's parliament based in the east, Osama Hamad, said the authorities were considering sealing off the entire city, which once housed 100,000 people, fearing the spread of water-borne diseases.
"Essentially there is a military presence that is creating bottlenecks rather than being conducive to the provision of relief," said Emadeddin Badi, an analyst on Libya with the Atlantic Council. "The main thrust of relief efforts was not facilitated by the military leadership, which had a vested interest in appearing in control while skirting responsibility and victim-blaming, but instead by volunteers, medical teams, Red Crescent, boy scouts and foreign search and rescue teams."
Haftar, who has spearheaded a military campaign to unilaterally control much of eastern Libya since 2014, toured Derna on Friday. He praised the actions of first responders as well as members of the LNA, a coalition of militias overseen by the ageing former CIA asset and US citizen, whom critics accuse of running areas under his control akin to a military dictator.
"On the public relations side, they are leveraging their pre-existing propaganda channels to appear in control, while being the main interface for administering crisis relief and being the custodians of the city," said Badi. "But again, that's creating bottlenecks everywhere. Haftar's visit was a microcosm of this issue, everything was frozen for an hour for a PR stunt."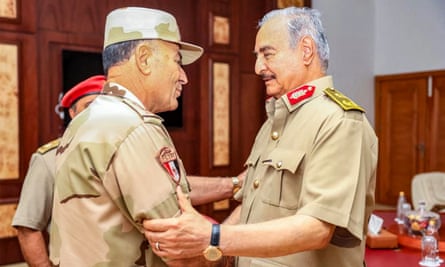 Haftar's sons, each of whom also controls their own broad networks of financial and sometimes military interests in eastern Libya, have responded to the humanitarian crisis in Derna by seeking to further exert control over the disaster response. On the same day that disaster struck Derna, Khalifa Haftar's eldest son, Elseddik, declared his interest in running for president of Libya in long-delayed elections.
Observers said 32-year-old Saddam Haftar, often seen as the likely heir despite his brothers' efforts, quickly used his role as the head of Libya's disaster response committee to legitimise his international standing while keeping a tight grip on aid.
Saddam Haftar heads the Tariq Ben Zayed brigades, a militia that is part of the LNA and was recently accused by Amnesty International of "inflicting a catalogue of horrors, including unlawful killings, torture and other ill-treatment, enforced disappearance, rape and other sexual violence, and forced displacement – with no fear of consequences".
Jalel Harchaoui, a specialist on Libya and associate fellow at the Royal United Services Institute, pointed to Saddam Haftar's efforts to demonstrate control over international aid teams arriving in Derna and how this has slowed vital disaster response in a time of crisis: "Everything is concentrated in the hands of the Haftar family. I wish I could tell you that there are other power centres in eastern Libya, but there's no such thing."
For much of the past decade Libya has remained fiercely divided between eastern and western factions with their own patchwork of military interests, after a military intervention by Nato forces to support an uprising against the former dictator Muammar Gaddafi.
Harchaoui said the Haftar clan's control over response efforts, particularly the prominent role of Saddam Haftar, provided little hope that any domestic or international investigation into the loss of life in Derna could fully scrutinise their roles as the officials in charge, as well as any others responsible.
The Libyan prosecutor general, al-Sediq al-Sour, promised to investigate the collapse of both dams in Derna, as well as the allocation of millions of dollars in funding intended to maintain the structures, which were built in the 1970s. While pledging to investigate local authorities in Derna and previous governments, al-Sour also met with Saddam Haftar. Local television reported that Derna's mayor was suspended pending investigation on Saturday.
"Saddam is positioning himself as the boss. You need to physically access victims and the city, and to do that they depend on his goodwill," said Harchaoui. "Slowly things are orienting towards one conclusion, which is that only mid-level officials can be blamed. A large part of the conclusion is excluded from the start, it's not an open investigation."