'Lives put at risk' by UK's failure to fast-track Sudanese asylum claims
4 min read
A Sudanese asylum seeker, Yousif (not his real name), was in his Home Office hotel room trying to sleep when he got a horrifying WhatsApp message from his wife.
It was a picture of his three-year-old son fast asleep on the street in Khartoum, surrounded by plastic bags, using a salvaged wheelie suitcase as a mattress after they were forced out of their home by the fighting between the Sudanese army and its paramilitary opponent, the Rapid Support Forces (RSF), that has torn the country apart over the past two months.
Since war broke out in April, like thousands of Sudanese asylum seekers stuck in the Home Office backlog, the engineer has been waiting helplessly in Britain for news of his family while his asylum application is yet to be processed.
If his claim had been accepted, he would have applied for a family reunion visa so that his wife and child could be safe in the UK with him. Instead, for more than a month they have been homeless – eating from rubbish bins, sleeping on the streets and pleading with strangers for temporary accommodation.
"The life of my wife and son is in danger. This is war. This is not a game," Yousif, who has been in the UK since January, told the Observer. "I can't sleep. I'm thinking all day about them, what will happen. And I'm waiting for my phone."
He has prepared himself for the worst. "The military don't care about anything. Maybe at anytime they will shoot you, they will rape you."
The latest Home Office quarterly figures showed the overall number of asylum seekers in the UK waiting for a decision was at a record high of 172,758. As of 31 March there were 5,010 Sudanese main applicants waiting for an initial decision on their asylum claim – 3,966 of whom had been waiting for more than six months.
Meanwhile, up to 20,000 Iraqi and Iranian asylum seekers are to have their claims fast-tracked in a bid to clear the backlog, according to a Home Office letter leaked last month.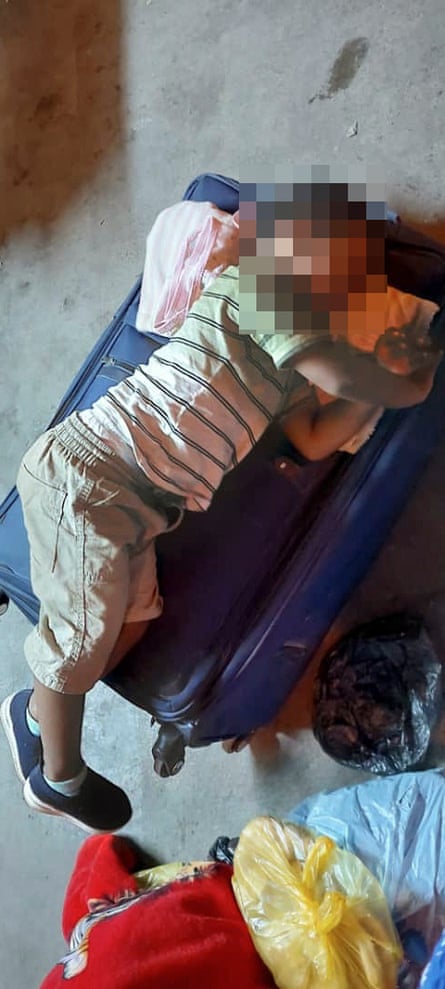 Sudanese asylum seekers should also be fast-tracked, said Yousif. "In Sudan we have war. So why does the Home Office make a process for them and not for us?"
Refugee organisations and MPs said the situation was "unacceptable", warning that lives are being put at risk as a result.
Murtada, 36, is in shared accommodation in Chester while his mother, brother, wife and daughter are homeless on the streets of Khartoum. He has been waiting for his asylum claim to be processed since February 2022. He wishes the Home Office would allow him to reunite his family.
"I am very worried about them," he said, speaking through an interpreter. "And I feel more depressed right now because the situation they are living doesn't guarantee whether they will live for the next day or not because they are under gunshots every day."
Islamic Relief UK called on the government to do "everything it can" to fast-track asylum applications of people from Sudan, where it calculates over 1.4 million people have fled their homes because of the crisis. "Lives are at stake, with civilians in Sudan facing ongoing attacks and heavy shelling, and struggling to get food, water and medicine. In Khartoum there are rotting bodies on the streets, hospitals are shut and there are risks of disease outbreaks," a spokesperson said.
The British Red Cross said reaching the UK – even for those with family already here – is "incredibly difficult" and called on the government to urgently speed up processing, waive biometric requirements and extend the criteria beyond spouses and children under 18.
"Under existing rules, they must physically visit a visa centre in Sudan, which are currently closed due to the ongoing violence," said Christina Marriott, the charity's executive director of strategy and communications. "Even those who have already applied for a family reunion visa face waiting many months due to the ongoing backlog in decision-making. This is an unacceptable situation for those whose lives are in danger now."
Adam, a human rights activist speaking under a pseudonym, had his interview in January but is still waiting for approval so that he can bring his wife and two young children, trapped in Darfur, to safety in Britain. He arrived in the UK in July after being arrested multiple times and jailed in Sudan.
Noting the difference in treatment between those seeking asylum from Ukraine and Sudan, he said: "They are taking action for some people and some people they're neglecting. We can see that ourselves. We are neglected. Why is there not any action?"
Meanwhile, the Refugee Council accused the government of driving Sudanese asylum seekers to resort to crossing the Channel in small boats due to a lack of safe routes and urged them to make "quick positive decisions" on applicants from the country, which has a high grant rate.
"Instead of showing compassion and support, the government is determined to lock up anyone who manages to get to the UK by boat, denying them the chance to get a claim heard on UK soil," a spokesperson said.
A Home Office spokesperson said: "We want all asylum claims to be considered without unnecessary delay to reduce the cost to the taxpayer of expensive hotels. Our streamlined processes are aimed at people from nationalities that make up the highest volume within the legacy backlog, like Iraq and Iran.
"The government is taking immediate action to clear the asylum backlog by doubling the number of asylum caseworkers to 2,500 and streamlining interviews and paperwork.
"We have no plans for a bespoke resettlement route for Sudan. Preventing a humanitarian emergency in Sudan is our focus right now and are working with international partners and the United Nations to bring an end to fighting."