Macron to call for European 'strategic awakening' after Ukraine invasion
3 min read
Emmanuel Macron is to make a diplomatic push to reassure central and eastern European countries that France understands that the continent's security environment has been permanently changed by Russia's invasion of Ukraine.
Macron has often been viewed with suspicion across eastern Europe, especially in Poland, as someone who sees Russia as ultimately part of Europe's security architecture and wants to use the war in Ukraine to boost European defence autonomy in a way that loosens Europe's security ties to the US.
In a speech to a security forum in the Slovakian capital, Bratislava, on Wednesday, Macron will call for a "strategic awakening" and highlight the work France has done to protect Nato's eastern flank, including posting 1,250 French troops in Romania and 300 in Estonia. He will also stress the French role in unlocking the supply of battle tanks to Ukraine.
At a meeting the following day in Moldova that he has largely engineered with fellow European leaders from inside and outside the EU – including Britain's Rishi Sunak – he will stress France's commitment to Ukraine's victory and say he will not tolerate a frozen conflict.
An Élysée official said: "What is striking is that it's not the first, this is the third war that Russia has been waging in 15 years, with Georgia 2008, Ukraine 2014, Ukraine again in 2022."
The official accused Russia of "laying down its abusive demands in the draft treaties of late 2021, where Russia proposed nothing short of the full decoupling of European American security, the neutralisation of Ukraine and organising the vulnerability of the states neighbouring Russia – all claims which cannot be accepted."
The Élysée pointed out that Macron had already sanctioned an increase of more than a third in France's planned defence spending for 2024-30 compared with 2019-25. Macron sees the increase as part of a sea change in defence spending under way with no prospect of an end to the new cold war any time soon.
The president will argue that Europe, backed by EU funding, needs to do more to support its own armament production capacity and explore defence partnerships between member states.
Macron is expected to warn of a deep and steady erosion of European strategic stability due to Russia's successive withdrawals from nuclear arms control treaties, as well as the recent stationing of Russian tactical nuclear weapons in Belarus in defiance of the bargain struck in 1997.
As part of the response, France and Germany will host a military conference on 19 June focused on a German proposal for a European "sky shield" initiative. France will contend that Europe and Nato need not just stronger air defence but a new deep precision strike capability. The Élysée said: "It is not enough to have shields, you also need swords."
The proposal for developing this long-range capability for Nato was recently discussed at a Franco-British summit in Paris in March. French sources said this showed how Macron does not insist that stronger European defence capabilities are solely structured around the EU.
The meeting in Moldova of the new European Political Community (EPC), a Macron brainchild, will gather 47 European leaders from inside and outside the EU including Turkey. It will be the second such meeting of this fledgling group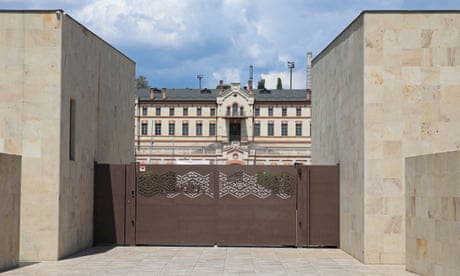 The Élysée predicted that the family photo of so many European leaders showing their solidarity with two EU accession applicants – Ukraine and Moldova – would send a clear message to Russia.
The re-elected Turkish president, Recep Tayyip Erdoğan, is expected to attend the summit where he will be pressed to clarify his terms for lifting his veto on Sweden's membership of Nato. France would like Sweden to be able to join Nato at the organisation's Vilnius summit in July. The summit will also consider the next stage of Ukraine's application to join Nato, something France does not favour for some time.
The EPC, due to meet twice a year, is still in its infancy and will focus on European security, connectivity, energy and cyberdefence. The next EPC will be hosted by Spain later this year and another next year by the UK.