Mallorca: P&O ship with thousands of Britons onboard collides with tanker
2 min read
A P&O cruise ship carrying thousands of British holidaymakers has crashed into an oil tanker off the coast of Palma in Mallorca after it snapped its moorings.
The Britannia was blown by gales towards the other vessel on Sunday after a storm battered the island in the Balearics. P&O said a small number of people sustained minor injuries.
Ricky Stubbs, a passenger, said he and his children had been about to disembark when the crash happened.
"We were at the stairwell next to the sunset bar," he said. "A loud crash came from the bar and the door flung open with people running in. Within seconds there was more crashing followed by chaos as people were trying to escape the onslaught of wind and rain.
"People were being ushered in by other guests and staff. You could clearly see some had injuries due to either falling over or debris flying around, and people were distraught.
"A couple of minutes later the captain came over the speaker asking all guest to return to their rooms until further instructions."
Stubbs said the passengers had been told they would be staying overnight while the boat was moored up so the damage could be assessed.
"Huge respect for the captain and all the staff as they managed to stay calm and keep everyone updated," he said. "The captain made announcements every 10-15 minutes once we were back in our cabins and they did a great job in a stressful situation."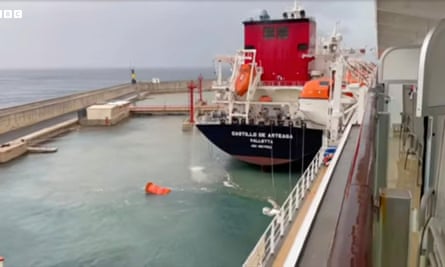 The £473m ship, which entered service in 2015, is the flagship of the P&O fleet.
A P&O Cruises spokesperson said: "On Sunday 27 August, P&O Cruises Britannia was involved in a weather-related incident while alongside in Palma de Mallorca. A small number of individuals sustained minor injuries and are being cared for by the onboard medical centre.
"To allow our technical teams to make an assessment, Britannia will remain alongside in Palma de Mallorca tonight with onboard entertainment and activities scheduled."
Mallorca had been experiencing winds of 75mph and torrential rains, which caused sun loungers to be blown into the air. An amber weather alert was in place across the whole of the island and had been extended until midnight on Sunday.
The Tramuntana region and the north and north-east of the island were most likely to be affected, forecasters said.