Millions still under air quality warnings in US as wildfire smoke begins to clear
3 min read
Millions of Americans remained under air quality warnings on Friday, even as smoke from hundreds of Canadian wildfires began to dissipate in the north-eastern US.
Moderate to unhealthy air quality continued to linger across a swathe of the country, from the midwest to the Atlantic coast, the National Weather Service said, although it said "some improvement" will continue this weekend.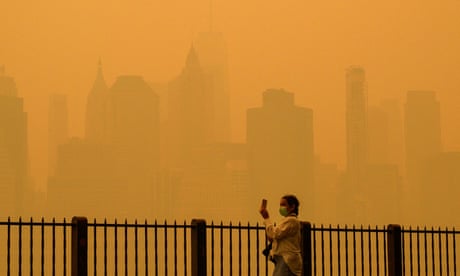 On Thursday night the Biden administration postponed a planned LGBTQ+ event at the White House, while public schools in New York City and Philadelphia implemented remote learning on Friday. Smoke affected the air quality as far south as North Carolina, while fires still blazed, many out of control, across swaths of Canada.
"Smoke from Canadian wildfires continues to be transported south by winds into the US resulting in moderate to unhealthy air quality across parts of the Northeast, Mid-Atlantic, Ohio Valley, and Midwest on Friday," the National Weather Service said.
"Near-surface wildfire smoke associated with Canadian fires is expected to continue plaguing regions from the Great Lakes to the Mid-Atlantic with reduced air quality.
"Northwesterly flow around a low pressure system over the Northeast will continue the flow of smoke over the region, but should relax and eventually shift to more of a westerly direction on Saturday."
All of Pennsylvania, Delaware, Connecticut, Rhode Island, New Jersey and Indiana are under air quality alerts, CNN reported, while parts of Ohio, Michigan, Maryland, Virginia and North Carolina were under alerts.
New York City, which at points on Wednesday and Thursday had the worst air quality of any major city in the world, saw improved conditions on Friday morning, with an air quality index of 68, according to AirNow, a government website. That put the city at a "moderate" rating, according to Air Now; at points this week New York topped 400 on the air quality index, meaning the air was classed as "hazardous".
In Philadelphia, garbage pickups and street maintenance were suspended to protect workers from the polluted air, while Connecticut officials in Bridgeport activated the city's cooling centers protocol – normally used only on the hottest days – so residents could escape the unhealthy air at designated library branches and senior centers.
Joe Biden postponed a Pride month celebration with thousands of guests on the White House lawn because of poor air quality in Washington on Thursday. The event will instead be held on Saturday. The event is intended as a high-profile show of support for LGBTQ+ people at a time when the community is under attack from Republican-run state legislatures across the country.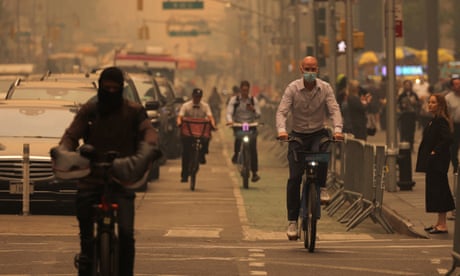 It remains unclear when more than 12,000 Canadians displaced by encroaching flames will be able to return home, the Quebec public security minister, François Bonnardel, said, according to the Associated Press.
There have been no reports of injuries or deaths, or damage to homes from the wildfires burning across the province, Bonnardel said on Thursday. But no rain is expected until next week and temperatures are expected to rise.
"Some fires are under control, some not," Bonnardel said. "We've evacuated 12,600 people all over Quebec, principally in the north of Quebec. We're looking at these fires every hour, we're hoping to tell Quebecers they will be able to go back home, but in the short term, it won't be possible."
More than 639,000 hectares (2,467 sq miles) have burned in the province, representing the worst fire season in Quebec on record.