Monstrous' sea lice and jellyfish invasions blighting Scottish salmon farms
4 min read
ochs in the Highlands of Scotland are among the most spectacular and pristine wildlife areas in Britain, attracting tourists from around the world. They are also a production line for what have become supermarket staples: smoked and fresh salmon.
The salmon industry says fish health and welfare are at the heart of successful Scottish salmon farming, but a new investigation by Viva!, the vegan campaigning charity, highlights the parasites and jellyfish blighting intensive fish production.https://interactive.guim.co.uk/uploader/embed/2023/09/archive-zip-w_highland_lochs_scotland/giv-13425v7yfGHUgYP6a/
Campaigners deployed cameras with underwater drones at salmon farms operated by some of Scotland's biggest producers. They recorded what they call "monstrous invasions" of sea lice and swarms of jellyfish.
Lex Rigby, head of investigations at Viva!, said: "The intensification of fish farming as a 'solution' to overfishing has created a breeding ground for disease in which salmon suffer appallingly."
The sea lice – Lepeophtheirus salmonis – feed on the salmon's skin and are potentially lethal to the fish. They are typically treated with licensed medicines or physical methods including bathing in freshwater.
Viva! filmed at salmon farms in Loch Torridon, Loch Carron and Loch Kishorn in the north-west Highlands of Scotland. The footage shows many salmon infested with parasitic sea lice. The farms are operated by leading food producers supplying UK supermarkets and overseas markets, with salmon now one of Britain's biggest food exports.
Footage taken at a seawater farm on Loch Torridon operated by Mowi, the world's largest supplier of farm-raised salmon, shows several salmon infested with sea lice. The farm's own official reported counts in 2023 of weekly average female adult sea lice per fish have been between 0.03 and 5.4. Treatments for infestations are started when there is an average of between 0.5 and one adult female louse per fish.
Filming at the Bakkafrost salmon farm at West Strome, Loch Carron, also showed fish lice infestations. The farm's own official reported counts in 2023 of weekly average female adult sea lice per fish have been between zero and 2.14. Filming at three farms operated by Scottish Sea Farms at Loch Kishorn showed sea lice and swarms of jellyfish.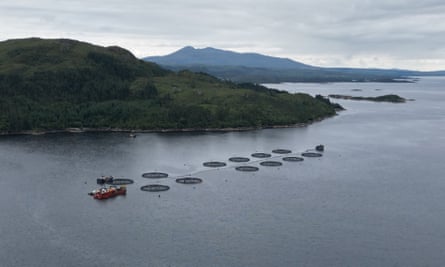 A report by the charity WildFish warned in March that the Scottish fish-farming industry was failing to contain sea lice parasites on open-net farms. It found more than two-thirds of active farms (132 out of 192) breached sea lice limits in the industry's code of good practice on at least one occasion.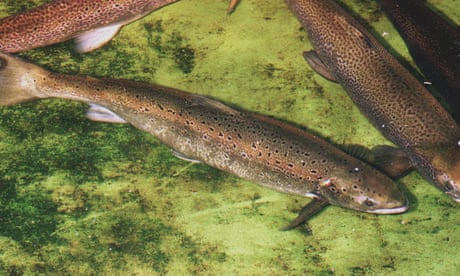 The report stated: "The rapid expansion of open-net marine salmon and rainbow trout farming in Scotland in the last 30 years has led to increasing concern about parasitic sea lice infestations on these farms, and the threat these pose to the health and survival of wild and farmed salmon."
The Observer reported in January how salmon deaths on fish farms in Scotland nearly doubled last year owing to growing levels of disease, parasites and jellyfish bloom. Micro jellyfish, which may be linked to warming oceans, are a particular threat, blocking or stinging fish gills, leading to death.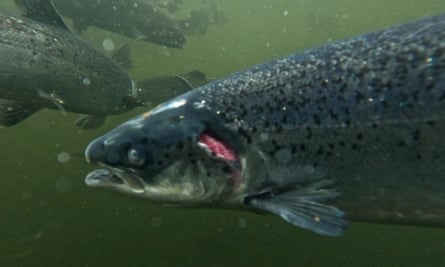 Salmon Scotland, which represents the producers, said farms were working hard to manage sea lice numbers. It said the industry was transparent about the challenges it faced.
Dr Iain Berrill, head of technical at Salmon Scotland, said: "The Scottish salmon sector is committed to our marine environment, and we are constantly innovating to manage naturally occurring challenges like sea lice that affect wild salmon and farm-raised salmon alike.
"Salmon farmers work hard year round to manage sea lice numbers using technology and innovation."
Salmon Scotland said various factors are involved in the decline of wild salmon, such as river water quality, which it said is occurring across Europe, even in places where there is no aquaculture.
Scottish Sea Farms said the recent sea lice counts at its three Loch Kishorn farms were low, with an average of 0.18 adult females per fish. It said high levels of micro jellyfish were found in June, which threatened the fish, and they were harvested early.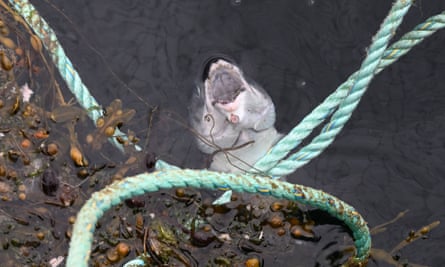 Regin Jacobsen, CEO of Bakkafrost, said the company had significantly invested in new technology to combat sea lice, with two vessels in Scotland installed with large tanks for freshwater treatments. "Sea lice do not survive in freshwater, and it is very effective," he said. "If you don't have the right tools, the sea lice numbers can escalate. We are now ahead of the problem."
Some within the salmon industry believe that building fish farms on land could tackle issues including disease. In May, AquaCultured Seafood unveiled proposals for the UK's first land-based farm in Grimsby, a £75m facility with 50 tanks to rear 5,000 tonnes of salmon a year.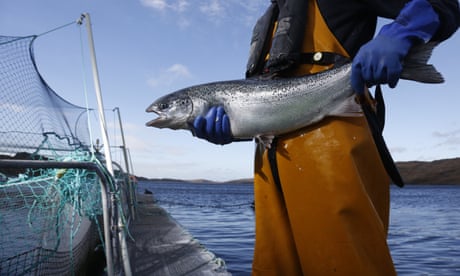 Animal experts, veterinarians and academics recently wrote to Gillian Martin, the Scottish government's minister for energy and the environment, asking her to conduct an independent risk assessment of facilities based on land.
Abigail Penny, the executive director of Animal Equality UK, said onshore farms would only shift the damaging impacts of salmon farming "from sea to shore".
A Scottish government spokesperson said: "Our recent Vision for Sustainable Aquaculture sets out our support for the development of an aquaculture sector that operates within environmental limits, and recognises the considerable social and economic benefits the sector delivers."