North Korea's first spy satellite launch ends in failure and promise to send up another
4 min read
State media say the projectile plunged into the sea, after briefly sparking emergency warnings in South Korea and Japan
North Korea's first spy satellite launch has ended in failure after its second stage malfunctioned, sending the projectile plunging into the sea, the country's state media has said, with the regime vowing to conduct another launch soon.
The launch sparked emergency warnings on the southern Japanese island of Okinawa and in the South Korean capital Seoul, where the city briefly issued an evacuation warning in error. Both alerts were later lifted.
The new Chollima-1 satellite launch rocket failed due to instability in the engine and fuel system, the official KCNA news agency said, adding that officials were working to verify the "grave defects" that caused the rocket to malfunction.
The launch was the nuclear-armed state's sixth satellite launch attempt, and the first since 2016. It was supposed to launch North Korea's first spy satellite into orbit.
The failed attempt is a setback to attempts by the North's leader, Kim Jong-un, to boost his military capabilities amid rising tensions with the US and South Korea.
But after an unusually quick admission of failure, North Korean officials vowed to conduct a second launch as soon as possible, suggesting that Kim remains determined to expand his weapons arsenal and apply more pressure on Washington and Seoul.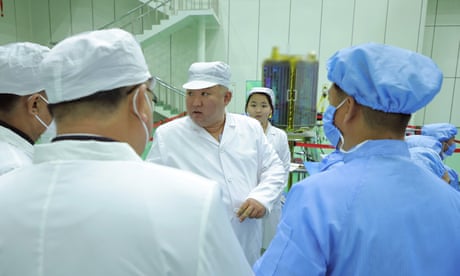 The South Korean military said it was salvaging an object presumed to be part of the crashed rocket in waters 200km (124 miles) west of the south-western island of Eocheongdo. The defence ministry later released photos of a white, metal cylinder it described as a suspected rocket part.
South Korea's Joint Chiefs of Staff said earlier it had detected the launch of what Pyongyang described as a military reconnaissance satellite from the Tongchang County area in the western province of North Pyongan in North Korea, at around 6.29 am, heading in a southerly direction.
The military was analysing whether the rocket and its payload may have broken up in mid-air or crashed after vanishing from radar early, the Yonhap news agency reported. The "projectile disappeared from radar before reaching expected drop point," Yonhap said, citing the Joint Chiefs.
"It is impressive when the North Korean regime actually admits failure, but it would be difficult to hide the fact of a satellite launch failure internationally, and the regime will likely offer a different narrative domestically," Leif-Eric Easley, a professor at Ewha University in Seoul, said. "This outcome also suggests that Pyongyang may stage another provocation soon, in part to make up for today's setback."
In Seoul the quickly retracted evacuation alert caused panic and triggered calls on social media for the mayor, Oh Se-hoon, to resign.
"I was taking my two young children to a basement parking lot as advised, in shock," said a 37-year-old father who asked to be identified by his surname Yoon. The correction had left him "speechless and outraged", he added. "Now no one is going to believe a real alarm, just like in the fable about the boy who cried wolf."
Oh defended the decision to issue the alert, saying the city had "judged that immediate action was necessary".
He told reporters: "This emergency text may have been an overreaction but … there can be no compromise on safety."
The US "strongly condemned" Wednesday's launch, which it said "involved technologies that are directly related" to North Korea's missile programme.
The launch "risks destabilising the security situation in the region and beyond", National Security Council spokesman Adam Hodge said.
In a phone call, officials from the US, Japan and South Korea "strongly condemned" the launch, Japan's foreign ministry said. "The three countries will stay vigilant with high sense of urgency," the statement said.
The UN secretary general, Antonio Guterres, also criticised Pyongyang, saying its use of ballistic missile technology was "contrary" to UN security council resolutions, Stéphane Dujarric, a spokesman for Guterres, said in a statement.
Because long-range rockets and space launchers share the same technology, analysts say developing the ability to put a satellite in orbit would provide Pyongyang with cover for testing banned intercontinental ballistic missiles (ICBMs).
North Korea had confirmed on Tuesday that it planned to launch what it called "military reconnaissance satellite No. 1" before 11 June, having told Japan of its plans a day earlier.
North Korea does not have a functioning satellite in space, experts say.
Since 1998, Pyongyang has launched five satellites, three of which failed immediately and two of which appeared to have been put into orbit – but signals from them have never been independently detected, indicating they may have malfunctioned.
North Korea said on Tuesday its new spy satellite would be "indispensable to tracking, monitoring … and coping with in advance in real time the dangerous military acts of the US and its vassal forces".
Criticising US-South Korea joint military exercises, including ongoing large-scale live-fire drills, a top North Korean military official said Pyongyang felt "the need to expand reconnaissance and information means and improve various defensive and offensive weapons", state media reported.
Pyongyang, which typically does not give advanced warning of missile launches, has been known to inform international bodies of purportedly peaceful satellite launch plans.
In 2012 and 2016, Pyongyang tested ballistic missiles that it called satellite launches. Both flew over Japan's southern Okinawa region.