Pave way for Turkish EU entry then Sweden can join Nato, says Erdoğan
4 min read
The Turkish president, Recep Tayyip Erdoğan, has thrown a surprise obstacle in the way of a plan from Joe Biden for Swedish accession to Nato by announcing he wanted Turkey's stalled application to join the EU to be included in the package.
Speaking at the airport before departing for the Nato summit in Vilnius, Lithuania, the Turkish president said: "First, let's pave the way for Turkey in the European Union and then we will pave the way for Sweden just as we did for Finland."
The US president had been working on a four-country deal that would lead to Turkey allowing Sweden into Nato in return for the sale of US F-16 jets to Ankara, on the condition they are not used to threaten Greece.
Erdoğan's remarks suggest diplomats' eve-of-summit efforts to lift the year-long Turkish veto on Sweden's membership of Nato will be even more complex than envisaged. Turkey has been in talks over joining the EU in one form or another since 1987 but there is no enthusiasm for letting such a large country with a questionable human rights record join.
Biden held further last-minute talks with Erdoğan on his flight to Europe on Sunday but no breakthrough occurred during their nearly hour-long conversation, according to the White House.
Olaf Scholz, the German chancellor, rejected Erdoğan's attempt to link Turkey's EU membership aspirations to Sweden's application to join Nato. "That's a question that is not related to the other issue, and therefore I think this should not be seen as a related matter," Scholz said in Berlin.
Erdoğan has voiced repeated frustrations with what he calls Sweden's failure to keep its promise to deal with suspected Kurdish militants allegedly "roaming the streets" of Stockholm.
"Sweden has taken some steps in the right direction," Erdoğan's office quoted the Turkish leader as telling Biden in a call on Sunday. But Sweden's decision to allow pro-Kurdish groups to "hold demonstrations freely praising terrorism nullify those steps", Erdoğan was reported to have said.
Over the weekend, the link between Sweden's Nato membership and the Turkish demand for the US Congress to permit the sale of F-16 jets to Turkey has become more explicit, as well as the conditions on which Congress would sanction the sale.
On Monday, Erdoğan held discussions with the Swedish prime minister, Ulf Kristersson, at a meeting chaired by the Nato secretary general, Jens Stoltenberg.
After two hours of talks in Vilnius with the Swedish prime minister, Ulf Kristersson, Erdoğan broke off discussions to meet separately with the EU council president, Charles Michel – a possible indication that EU officialdom is being drawn into his unexpected demand to revive Turkey's accession talks.
He is scheduled to meet Biden on Tuesday and also hold his first meeting with the Greek prime minister, Kyriakos Mitsotakis, in 15 months.
Formally, the Swedish bid to follow Finland into Nato remains linked to Erdoğan's demand that more is done to clamp down on Kurdish activists in Sweden, including extraditing a group of Kurdish exiles seen as suspected terrorists by Ankara. Some of those on the list for extradition are Swedish citizens, and cannot be extradited.
The Swedish foreign minister, Tobias Billström, said on Monday: "No one disputes that Sweden has done what we were also expected to do, in accordance with this memorandum, including taking measures that now lead to people who have been active in the PKK (the Kurdish workers party) being punished in Swedish courts." Last Thursday, a Swedish court convicted a member of the PKK and the country extradited a PKK supporter to Turkey.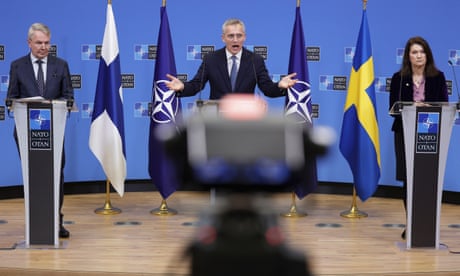 He said Sweden's membership of Nato was a settled issue and the only outstanding matter was when the accession would occur.
Observers acknowledge that even if given the green light by Erdoğan, the Turkish parliament would not be able to ratify Swedish membership by the end of the summit.
Behind the dispute lies a long-running Turkish demand to be allowed to buy the US F-16 jets, something Congress has opposed due to Turkey's hostility to Greece and its purchase of a Russian air defence system – a move that is seen by some as incompatible with Turkish membership of Nato.
Biden has said he now supports the sale of F-16s to Turkey but it is not in his gift to sanction the sale since Congress has a veto.
Greece seeks guarantees that the F-16 jets will not be used against Athens as part of an ongoing maritime waters dispute in the Aegean Sea, with daily overflights above islands questioning Greek sovereignty.
Six US lawmakers sent a letter to the US secretary of state, Antony Blinken, asking for a monitoring mechanism to ensure Turkey does not use the new F-16 fighters to violate Greek sovereignty in the Aegean.
Sunak needs all his persuasive powers to sway Biden on Ukraine's Nato membershipRead more
They noted that if an agreement to sell F-16s and modernisation kits to Turkey was being considered, "we strongly urge that any final agreement include mechanisms to stop, delay or withdraw the transfer of such weapons if Turkey engages in actions that threaten or undermine US national security interests and the unity of the Nato alliance".
There are some signs that after his re-election in May, Erdoğan is trying to soften some of Turkey's many international disputes and a key test is whether he can reach a rapprochement with Greece.
Erdogan's decision to release some former commanders of Ukraine's garrison in Mariupol in apparent breach of an agreement with the Russian president, Vladimir Putin, is seen as a goodwill gesture to the west.