The Pentagon is investigating a security breach in which classified war documents detailing secret American and Nato plans for supplying aid to Ukraine before its prospective offensive against Russia were leaked to social media platforms.
The top secret documents were spread on Twitter and Telegram, and reportedly contain charts and details about anticipated weapons deliveries, battalion strengths and other sensitive information, the New York Times reported. According to military analysts, the papers appear to have been altered in certain parts from their original format, overstating American estimates of Ukrainian war dead and understating estimates of Russian troops killed, citing how the modifications could point to an effort of disinformation by Moscow.
"We are aware of the reports of social media posts and the department is reviewing the matter," said Sabrina Singh, the deputy press secretary at the Pentagon, as officials worked to have them deleted.
The NYT said the documents, which are five weeks old, with at least one carrying a "top secret" label, do not contain details of when, how, or where Ukraine intends to launch its counteroffensive.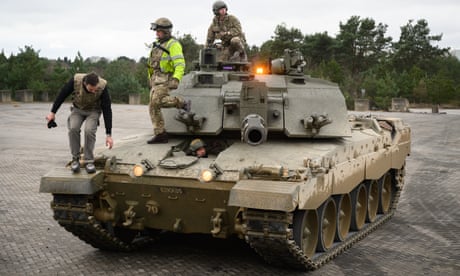 According to analysts, however, the leak represents a "significant breach of American intelligence in the effort to aid Ukraine".
One of the documents, which circulated on pro-Russian government channels, summarised the training schedules of 12 Ukrainian combat brigades, and said nine of them were being trained by US and Nato forces, and needed 250 tanks and more than 350 mechanised vehicles, the newspaper said.
The classified papers also contain details on expenditure rates for munitions under Ukrainian military control, including for the Himars rocket systems, the US-made artillery rocket systems that have proved highly effective against Russian forces.
According to Ukrainian presidential official Mykhailo Podolyak, the leak was part of a Russian disinformation operation to sow doubts about Ukraine's counteroffensive.
Podolyak told Reuters that the leaked data contained a "very large amount of fictitious information" and that Russia was trying to seize back the initiative in its invasion. "These are just standard elements of operational games by Russian intelligence, and nothing more," Podolyak said. "Russia is looking for any ways to seize back the initiative. To try to influence the scenarios for Ukraine's counteroffensive plans. To introduce doubts, to compromise the … ideas, and finally to intimidate [us] with how 'informed' they are."
Nonetheless, Ukraine's leaders met to discuss ways to prevent to prevent leaks of their defence plans, the president's office announced on Friday.
In a separate development on Friday, Russia appeared to have made important gains in Bakhmut, one of the bloodiest battles of the year-long war, with outgunned Ukrainian troops holding out despite Moscow's numerical superiority.
The UK Ministry of Defence said in its daily update that Russian forces had "highly likely advanced into the [Bakhmut] town centre, and has seized the west bank of the Bakhmutka River. Ukraine's key supply route to the west of the town is likely severely threatened."
It added: "There is a realistic possibility that, locally, Wagner and Russian MoD commanders have paused their ongoing feud and improved cooperation."
The battle for Bakhmut has raged for seven months, with thousands of people killed and hundreds of buildings collapsed or charred. The few remaining civilians have been confined to basements for months with no running water, electricity or gas.
In spite of the rumours earlier this year of a retreat of his troops from the area, Ukraine's president, Volodymyr Zelenskiy, said he had instructed the army to find forces to bolster the defence of the embattled city.
The eastern military command spokesperson Serhiy Cherevatyi told Reuters that Ukraine controlled the situation in Bakhmut, understood Russian intentions and that Moscow had tactical success in some places, but was paying a high price for it.
"The situation is difficult; the enemy is concentrating maximum efforts to capture Bakhmut. However, it is suffering serious losses and not reaching strategic success," Cherevatyi said.
"All decisions are taken with the aim of not allowing the enemy to break through our defence, to inflict maximum damage to it and preserve personnel. Having tactical success in some places, the enemy pays an exorbitant price for it and loses combat potential every day."