Poland deports Russian man who claimed to have been FSB officer
4 min read
Poland has deported a purported former Russian FSB officer who sought asylum in the country back to Russia, accusing him of lying about his past and background.
Emran Navruzbekov claimed to have been a senior officer in Russia's FSB security service in the southern region of Dagestan, and had recently given numerous media interviews about FSB operations and alleged misdeeds. He was handed over to Russia at Poland's land border with the Russian exclave of Kaliningrad on Tuesday.
The move prompted outrage from one of Navruzbekov's lawyers, who said he faced the risk of jail, torture or worse back in Russia, and that the decision came as a surprise given that Poland is one of the most vocal critics of the Russian regime.
A spokesperson for the Polish border guard confirmed in an emailed statement that Navruzbekov was deported on Tuesday, after it was found that he "posed a threat to the defence, state security or the protection of public order", adding that he had been banned from entering Poland and the Schengen area for 10 years.
"The foreign citizen was deported from Poland to his country of origin, which is Russia," said the border guard statement.
Navruzbekov fled Russia in 2017, apparently as he was being prepared for an FSB mission to follow exiles in Turkey. After several years living in Europe without his name being public, last December he gave a long interview to Vladimir Osechkin, founder of the organisation gulagu.net, which has worked extensively with defecting Russian soldiers.
The video interview, which has been viewed almost 1m times on YouTube, described Navruzbekov as "a 2022 version of Litvinenko", who had provided valuable information on the crimes of the Russian regime.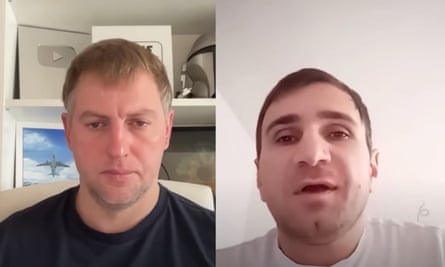 Navruzbekov subsequently spoke to various media outlets, and said he feared he may face consequences for his disclosures. "Of course I am afraid. I know how they work. History says that in any case I will be killed," he told CNN in January.
However, in mid-May he was arrested by Polish authorities and told he would be deported. He was placed in a detention centre while his appeal was processed, but his lawyers believed they had until mid-August to appeal against the decision, and had lodged an emergency request for a hearing to prevent the deportation at the European court of human rights on Tuesday morning. Before the appeal could be heard, news came that he had already been deported.
Karinna Moskalenko, a well-known Russian human rights lawyer who is part of Navruzbekov's legal team, said she hoped Poland would face consequences for deporting a person who was at "significant risk of torture" in his homeland.
"Other nations should know that they cannot deport people who have fled Russia back to Russia at the current time," she said.
Polish authorities, in a statement released on Wednesday afternoon, said they had carefully studied Navruzbekov's case and found his story not to be credible.
"Polish secret services assessed Navruzbekov as a person whose intentions and testimonies are unreliable and raise real doubts about the reason for his presence in Poland," said the statement.
"The biographical data provided by him, his described professional path and the information he gave about Russia's activities … turned out to be inconsistent, in many places also untrue or unverifiable," it continued.
Osechkin, reached by telephone on Tuesday, said Navruzbekov's story was "complicated and difficult" and said he understood why Polish authorities had become suspicious of the Russian.
Moskalenko said she could not comment on the nature of the Polish allegations, but accused authorities there of a "crude violation of human rights" for deporting Navruzbekov before the appeal process had been exhausted.
"Suddenly, in a huge rush they pulled him out of the facility where he was being held waiting for the decision on his appeal. The appeal had not been heard yet, so you cannot call the deportation decision a final decision," she said.
Navruzbekov's wife, Irada Navruzbekova, said on Wednesday that she understood her husband was now in Kaliningrad and facing an immediate court case, though she had no information about what charges he faced or whether he had a lawyer.
"I don't know what to do, and I don't know what they will do with him. I really hope he stays alive; that my children will still have a father," she said in a telephone interview.
The couple have two children including a two-month-old baby, she said. Poland granted asylum protection to her and the two children on the same day her husband was deported.