Polls open in Turkish election runoff as Erdoğan hopes to retain power
5 min read
Turkish voters are heading back to the polls for an unprecedented second round of a presidential election in which Recep Tayyip Erdoğan hopes to see off a faltering challenge from rival Kemal Kılıçdaroğlu.
In the first round this month, Erdoğan upended expectations and many pollsters' predictions by coming out ahead with 49.5% of the vote, as his rival took second place with 44.5%. A further upset occurred in the parliamentary vote, where Erdoğan's coalition won a comfortable majority.
A rejuvenated, jubilant Erdoğan emerged on to the balcony at the Ankara headquarters of his Justice and Development party (AKP) after the first-round votes were tallied, singing one of his campaign songs to supporters.
At a rally in Istanbul on Saturday, Erdoğan urged his supporters not to be complacent after a record turnout in the first round.
"Are we running to the polls tomorrow? Will we cast our votes from the early hours of the morning?" he asked a cheering crowd.
Kılıçdaroğlu has offered voters a chance to end Erdoğan's two decades in power and to prevent Turkey's longest-serving leader from extending his rule into a third decade. During Erdoğan's tenure, first as prime minister then as president, the 69-year-old has overhauled Turkey's political system and reshaped it in his own image, introducing a presidential system, concentrating power around his office and jailing opponents.
After initially focusing on how his candidacy offered voters a chance to reverse the changes introduced by Erdoğan, including promises of a return to parliamentary democracy and messages of social inclusion, Kılıçdaroğlu's campaign pivoted firmly to the right in advance of the runoff.
Both candidates have sought to harness support from voters who opted for the third-place presidential candidate, the ultranationalist Sinan Oğan of the Victory party, who obtained roughly 5% of the presidential vote in the first round.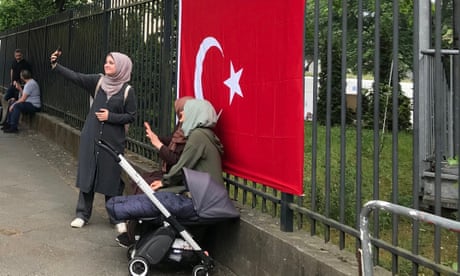 Oğan declared his support for Erdoğan, while the head of the Victory party, Ümit Özdağ, backed Kılıçdaroğlu, claiming he believed the opposition leader was more likely to follow through on his pledge to deport millions of refugees and crack down on immigration.
Kılıçdaroğlu's messaging has focused largely on anti-immigrant sentiment in the days before the runoff, as well as signing an agreement with Özdağ including promises that represent a swipe at Kurdish voters in eastern Turkey whom he previously relied on for support in the first round.
The 74-year-old opposition leader has dramatically hardened his rhetoric, doubling down on his promises to deport refugees from Turkey within a year of coming to power. When polled, those who voted for Oğan in the first round said they were more likely to back Erdoğan.
"This is the first time Turkey is experiencing a second-round vote in a presidential election. We have never done this before, so we don't know if the majority of voters will be more interested given that there are now two candidates. This is why it's not easy to say what we'll be witnessing. There may be surprises; Kılıçdaroğlu may win, but I agree his chances are not high compared to Erdoğan," said Evren Balta, a political scientist at Özyeğin University.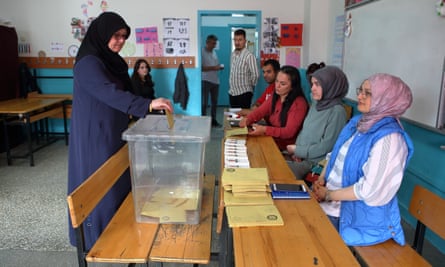 Many opposition supporters said they were determined to vote despite their candidate heading into the runoff in second place, searching for millions of votes in addition to the support he gained in the first round but with few obvious constituencies in which to find them.
When asked what was driving him to vote despite the opposition's path to victory appearing uncertain, 24-year-old Emre Göral replied with one word and a cautious smile: "Hope."
Erdoğan has focused on assuring voters by raising the minimum wage, providing free natural gas for the month of May and promoting growth in the country's defence industry under his rule. While the opposition has long posited that Turkey's deep financial crisis, including rising inflation and a high cost of living, would pry voters away from Erdoğan, many instead said they felt he was the only one capable of solving such problems.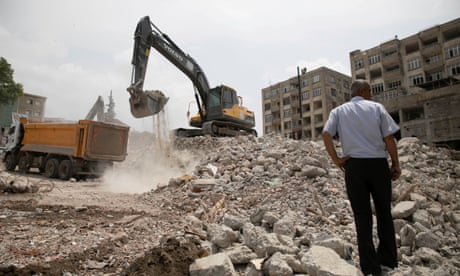 Voters in the town of Kahramanmaraş, close to the epicentres of twin earthquakes that killed more than 60,000 people in Turkey and Syria in February, said Erdoğan was a leader who has shown he is capable of solving problems, unlike his rival.
"Kılıçdaroğlu can't handle a crisis," said 34-year-old Shukran Tutem as she arranged T-shirts on a market stall. "If we compare Kılıçdaroğlu and Erdoğan, it's easy to see that Kılıçdaroğlu wouldn't bring anything good for this country's future, but Erdoğan could."
During campaigning, misinformation was frequently deployed by both sides, including Erdoğan's use of a deepfake video showing banned Kurdish militants declaring their support for Kılıçdaroğlu. After a first round in which the opposition initially claimed victory before accepting Erdoğan was in the lead, many opposition supporters have remained mistrustful of the result, despite the Republican People's party stating that although it challenged counts in about 2,269 ballot boxes, this would not have changed the overall outcome.
Balta said: "I think this has played out in an intense way in the Turkish election because the extent of polarisation in this country is so high. These two sides are so polarised that whatever their leader, group or supporters say, they have a tendency to believe it."
In an interview with CNN after the first round, Erdoğan said he was confident of victory: "The people will be the kingmaker, and when the people decide, I believe they will stand with those who successfully served the Turkish nation for the past 21 years. In the end, my people will choose stability and competence and they will cast their votes accordingly."