The unexpectedly electric quest to elect a new leader to the helm of Greece's main opposition, the leftwing Syriza party, has intensified as a runoff poll gets underway.
Voters began casting ballots at over 500 polling stations nationwide in a race that has pitted a party cadre and former labour minister, Efi Achtsioglou, against a Greek American entrepreneur, Stefanos Kasselakis.
Although an outsider with little experience in politics, and practically no ties to Syriza before the last-minute announcement of his candidacy, the 35-year-old Kasselakis emerged victorious in a first-round last week winning 45% of the vote. Achtsioglou, who trailed with 36%, had been the favourite.
As many as 180,000 members have the right to participate on Sunday, with electoral stations scheduled to close at 8pm local time and a result announced within hours.
Traditional leftists who have been left shocked by tthe prospect of a shipping executive only recently returned from the US assuming the reins of an alliance whose constituent forces include Marxists and Eurocommunists – are expected to rally. Some 40,000 registered members who did not vote last Sunday will be able to cast ballots.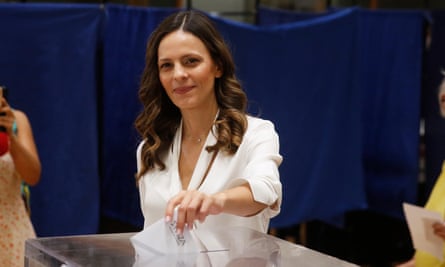 Kasselakis, now backed by Nikos Pappas, a fellow candidate who won 8.91 % of the vote, has campaigned on the basis that with his self-described "better English and finance and business" knowledge, only he can defeat the centre-right prime minister, Kyriakos Mitsotakis, at the next general election.
Although the political newcomer appears to have won the support of the young, he has been accused of being policy light with critics bemoaning his lack of programme. Syriza cadres have lamented that a man who appeared almost out of nowhere should have come so far in such a short space of time. Unlike Achtsioglou the Greek American, who was given an honorary position as an expatriate candidate on the state ballot ahead of general elections in May by Tsipras, is not even an MP.
But writing in Kathimerini, the columnist Nikos Konstandaras said it was precisely Kasselakis' mystique that appealed to voters.
"Those who vote for him do not consider it a problem that they do not know him," he opined, likening his "unorthodox candidacy" to an invasion at the "very top of the party".
"They vote for him precisely because they don't know him."