Russia reports 'abnormal situation' as Luna-25 tries to begin moon landing
2 min read
Russia has reported an "abnormal situation" on its moon-bound Luna-25 spacecraft, which launched earlier this month.
The country's space agency, Roscosmos, said on Saturday that the spacecraft ran into unspecified trouble while trying to enter a pre-landing orbit and that its specialists were analysing the situation.
"During the operation, an abnormal situation occurred onboard the automatic station, which did not allow the manoeuvre to be performed with the specified parameters," Roscosmos said in a Telegram post.
Roscosmos did not specify whether the incident will prevent Luna-25 from making a landing.
The spacecraft is scheduled to land on the south pole of the moon on Monday, racing to land on Earth's satellite before an Indian spacecraft. The lunar south pole is of particular interest to scientists, who believe the permanently shadowed polar craters may contain water. The frozen water in the rocks could be transformed by future explorers into air and rocket fuel.
Also on Saturday, the Russian spacecraft produced its first results. Though Roscosmos said the information was undergoing analysis, the agency reported that the preliminary data collected contained information about the chemical elements of the lunar soil and that its equipment had registered a "micrometeorite impact".
Roscosmos posted images of the Zeeman crater – the third largest in the moon's southern hemisphere – taken from the spacecraft. The crater has a diameter of 190km (118 miles) and is 8km (five miles) deep.
The launch from Russia's Vostochny spaceport of the Luna-25 craft on 10 August was Russia's first since 1976 when it was part of the Soviet Union.
The Russian lunar lander was expected to reach the moon over 21-23 August, about the same time as an Indian craft that was launched on 14 July.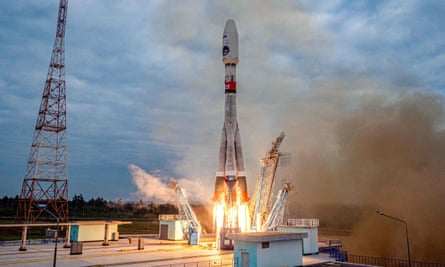 Only three governments have managed successful moon landings: the Soviet Union, the US and China. India and Russia are aiming to be the first to land at the moon's south pole.
Roscosmos said it wants to show Russia "is a state capable of delivering a payload to the moon", and "ensure Russia's guaranteed access to the moon's surface".
Sanctions imposed on Russia after it invaded Ukraine make it harder for the country to access western technology, affecting its space programme. The Luna-25 was initially meant to carry a small moon rover but that idea was abandoned to reduce the weight of the craft for improved reliability, analysts said.