Russia threatens Ukraine's 'decision-making centres' if Kyiv uses western arms in Crimea
3 min read
Russia has threatened a strike against Kyiv's "decision-making centres" if Ukraine uses western-supplied missiles against the occupied peninsula of Crimea, in the Kremlin's latest attempt to inhibit Nato support for Kyiv amid the ongoing Ukrainian counteroffensive.
Sergei Shoigu, the Russian defence minister, said on Tuesday that the potential use of US-supplied Himars and UK-supplied Storm Shadow missiles against targets in Crimea would mark the west's "full involvement in the conflict and would entail immediate strikes upon decision-making centres in Ukrainian territory". Those are seen to include the Ukrainian presidential administration and intelligence headquarters.
Russia has issued similar threats before, but the latest comments come as Kyiv is launching a counteroffensive into south and eastern Ukraine to retake land occupied by Russia since the early days of the war.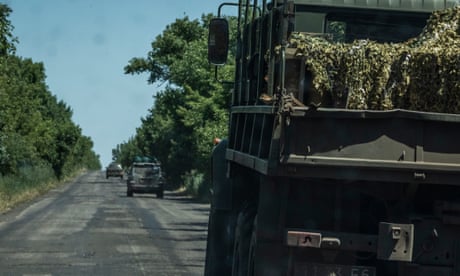 Shoigu claimed without providing evidence that Ukraine was preparing a strike against Crimea using the missiles.
The Russian ultimatum comes one day after Joe Biden said that the threat of Vladimir Putin authorising a tactical nuclear strike was "real", shortly after the Kremlin leader announced the first deployment of those weapons to neighbouring Belarus since the fall of the Soviet Union.
Ukraine has denounced Russian blackmail tactics, saying it intends to return control over all its lands occupied by Russia, including Crimea.
Mykhailo Podolyak, an adviser to the Ukrainian presidential administration, said: "It is important to understand that the presence or absence of nuclear weapons in Russia is not a variable that affects the overall equation of this war, and nuclear threats should not in any way influence the decision of Ukrainians to defend themselves or the decision of our allies to support us."
The Swedish Defence Research Agency released a report on Tuesday saying that Russia was planning for a prolonged confrontation with the west and was neither planning to end the war nor seek detente.
The risk of an escalation was also growing, the report said. "As Russia's ground forces are severely battered, the importance of nuclear weapons increases," said Maria Engqvist, an analyst for the organisation.
Dmitri Trenin, a prominent Russian foreign policy thinker who has grown more aggressive since the invasion, wrote on Tuesday that Russia should modernise its nuclear doctrine in order to show that the use of nuclear weapons is a "real, and not just theoretical possibility".
He wrote: "The possibility of using nuclear weapons during the current conflict should not be hidden."
At the weekend, Putin swiftly rejected a peace plan proposed by African leaders from seven countries that called for de-escalation and security guarantees. Volodymyr Zelenskiy had also rejected the plan, calling it unworkable. The Ukrainian president had earlier said that negotiations with the Kremlin were impossible.
The Nato secretary general, Jens Stoltenberg, has said that the military alliance would not strong-arm Ukraine into suing for a peace that was not "just and enduring".
The Russian foreign minister on Tuesday responded by saying the Kremlin was ready to continue its war in Ukraine.
"It means that they want to fight," he said of Stoltenberg's remarks. "Well, let them fight. We are ready for that."