Russian missile attack on Odesa kills three people working in warehouse
4 min read
Russian cruise missiles said to be targeting supply lines for Ukrainian troops engaged in a counteroffensive have killed three people working a night shift in a warehouse in Odesa in southern Ukraine.
The strike by multiple Kalibr missiles at 2.40am on Wednesday also hit a business centre, an educational institution, restaurants and shops, injuring a further 15 people, and adding to a heavy civilian toll in recent days.
It followed an attack in the early hours of Tuesday morning on a warehouse and apartment block in Kryvyi Rih, where the number of recorded fatalities was raised to 12 overnight after the death of a 67-year-old man in hospital.https://interactive.guim.co.uk/uploader/embed/2023/06/ukraine-odesa/giv-13425vO1xbOHv6473/
Natalia Humeniuk, a spokesperson for Ukraine's southern defensive forces, said there was a pattern to the recent strikes.
She said: "The missile attack on the Odesa region was apparently aimed at the objects sought by the enemy in the area of logistics support for the defence forces. They have already begun active operations at the front. The same attack took place earlier in Kryvyi Rih.
"This is an area that the Russians interpret as an area of resources for the defence forces. They also attacked Odesa. They attacked a warehouse with water and consumer goods. They also hit a business centre. The Russians say: 'We are hitting decision-making centres,' so apparently for them it is a business decision-making centre."
Andriy Yermak, the head of the office of the Ukrainian presidency, said Russia's liberal use of cruise missiles showed the need for a tightening of economic sanctions on Russia.
He said: "The Russians shelled the city with Kalibr cruise missiles. Civilians died. Each of these missiles has at least 40 foreign components. Without microelectronics, Russia will not be able to produce them. Sanctions must be strengthened, in particular, against those who help the terrorist country to obtain components for weapons."
Russia has been able to bypass western sanctions on key weapons components through the use of third countries.
The UK-based Conflict Armament Research organisation last year identified 144 European, Asian and US manufacturers whose components were ending up in advanced weapons such as Kalibr cruise missiles.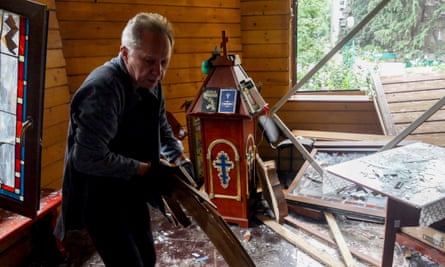 Ukrainian forces are pushing forward in the east and south of Ukraine as part of their long-anticipated counteroffensive.
Kyiv has suggested that progress is being made, with 100 sq km said to have been liberated in recent days, although Vladimir Putin has claimed that "catastrophic" losses have been imposed upon Ukraine's military.
Rafael Grossi, the director general of the International Atomic Energy Agency, met Ukraine's president, Volodymyr Zelenskiy, on Tuesday but was forced to delay a scheduled visit to the Zaporizhzhia nuclear plant in Russian-controlled territory on Wednesday as a result of the fierce fighting.
Grossi had earlier spoken of being "very concerned" that the nuclear plant could become embroiled in the counteroffensive, with particular anxiety caused by the recent damage done to the Kakhovka dam, which has led to a reduction in the water levels of a reservoir used to cool the facility.
In Odesa, one man, named only as Volodymyr, told local media that he had been with his wife and three-week-old daughter when a Kalibr missile hit near their apartment in the early hours of Wednesday.
He said: "We were sleeping in our bedroom when we heard an explosion, all the windows were shattered, and we heard a loud screeching sound from the entire building. Then we grabbed the baby and ran to the bathroom to be behind two walls. Only after that we realised that there were no windows, no doors, no idea what was happening."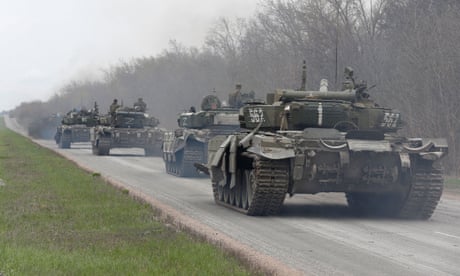 Meanwhile, Belarus's president, Alexander Lukashenko, has claimed his country has started taking delivery of Russian tactical nuclear weapons, some of which he boasted were three times more powerful than the atomic bombs the US dropped on Japan in 1945.
He said: "We have missiles and bombs that we have received from Russia. The bombs are three times more powerful than those [dropped on] Hiroshima and Nagasaki."
Lukashenko, who said he would coordinate with Vladimir Putin should the need arise to use nuclear weapons, claimed that the warheads would be on Belarusian territory "in several days" although there has been no independent verification of the comments.
He said: "We have always been a target. They [the west] have wanted to tear us to pieces since 2020. No one has so far fought against a nuclear country, a country that has nuclear weapons."