Intense night-time bombardment of Kyiv damaged Patriot air defence system, air command confirms.
Ukraine has said it has neutralised the Kremlin's most potent hypersonic weapon, shooting down six out of six Kinzhal missiles launched at Kyiv, but hours later it emerged the intense night-time attack had damaged a Patriot air defence system.
Yurii Ihnat, a spokesperson for Ukraine's air command, said Moscow had also bombarded the capital with nine Kalibr missiles and three ballistic rockets, as well as six attack drones and three reconnaissance drones. All were shot down, he said, thwarting what he called "air terrorism".
But the attack appeared to have damaged a US-made Patriot air defence battery, US sources told CNN later on Tuesday. Officials warned the system may have to be withdrawn entirely depending on the level of damage it had sustained. An assessment was ongoing, they added.
The attack on Kyiv was one of the biggest since last year's invasion and followed Volodymyr Zelenskiy's three-day trip to Europe. During meetings in London, Berlin, Paris and Rome, Ukraine's president secured promises of more military assistance, including long-range attack drones from the UK.
Russia's furious response came at 2.30am local time. Emergency sirens woke residents. Soon afterwards there were loud booms as Ukrainian air defences engaged incoming missiles. Tracer fire illuminated the sky and car alarms went off. There were growling explosions. A further air raid warning sounded at 4am.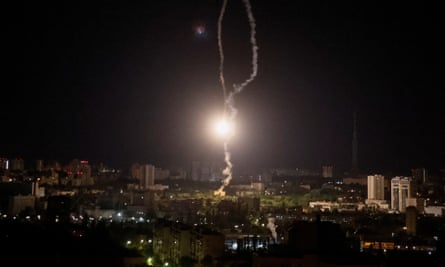 Earlier, on Tuesday, the ministry of defence in Moscow said it had destroyed a US-supplied Patriot air defence battery. Serious damage to a Patriot would be a major blow to Ukraine's air defences. Two Patriots, one donated by the US and one by Germany, arrived in the country around mid April, and have already been targeted previously by Russian missiles, in an effort to eliminate them.
Although considered particularly effective, the Patriot is a relatively static air defence system, and is considered potentially vulnerable to high speed missiles.
"We have received very powerful air defence systems from our western partners. They work against air dynamic targets. The Kinzhal X-47 missiles which used to terrorise us are not so scary any more," Ihnat said. The raid was "unique" in its use of six Kinzhals from an estimated reserve of "about 50". "The enemy has used a relatively big number of them," he added.
The combined attack in the early hours of Tuesday featured Shahed loitering drones arriving from the north, Kinzhals launched by MiG-31K fighter jets in the east and Kalibr missiles fired by Russian warships stationed in the Black Sea, he said. The shooting down of the Kinzhals, if confirmed, would be a powerful demonstration of the effectiveness of the newly deployed air defences.
After a sleepless night during which many residents sought refuge in bomb shelters, Kyiv's mayor, Vitali Klitschko, issued an update on damage. He said there were three victims in the Solomyan district, which was hit by falling rocket debris. Rescuers extinguished blazes after vehicles caught fire.
Debris fell on the suburbs of Darnytskyi and Obolonskyi, he said, as well as on Kyiv zoo. The zoo's director, Kirill Trantin, said the remains of a shot-down rocket sliced through trees and landed next to enclosures containing vultures and a family of raccoons. He said he was a few hundred metres away at the time and had taken cover in a shelter with 20 other employees.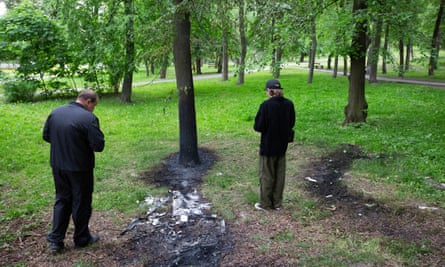 "It was 2.50am. We heard a boom. It was very loud and very bright. There was no fire and fortunately no humans or animals were hurt. Police arrived and took away a part of the missile," he told the Guardian. "The Russians don't give a shit for the law or international norms. We've held on for over a year. We will beat them."
By morning the debris had been swept up, with the zoo opening to visitors as usual at 10am. The animals did not appear distressed but would be monitored over the coming days and if necessary given antidepressants in their water, the director said. In the meantime they would get extra apples and nuts.
Trantin said Russia's goal was to punish and terrify Ukraine's civilian population into submission. He said 10 of his zoo colleagues were fighting with the Ukrainian army, including three in the city of Bakhmut. They had contacted him to see if he was OK, he said, adding that Ukraine needed better air defences.
The zoo is a popular Kyiv attraction. One mother, Maryna, said she had taken her son Serhii to see the chimpanzees as a birthday treat. "He's 11 today. Last night's attack was terrible. But I promised to take him to the zoo and a promise is a promise," she said.
Zelenskiy said he had received "important and powerful" pledges of military aid during his European trip. Both the UK and France have announced they will soon start training Ukrainian pilots, and would work with other countries on the delivery of F-16 jets. On Tuesday the UK and Holland announced an "international coalition" to help procure the aircraft.
Ihnat described F-16s as Ukraine's fighter jet of choice. They could destroy cruise missiles and drones and would support Ukraine's troops in a counteroffensive, expected this summer, and involving newly formed brigades equipped with western battle tanks and armoured fighting vehicles. "F-16s will protect us from air terrorism by Russia," he said.
Writing on Twitter, the UK's ambassador in Kyiv, Dame Melinda Simmons, described the Russian bombardment of the capital as "full on" and "pretty intense". She had just returned to Ukraine from the UK, where she accompanied Zelenskiy, who held talks on Monday with the prime minister in Chequers.
The attack follows the provision by the government of long-range Storm Shadow missiles, which have a range of more than 250km (155 miles), and a British pledge to deliver long-range attack drones soon. The Kremlin has called the move "extremely negative" amid evidence Kyiv is already using Storm Shadows to hit Russian command and control centres away from the frontline.
Ukraine's defence minister, Oleksii Reznikov, praised the "unbelievable success" of his air forces in the early hours of Tuesday. "Russian terrorists have no chance of prevailing over Ukraine. Their weapons can and should be countered by western ones," he wrote.
Meanwhile, fighting continued in eastern Ukraine. Deputy defence minister Hanna Maliar on Tuesday said Ukraine had pushed Russian forces from the flanks of Bakhmut but conceded that Moscow's forces were pushing deeper inside the embattled town.