Southern Europe braces for second heat storm in a week
4 min read
Southern Europe is bracing for a second heat storm in a week, with Spain, Italy and Greece, along with Morocco and other Mediterranean countries being told temperature records could be broken on Tuesday.
A new anticyclone that pushed into the region from north Africa on Sunday could lift temperatures above the record 48.8C (120F) seen in Sicily in August 2021, and follows last week's Cerberus heatwave.
The European Space Agency (ESA) said the next week could see the hottest temperatures ever recorded in Europe in a heatwave called Charon, after the Greek mythological boatman who ferries souls to the underworld.
The Italian weather news service Meteo said on Sunday: "We need to prepare for a severe heat storm that day after day will blanket the whole country."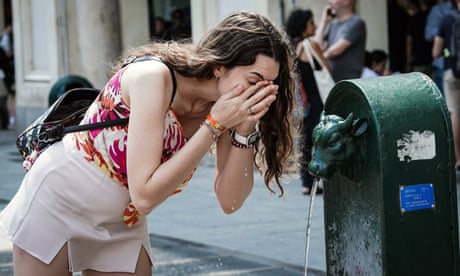 The human-caused climate crisis is supercharging extreme weather around the world, driving more frequent and more deadly disasters, from heatwaves to floods to wildfires.
On Monday, the World Meteorological Organization said the planet experienced the hottest few days on record in the first few days of July, after a June that was the hottest on record according to the ESA.
A study recently published in Nature Medicine said more than 60,000 people died because of last year's summer heatwaves across Europe, with the highest mortality rates seen in Italy, Greece, Spain and Portugal.
Italians were told to prepare for "the most intense heatwave of the summer and also one of the most intense of all time" this week.
"Going to the Colosseum when it is 43C is not advisable, especially for an elderly person," the health minister, Orazio Schillaci, told Il Messaggero newspaper on Sunday, saying people should stay indoors during the hottest part of the day, between 11am and 6pm.
Temperatures in Rome are likely to hit 40C on Monday and 42C-43C on Tuesday, smashing the record of 40.5C set in August 2007. Sicily and Sardinia could see temperatures as high as 48C, the ESA said. In all, more than 15 Italian cities including Bologna and Florence have been put on alert.
The ESA said: "Italy, Spain, France, Germany and Poland are all facing a major heatwave with air temperatures expected to climb to 48C on the islands of Sicily and Sardinia."
Morocco is among the north African countries slated for above-average temperatures, with highs of 47C in some provinces recorded this weekend – more typical of August than July – sparking concerns over water shortages, the meteorological service said.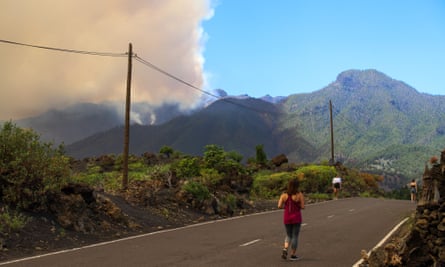 On the Canary island of La Palma, more than 4,000 people were evacuated from properties after a forest fire swept through the north-west of the island.
The regional government said on Sunday it had put neighbouring islands including Tenerife and Gran Canaria on alert for risk of forest fires, with 4,500 hectares of land and a dozen homes already destroyed in La Palma.
"The fire advanced very quickly," said Fernando Clavijo, the president of the Canary Islands regional government. He blamed "the wind, the climate conditions as well as the heatwave that we are living through" for the swift spread of the blaze
In Greece, scorching heat forced the Acropolis to close temporarily between 11.30am and 5.30pm to protect tourists from dangerous temperatures, risk of dehydration and sunstroke.
Unrelenting temperatures are also being felt in the US, where sweltering conditions over the weekend put more than one-third of Americans under extreme heat alerts. The US National Weather Service (NWS) reported that a heatwave stretching from California to Texas was expected to peak during an "extremely hot and dangerous weekend".
Death Valley national park – often among the hottest places on Earth – was expected to equal or surpass its heat record of 54.4C. Las Vegas could experience three consecutive days with a high of 46C, which has happened just once before, the NWS reported. Phoenix, which has endured a two-week stretch of temperatures above 43C with little relief in the evening hours, was expecting its hottest weekend of the year.
Southern California is fighting numerous wildfires, including one in Riverside County that has burned more than 3,000 hectares (7,500 acres) and prompted evacuation orders. Farther north, the Canadian government said wildfires had burned a record-breaking 10m hectares this year, with more damage expected.
Japan issued heatstroke alerts to tens of millions of people in 20 of its 47 prefectures as near-record high temperatures scorched large areas and torrential rain pummelled other regions.
"Every time we're visiting somewhere there seems to be a heatwave or like a rare weather disaster," said Texan tourist Anthony Fernandez in Tokyo. "It's kind of becoming like the new normal … climate change is a big concern."
The national broadcaster NHK said the heat was life-threatening, with the capital and other places recording nearly 40C. Japan's highest temperature ever – 41.1C recorded in Kumagaya city, Saitama, in 2018 – could be beaten, according to the meteorological agency.
Some places experienced their highest temperatures in more than four decades on Saturday, including Hirono in Fukushima prefecture, with 37.3C.
The Copernicus Climate Change Service said June 2023 was just over 0.5C above the 1991-2020 June average, with unprecedented sea temperatures and record-low Antarctic sea ice.