The UK and other G7 countries are planning collective action against Russia and China if they threaten trade boycotts for political reasons, announcing a new body to deal with "economic coercion".
Rishi Sunak will urge "bold and pragmatic collective action" against hostile states that stop trading with other countries when they disagree with their geopolitical decisions.
He will cite Russia's stranglehold on European gas supplies last year as a situation that could have been met with a collective response.
Other examples include China's punitive tariffs on Australian wine after Canberra called for an inquiry into the origins of Covid, and Beijing's decision to halt trade with Lithuania after the Baltic country set up an office in Taiwan.
Sunak will set out the UK's plan for countering such trading practices at a session on Saturday, with other G7 countries expected to agree on the formation of a new council to discuss collective responses.
Diplomatic sources said there was a recognition that the World Trade Organization was not proving an effective forum for dealing with such action from states such as Russia and China.
The new G7 coordination platform on economic coercion will address the "growing and pernicious use of coercive economic measures to interfere in the sovereign affairs of other states".
Advised by policymakers, businesses and academics, the council will act as an early warning system and formulate where the G7 should "take action when necessary".
Sunak is a leading advocate of the need to counter economic coercion, but others in the G7, such as France, are more cautious about taking on Beijing, and have cautioned that the summit should not be seen as "anti-China". Sunak is due to meet Macron for a one-to-one meeting on Saturday.
The G7 – which includes the UK, US, Canada, France, Germany, Italy and Japan, as well as the EU – has said its aims are not about "decoupling" from China but rather "derisking" the relationship.
However, Sunak was clear in his assessment of the threat posed by China. "We should be clear-eyed about the growing challenge we face. China is engaged in a concerted and strategic economic contest," he said.
"And when Russia weaponised Europe's energy supplies, it was a sign of what can happen when we rely too much on states who don't share our values.
"Our collective economic security matters now more than ever. By working together and avoiding competition between friends, we can lift our prosperity, innovate faster and out-compete autocratic states."
The move has already angered Beijing. Asked about the reported move earlier this week, the Chinese foreign ministry spokesperson Wang Wenbin said: "If any country should be criticised for economic coercion, it should be the United States.
"The US has been overstretching the concept of national security, abusing export control and taking discriminatory and unfair measures against foreign companies. This seriously violates the principles of market economy and fair competition."
On Saturday, the leaders will also discuss efforts to prevent shortages of essential components such as semiconductors. The tech items – used in smartphones, televisions and cars – are largely made in Taiwan, which has been subjects to threats by China.
The UK agreed a new semiconductor partnership with Japan on Thursday and the two countries said they would work together on defence and technology. Sunak met the Japanese prime minister, Fumio Kishida, for dinner on Thursday night – the only G7 leader to do so apart from the US president, Joe Biden. The summit, which started on Friday, has been dominated by discussions of how G7 countries should respond to Russia and China.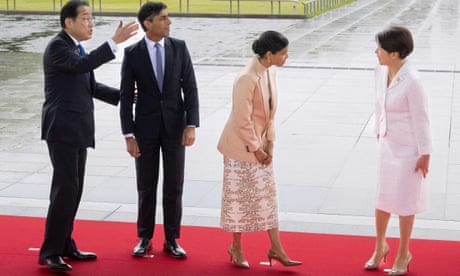 Earlier on Friday, Sunak warned the Russian president, Vladimir Putin, that western leaders were "not going away", as the Ukrainian president, Volodymyr Zelenskiy, prepared to fly in to meet them.
At a teahouse in Shukkeien garden in Hiroshima on Friday, the British prime minister told Sky News: "Russia needs to know that we and other countries remain steadfast in our resolve to support Ukraine, not just in the here and now with the resources it needs to protect itself, but for the long term as well."
He told ITV: "They can't just outlast us in this conflict. One of the common topics of conversation I'll be having and have been having with my fellow leaders is about the longer-term security agreements that we put in place in Ukraine, to deter future Russian aggression."
Zelenskiy is expected to arrive at the summit for an intensive round of diplomacy over the weekend. With Russia's war against Ukraine now in its second year, Sunak has said his main mission at the G7 is to shore up support for Kyiv, especially among countries maintaining a broadly neutral stance, such as India.
The UK was joined by other G7 countries, including the US, in announcing a swathe of new sanctions against Russia.