Teachers at Taiwan kindergarten accused of drugging children
3 min read
Parents of toddlers in Taiwan have accused teachers at a preschool of drugging their children, in a scandal that threatens to dent the opposition party's chances at the upcoming presidential election.
Teachers at Baoren kindergarten, a private preschool in New Taipei City, have been accused of sedating children with addictive cough syrups. Police launched an investigation this month after parents raised concerns about children showing unusual symptoms such as mood swings and cramps. Eight pupils reportedly tested positive for trace amounts of the psychoactive drugs phenobarbital and benzodiazepines.
The children's symptoms are thought to be withdrawal symptoms from the highly addictive drugs. Phenobarbital is used in the treatment of epilepsy, while benzodiazepines are a strong type of sleeping drug. It is not clear why the drugs, which are not easily available, were given to the children, although it is thought to have been because of their sedative properties. One teacher is also accused of using corporal punishment on the preschoolers.
The principal of Baoren kindergarten, and five teachers, have been arrested pending a criminal investigation. The school was ordered to close and pay a fine of 150,000 Taiwanese dollars (£3,793). When the Guardian visited the preschool on Wednesday the office was still open, but staff declined to comment on the situation.
A spokesperson for Baoren said by telephone: "I have nothing to say."
In a statement to parents, Jidibao Education Group, the parent company of Baoren, apologised and said, "the truth has yet to be clarified", but acknowledged that families were "deeply affected" by the incident. The group said it would work with the education bureau to help transfer children to alternative preschools.
Parents have complained that the authorities were slow to react to their initial complaints in April and May.
On Sunday, hundreds of people protested outside government buildings in New Taipei City, criticising the mayor, Hou You-yi, for his administration's handling of the scandal. In particular, parents are angry that children were not tested until 22 days after concerns were first raised. Taipei City hospital is offering free blood tests to preschool children, according to the BBC, but many parents fear it is too late to check if their children were affected by the alleged drugging.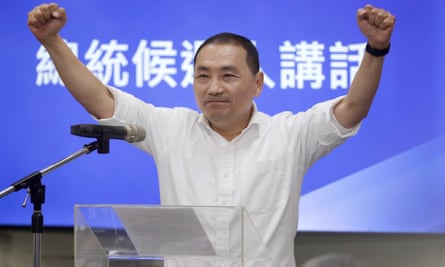 Hou is the presidential candidate for the KMT, the main opposition party, in next year's election. On 9 June, legislators from the ruling DPP accused Hou of focusing on his campaign rather than the drugging scandal, calling him a "part-time mayor". Hou saidthe incident should not be made into a "political issue".
A poll by the Taiwan Public Opinion Foundation on 17 June found more than half of people were not satisfied with Hou's handling of the scandal. The anger cut across social groups such as gender, age, class and party affiliation.
One commenter on a Facebook group set up as a "victims' alliance" wrote that the government's response was "ridiculous" and that the city was "not well managed".
The kindergarten's Google listing has also been the subject of negative reviews. One commenter wrote: "This is the kindergarten where they drug toddlers … the New Taipei City government has been dragging its feet for a month without addressing the case … the drug feeding incident will not be forgotten by the people."