Tenerife wildfire 'started deliberately' as blazes in Greece force evacuations
3 min read
An out-of-control wildfire on Tenerife that has forced thousands to flee was started deliberately, authorities have said, as four more villages in Greece were evacuated in the face of another advancing blaze and more than half of mainland France was on extreme heat alert.
As much of southern Europe continues to roast after July was named the world's hottest month on record, the Canary Islands regional president, Fernando Clavijo, said on Sunday that police had confirmed the blaze raging on the Spanish island since Tuesday had been lit intentionally, and had opened three separate lines of inquiry.
Firefighters had earlier said a slight improvement in the weather overnight had allowed them to prevent any homes being destroyed, with weather conditions "better than expected". The island's governor, Rosa Dávila, told a news conference on Sunday that more than 12,000 people had been evacuated.
As of Saturday night, the blaze had burned through more than 8,400 hectares (20,800 acres) of pine forest, about 4% of Tenerife's surface area, Dávila said, adding that the figure was likely to be much higher by the end of Sunday.
No injuries have been reported and no houses burned so far. But the fire, described as the worst in Tenerife in decades, was still threatening 11 townships on a steep and craggy mountainside with difficult access for firefighters.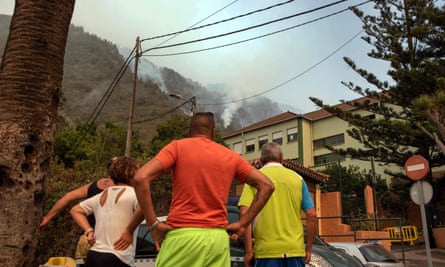 Clavijo said the night had started "very hard, with many telephone calls saying the fire was very close to people's homes". It was "almost a miracle" that no homes had been destroyed, he added.
After accounting for 40% of land burned in the EU in 2022, Spain is again the EU state most affected by wildfires this year, with 75,000 hectares burned, ahead of Italy and Greece, according to the European Forest Fire Information System.
In Greece, authorities evacuated another four villages near Alexandroupolis, close to the country's north-eastern border with Turkey, on Sunday as a large wildfire that has already forced people from eight villages to flee drew dangerously close.
Strong winds whipped up the flames and civil protection authorities warned of an "extreme" fire risk on Monday in the region around the capital, Athens, and other parts of southern Greece, with the country's minister for civil protection, Vassilis Kikilias, calling for extreme public vigilance nationwide.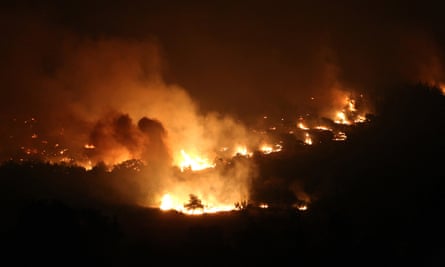 "No outdoors work that could trigger a fire will be permitted," he said. "We must all protect our country."
Greece has erred on the side of caution since a 2018 fire killed 104 people in a seaside resort near Athens that had not been evacuated.
In France, extreme temperatures were likely to continue until at least Wednesday in 49 of 96 mainland départements, Météo-France said, placing the areas on level orange alert. The mercury is forecast to rise above 40C (104F) in the lower Rhone valley.
The forecaster said "exceptional" early morning temperatures were recorded in southern cities including Lyon, Perpignan, Marseille, Carpentras and Montélimar, with 27C registered in Nice at 5am local time (0400 BST) on Sunday.
The late-season heatwave was due to "a vast anticyclonic zone traversing every level of the atmosphere that is imprisoning already hot air and reheating it by compression, rather like a bicycle pump", it added.
Scientists have said such heatwaves and other extreme weather events are likely to start earlier and finish later in the year, recur more frequently, last longer and be more severe as global heating advances.