'Time of new hope': Optimism is high for Bangkok Pride after Thai elections
4 min read
When rainbow colours cover one of Bangkok's main thoroughfares on Sunday, crowds joining the city's pride celebrations may feel a little more optimistic about the future.
In an election last month, Thai voters firmly rejected Prayuth Chan-ocha, a former coup-maker who has ruled the country for nine years, in favour of opposition parties promising reform, including greater LGBTQ+ rights such as equal marriage.
"Now is a time of new hope for the LGBT community," says Nahmmoei Pratimaporn, a beauty queen and online influencer who is an ambassador for Bangkok Pride. It's possible that equal marriage could be passed before the end of the year, she adds. "We believe it's going to happen quicker than we expected. It's going to create a big wave, a big impact in society."
Nahmmoei, 28, was kicked out of her family home when she told her parents she had a girlfriend. She began posting videos about her relationship on social media, "to show we have a normal life and that if you are lesbian, if you love girls, it doesn't mean you have an unstable love", she says. She developed a big online following, and uses her platform to also address wider LGBTQ+ issues, including the need for legal reform.
A lot has changed since she first began posting online, she says. Her mother is now one of her biggest supporters, and there is much wider acceptance in society. But she is aware from messages she receives from fans that more progress is needed.
Internationally, Thailand, which is famous for its vibrant Bangkok nightlife and its popular Boys' Love series, often has a reputation for being an LGBTQ+ paradise in Asia, an image activists say does not capture the realities within the country.
"There are so many subtle things obstructing LGBT people from getting equal access to any kind of welfare, or rights in this country. I cannot really call it paradise," says Tinnaphop Sinsomboonthong, a queer scholar and assistant professor at Thammasat University's faculty of sociology and anthropology. "But I don't want to call it hell, as well. It's not hell."
There is plenty for the LGBTQ+ community to celebrate, including its strong civil society groups and activists that have campaigned for greater rights. The youth-led pro-democracy protests that erupted in 2020 had a big impact in furthering public debate, says Tinnaphop.
While the main activist leaders primarily called for reforms to the country's powerful military and monarchy, smaller protest groups emerged, demanding greater gender and LGBTQ+ equality including in schools and other areas of life.
"So many things that had been kept under the carpet for so long – LGBT [issues], discrimination against trans people, gender violence against girls in school. All of these came together on the streets," says Tinnaphop.
The same youth movement was a powerful force in driving Move Forward, the most progressive party, to win the most seats in last month's election, stunning many observers. Its leader, Pita Limjaroenrat, who is currently in negotiations with coalition partners to form a government, this week reiterated a pledge to push forward with equal marriage and gender identity recognition bills in parliament.
Archie Bland and Nimo Omer take you through the top stories and what they mean, free every weekday morning
Move Forward promises to make the laws more inclusive of the LGBTQ+ community, including by introducing the right to use gender-neutral titles or to avoid titles that imply gender on legal documents. It has also pledged to legalise sex work, a change that Bangkok Pride organisers are advocating for, to ensure greater protections and welfare.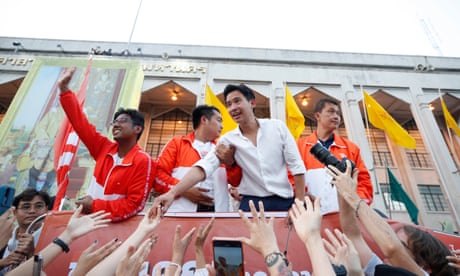 Ratanon Kuiyoksuy, also known as Charlotte, who is organising this year's Bangkok Pride, says they expect at least 50,000 people to attend events on Sunday, which they believe would make it the biggest pride event yet in the city. Organisers also plan to apply to host World Pride 2028. "I'm very excited. This moment is like a gate opening for Asean," Ratanon said, adding it would be a first for the group of Southeast Asian countries.
Yanakorn Jamniyom, 24, who runs his own businesses, will be among those who turn out to watch Sunday's parade. He is hopeful that legal reforms will bring greater rights to the LGBTQ+ community, but points out that Move Forward has not yet succeeded in taking office. A vote on a future prime minister is expected by early August. It's possible that Pita could be blocked by military-appointed senators who play a role in deciding the future leader, or that coalition talks could break down.
"We have to wait and see what's going to happen," he says. But Yanakorn adds that regardless, this year's pride is important for younger people or others who want to explore themselves. "It's a space to explore inside and show that we can express our identity, that we have a community here."