Few elections, save the US presidential contest, have been so closely watched for their geopolitical implications in modern times as the Turkish presidential elections, a testimony to the importance of Turkey globally as a hinge country between east and west, as well as one teetering between democracy and populist authoritarianism.
But the distinctions being drawn between the foreign policy of the incumbent president, Recep Tayyip Erdoğan, and challenger, Kemal Kılıçdaroğlu, are less a substantial reinterpretation of the Turkish national interest, more about the style, tone and predictability in securing that interest.
But tone matters in diplomacy, and the west would welcome an end to the era of confrontational rhetoric, even if the policy of balancing between east and west remains.
An early indication would be if Kılıçdaroğlu – the candidate of a six-party opposition – lifted Turkey's veto on Swedish Nato membership, possibly as early as the Nato summit in Vilnius in June. There are already signs that, with Finland now permitted entry by the Turks, Erdoğan himself knows the benefit of continuing to veto Sweden over what it claims – and Sweden denies – is the harbouring of Kurdish terrorists will soon have served its electoral purpose.
But Nato would also welcome a restoration of the prestige of the Turkish ministry of foreign affairs – as promised by the opposition – so western diplomats are less prone to being blindsided by Erdoğan's kind of mercurial negotiating tactics over Nato, or indeed over Greece, Libya and Cyprus. A more institutionalised foreign policy may also make it less transactional.
Kılıçdaroğlu, facing huge domestic economic problems, has indicated he would like to shed the anti-US rhetoric and return to parliamentary democracy as a route to reopening EU accession talks. "We reject the confrontational style of the current government," said Ünal Çeviköz, the chief foreign policy adviser. "We want a Turkey that is perceived as a like-minded member of the western states community."
But the small print reveals some of the policy distinctions are more blurred than the headline. Çeviköz, for instance, says Erdoğan's purchase of the Russian S-400 missile defence system in 2017 was "a big mistake and we paid dearly for it", a reference to the US subsequently pushing Turkey out of the joint F-35 fifth-generation fighter jet programme, as well as from the purchase of F-16s. But he stops short of giving up the Russian weapons system.
Optimists hope that if Erdoğan is re-elected, the pervasive anti-American conspiracy theories he purveys will be shown to be just to shore up his nationalist vote. But anti-Americanism has been fed for a long time by the Turkish president. When the US ambassador to Turkey, Jeff Flake, met the opposition in March, a quite normal diplomatic exchange, Erdoğan vowed to "teach the Americans a lesson" and accused the west of tampering with the Turkish elections. He said: "They say they are against Erdoğan, but hostility towards me is hostility towards my people – and my people will thwart this plot." The interior minister, Süleyman Soylu, has claimed Çeviköz is a US agent who reports to Washington on the Cyprus question.
In an interview with the German newspaper Die Zeit, Erdoğan's longstanding foreign policy adviser, İbrahim Kalın, indicated how ingrained independence from western foreign policy has become. "I think the west is alienating itself from the rest of the world. It is losing control," he said. "In many questions: the war in Ukraine, dealing with China, migration, the fight against terrorism, the fact that the economic weight of the world is shifting from west to east."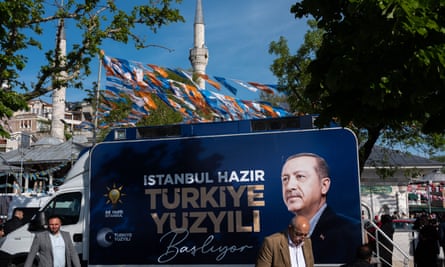 Kalın routinely criticises Russia's invasion, but also seems to accept it must be rewarded. "This war will not end with positional gains, but with a new security agreement between the two global blocs," he says.
Equally, Çeviköz knows Kılıçdaroğlu cannot afford to alienate Russia given Turkey's dependence on Russian imports, so he also talks about a new security architecture in Europe. At best, a new government might dampen the Turkish enthusiasm, showing up in the latest trade figures, for acting as a conduit between sanctions-hit Russia and western traders. Trade between Russia and Turkey, which has not joined sanctions, has increased by more than 110% since the war started.
Nor would the west find Kılıçdaroğlu's Syria policy necessarily more palatable than Erdoğan's.
Both camps have indulged in anti-refugee rhetoric, saying they want to return all Syrians to their homeland, but the opposition has set a demanding deadline of achieving this within two years of being elected. "What are 3 million Syrians doing in our country? Our children cannot find jobs," Kılıçdaroğlu has complained. He says this return will be achieved voluntarily "by getting assurances from the Damascus government that returning refugees will not be persecuted there", but does not set out how such assurances would be policed.
At the same time, the opposition has secured the support of the pro-Kurdish Democratic Peoples' party (HDP), which advocates for the complete withdrawal of Turkish forces from north-west Syria and the establishment of autonomous Kurdish-dominated areas in northern Syria.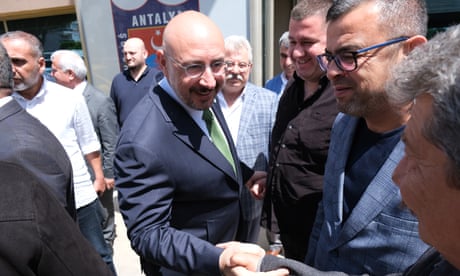 Kılıçdaroğlu can only square these many circles by saying he can extract political concessions from the Syrian president, Bashar al-Assad, that are currently unavailable. Çeviköz says the absence of trust between Erdoğan and Assad has made such concessions impossible so far. He even hints at withdrawal of Turkish troops "if we are sure that Syrian territory no longer poses a threat to Turkey and that border protection is functioning, then we can talk about the military presence".
In the short term, Erdoğan will claim the opposition is soft on Kurdish terrorism, but Erdoğan has been moving towards normalisation with Assad for more than a year. At a foreign ministers meeting in Moscow, Turkey is tabling proposals that in effect require the withdrawal of US troops from Syria.
Those hoping these elections will be remembered as the moment Putin lost Turkey may be in for a rude awakening. Few have made money betting against Erdoğan, and even if he loses, the coalition led by a politician that has visited Washington just twice in 10 years, has a lot of work ahead to clarify its thinking.