UK foreign secretary to visit China in effort to stabilise turbulent relations
2 min read
The British foreign secretary, James Cleverly, will visit China on Wednesday, the Chinese foreign ministry has said, in a long-awaited trip seeking to stabilise a turbulent relationship that has sunk to its lowest point in decades.
"The two sides will have in-depth exchanges on issues of concern," the spokesperson Wang Wenbin said on Tuesday when asked about the visit at a regular daily press briefing.
"We hope that the British side and the Chinese side will work together to uphold the spirit of mutual respect, have in-depth exchanges, enhance understanding, and push forward the stable development of Sino-British relations."
Wang said it was "in the common interest" of both nations to develop bilateral relations.
Cleverly was expected to visit China towards the end of July but the trip never materialised and his then counterpart, Qin Gang, was later replaced with the veteran diplomat Wang Yi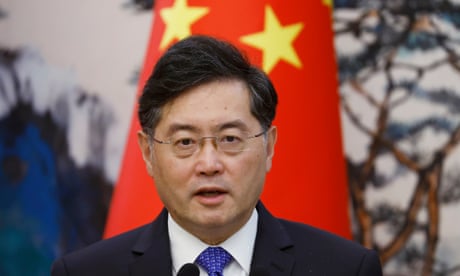 He would be the first British foreign secretary to visit China in five years, as relations soured during the Covid pandemic over issues including Beijing's crackdown in Hong Kong and its treatment of Uyghur Muslims in Xinjiang.
Cleverly will have separate meetings with Wang and the vice-president, Han Zheng, according to people familiar with his plans.
The UK government has taken a relatively hawkish approach to China, with the prime minister, Rishi Sunak, declaring in May that Beijing poses the "biggest challenge of our age to global security and prosperity".
The Times reported on Tuesday that Sunak was "open" to meeting the Chinese president, Xi Jinping, at next week's G20 summit in India.
Sunak is under increasing pressure from some figures in his ruling Conservative party who are seeking to harden London's policy on China, but the UK is also looking to shore up its diplomatic engagement and economic ties with China post-Brexit.