Ukraine troops have recaptured key village of Klishchiivka near Bakhmut, says Zelenskiy
3 min read
Ukraine says its forces have recaptured the tactically important village of Klishchiivka in the west of the country, in what would mark Kyiv's second notable counteroffensive victory in three days.
"Today I would like to particularly commend the soldiers who, step by step, are returning to Ukraine what belongs to it, namely in the area of Bakhmut," Volodymyr Zelenskiy said in his nightly video address on Sunday.
The Ukrainian president praised the soldiers fighting near Bakhmut and singled out those who had retaken Klishchiivka, saying "Well done!" in his address. He also said Kyiv was "preparing new defence solutions", adding that "air defence and artillery are the priority", without providing details.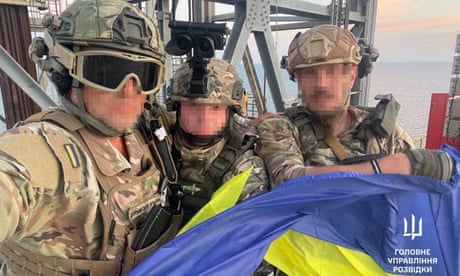 On Sunday afternoon photos circulating on Ukrainian Telegram channels showed soldiers waving yellow and blue flags among the ruins of Klishchiivka.
Confirmation of the village's recapture came at about 7pm when Zelenskiy's chief of staff, Andriy Yermak, published a photo on Telegram with the caption "Ukraine always reclaims what is rightfully its own".
Hanna Maliar, a deputy defence minister, shared a video of Ukrainian forces and the sound of fighting in the background. Russia was still trying to regain lost positions despite Klishchiivka's liberation, she wrote on the Telegram messaging app. "Today we had to fight off enemy attacks all day."
Col Gen Oleksandr Syrskyi, the commander of Ukraine's ground forces, also confirmed the recapture of the village, which Russia took control of in January. It had a pre-war population of about 400 and is approximately 6 miles (9km) south of Bakhmut, the city that fell into Russian hands in May after months of heavy fighting.
"Klishchiivka was cleared of Russians," Syrskyi posted on social media.
Ilia Yevlash, a spokesperson for Ukrainian troops in the east, said the battle inflicted "powerful damage" on Russian airborne units, the Akhmat battalion of the Chechen leader, Ramzan Kadyrov, the Storm-Z unit made up of Russian criminals, the Russian general staff's military intelligence and motorised rifle units.
"So now we have gained a base that will allow us to continue to develop offensive actions and liberate our land from the invaders," he wrote on Telegram.
The capture of the village would allow Ukrainian forces to advance more easily towards Russian forces and deliver more accurate artillery strikes, Yevlash added.
The announcement follows the recapture of the small village of Andriivka on Friday. Kyiv launched its effort to wrest back territory controlled by Moscow in June after stockpiling western-supplied weapons and recruiting assault battalions.
Both settlements were substantially destroyed in months of fighting for Bakhmut. Their recapture coincides with Zelenskiy's upcoming visit to the US, his second visit since Russia's full-scale invasion began.
The advances came as two senior western figures cautioned against hopes of a swift end to the conflict.
The US's highest-ranking military officer said on Sunday that Ukraine's broader goal of ousting Russian forces from its territory faced a "very high bar". Gen Mark Milley, chair of the joint chiefs of staff, said: "It'll take a considerable length of time to militarily eject all 200,000 or plus Russian troops out of Russian-occupied Ukraine. That's a very high bar. It's going to take a long time to do it."
The Nato secretary general, Jens Stoltenberg, said there would be no swift end to the conflict. "Most wars last longer than expected when they first begin," he told Germany's Funke media group.
Ukrainian forces have been conducting offensives north and south of Bakhmut for several months in order to dislodge Russian units. Ukraine military analysts said this week the liberation of settlements near Bakhmut would allow the military to advance from the southern flank in the area, gaining control of the heights.
Ukraine said on Monday its forces had recaptured small clutches of land from Russian forces in the south and east of the country, where Kyiv's troops have focused the months-long counteroffensive.
"Two sq km were liberated in the Bakhmut sector. Defence forces in the south liberated 5.2 sq km of territory," Maliar told state media.
Kyiv began pushing back against Moscow's forces in the south and east of the country in June after building up western weapons and recruiting assault battalions. Ukrainian forces initially focused on the northern and southern flanks of Bakhmut and have since been posting incremental gains.