When a Northumberland couple opened up their village home to a Ukrainian mother and her two daughters last year, they were responding to the plight of refugees escaping the Russian invasion. Having been told no more than that this was a musical family, Sheilagh Matheson and Chris Roberts offered two bedrooms and a honky-tonk piano.
Soon they found themselves arranging the loan of a Steinway upright after discovering that these children had an extraordinary musical talent – one that made passersby stop to listen at an open window.
Both girls have now received scholarships to two of the UK's foremost music schools, less than a year after fleeing their home near Kyiv to start new lives in Corbridge, not far from Newcastle.
Khrystyna Mykhailichenko, 17, has been awarded a full bursary for four years to study piano at the Royal Academy of Music in London. Her 12-year-old sister, Sasha, a violinist, has a scholarship to become a weekly boarder at the Yehudi Menuhin School near Leatherhead in Surrey.
When Khrystyna played the Chopin Ballade No 1 to me recently, it was as if she was channelling the burdens of a hard life
Jonathan Freeman-Attwood, Royal Academy of Music
Both feel that classical music helped them to face the trauma of abandoning their home with their mother, Nataliia. They lived in Poland for three months before arriving in Corbridge last June as part of the Homes for Ukraine scheme.
Matheson, a semi-retired broadcast journalist, lives with her husband, a national director of the Skills Funding Agency, in an end-of-terrace five-bedroomed house.
She told the Observer that they themselves are not musical, but that the Ukrainians' music-making in their home has been "absolutely unbelievable": "You run out of superlatives. When the windows are open, you see people walking by and they just stand there."
Joking that their honky-tonk piano is worthy of "a smoke-filled room with men drinking pints and singing Roll Out the Barrel", Matheson said: "All we knew before they arrived was that they were a musical family. A few days before, I was sent a film of Khrystyna playing Tchaikovsky's Piano Concerto No 1 [aged just 14]. I thought, 'ah, right, we're in a different league here'.
https://www.youtube-nocookie.com/embed/Q2Xsv__mQbc?start=5&wmode=opaque&feature=oembed&start=5Khrystyna Mykhailichenko playing Tchaikovsky's Piano Concerto No 1.
"So I scuttled around trying to find access to a grand piano she could practise on. The musical fraternity in Northumberland, of which I am not part, were incredibly helpful. A couple contacted us and said, 'we've got a Steinway upright that you can have'. That was duly delivered."
The girls and their older brother, Danylo, 25, were born in Simferopol in Crimea, from where the family fled in 2014, when the Russians took control. They moved to Irpin, near Kyiv, only to lose their father, Gennady, a professor of Ukrainian literature, in a fishing accident a year later.
Irpin was laid waste to by Russian forces. Danylo is still in the family home, without running water and limited electricity, and his mother and sisters fear for him.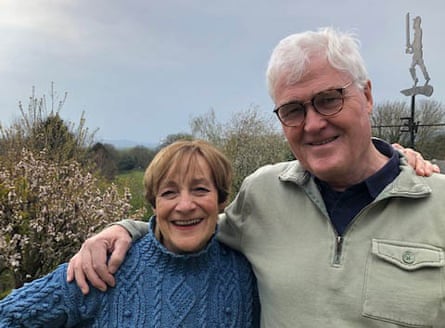 Matheson said: "Nataliia has a friend who was shot and injured trying to escape, and another friend's husband died in the war. Now there's a probability of conscription. One friend's son hasn't left the house for six months because he's terrified of being swept up."
Khrystyna began learning the piano aged four, and her parents soon realised she had an extraordinary gift. Within a few years, she was winning international competitions and giving concerts.
She said: "When I was in Ukraine, I used to imagine going to the Royal Academy, because of its worldwide reputation, and we knew all about the Yehudi Menuhin School. But we never, ever thought our dreams of studying in those places would become a reality."
Jonathan Freeman-Attwood, the Royal Academy's principal, said: "Khrystyna Mykhailichenko is an extraordinary talent of rare maturity for her age. She came and played the Chopin Ballade No 1 to me recently and revealed what a serious artist she is, almost as if the burdens of a hard life were being channelled through her playing. This was well beyond the carefree virtuosity one hears in this piece so often. It also had real grip and originality."
Ashley Wass, the Menuhin School's director of music, said: "Sasha is a wonderfully talented and high-achieving musician, which is inspirational, especially given the challenges she has faced."
The Mykhailichenko family now hope that someone will open up their home in the Leatherhead area,so that mother and daughters can be reunited on weekends and in holidays.
Nataliia has two university degrees but she is prepared to take any job. She currently volunteers at a food bank and for a charity for adults with special needs.