Chinese ambassador Xie Feng and 'friend of China' Henry Kissinger among speakers at annual gala of the National Committee on US-China Relations
Xie says both sides should respect the other's core interests, including the issue of Taiwan
As US-China relations appear increasingly fraught despite a recent flurry of diplomatic engagement, Beijing's top envoy to Washington said a conflict between the powers should "never be allowed" and decoupling the world's largest economies will "never work".
Addressing the annual gala of the National Committee on US-China Relations in New York on Tuesday, Xie Feng, China's ambassador to the US, described reversing the downward spiral in bilateral ties as a "shared wish" because "messing up" the relationship would serve nobody's interest.
He said that next year – when China and the US mark 45 years of the establishment of diplomatic ties – the two countries must find a "right way" to get along.
Xie predicted that the US-China relationship would continue to be "the most important bilateral relationship in the world" and said "neither side can transform or displace the other".
China restricts critical metal exports following Western semiconductor curbs in latest trade war
He also read out a letter from Chinese President Xi Jinping, who is expected to meet his American counterpart Joe Biden at the Apec leaders summit in San Francisco in November.
In his message, Xi called for mutual respect, peaceful coexistence and win-win cooperation to "advance mutually beneficial cooperation to properly manage differences, jointly address global challenges". Xi said China was ready to work with the US.
Xie said the three principles outlined by President Xi represented China's long-term and fundamental approach to US-China ties, and remained a "guideline for exploring the path forward".
"Among these, the most important thing is that we should respect each other's core interests. And among which, Taiwan and other questions that are important and sensitive, and should be handled in a prudent way, in accordance with the one-China principle," he said.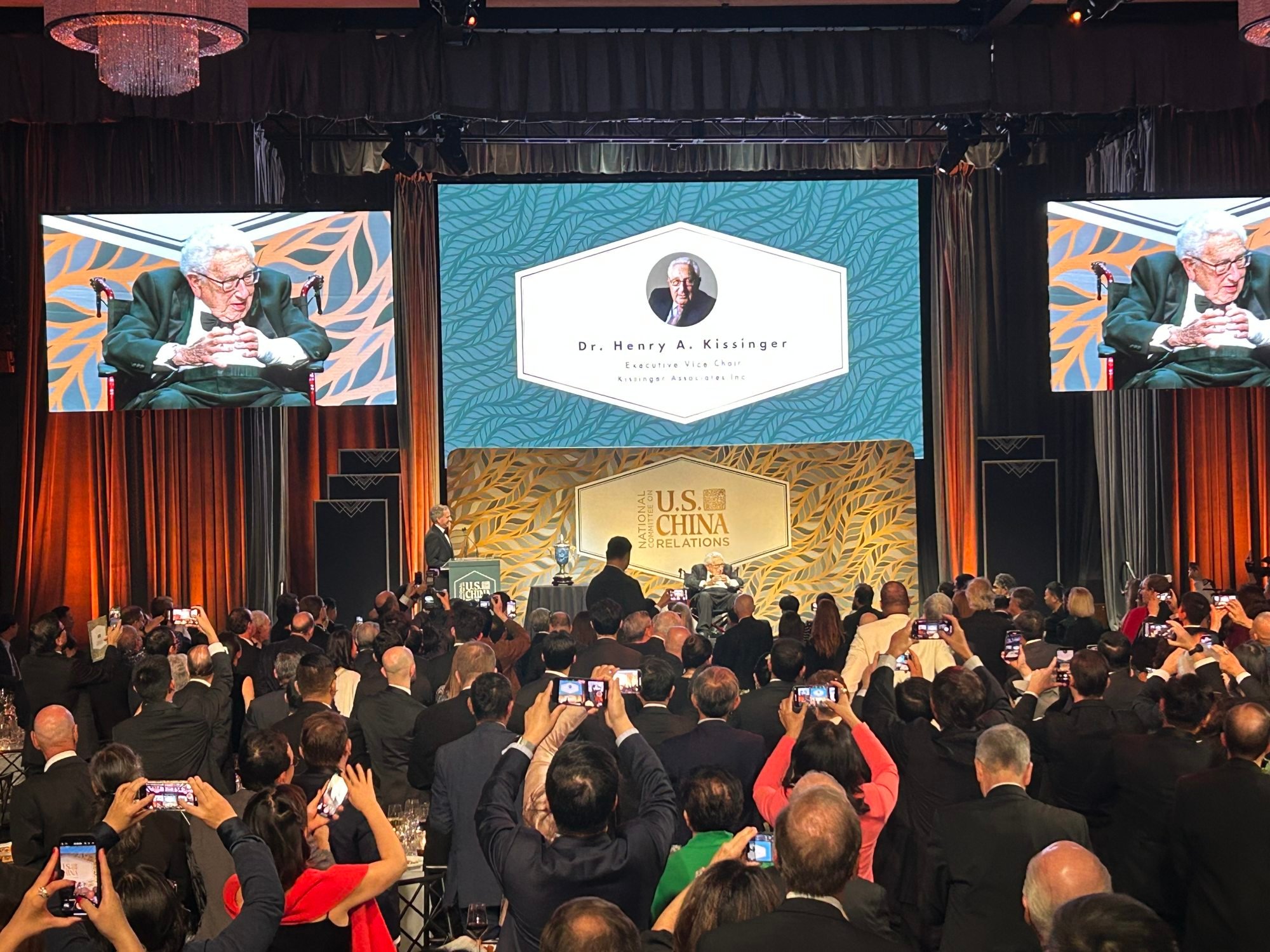 Also present at the event was former US state secretary Henry Kissinger, who was this year's honoree.
The 100-year-old "friend of China" met Xi during a "private trip" to Beijing in July. In his speech at Tuesday's event, Kissinger warned that the two countries had a "unique ability to bring peace and progress to the world" and a "unique ability to destroy the world if not together". He advised Washington to avoid "giving an impression that we are walking away from the one-China policy".
On Monday, Xie attended a signing ceremony for the purchase of US farm goods in Des Moines, Iowa – an event that used to be common but that ended when former US president Donald Trump began the US trade war with China in 2018. The last such ceremony was in 2017.
"It is the warm-hearted, hard-working and open-minded American people, just like those of Iowa, who define what America surely is," he said on Tuesday.
Xie replaced Qin Gang as ambassador to the US after Qin was named foreign minister in January. Qin has since been ousted from his position for undisclosed reasons, and replaced by his predecessor Wang Yi.
Since taking the post in May, Xie has urged the Biden administration to take "practical steps" to repair the frayed US-China relationship. Before US Commerce Secretary Gina Raimondo travelled to Beijing in August, Xie highlighted the need to "overcome difficulties together in the same boat" through expanding "areas of cooperation".
China treats 'old friend' Kissinger to a lavish lunch
Earlier that month, Biden signed an executive order to restrict US venture capital and private equity investments in several Chinese hi-tech sectors.
On Tuesday, Timothy Geithner, former US treasury secretary, read out a message from Biden at the gala in which the US president said: "America will also continue to responsibly manage the competition between our countries as we advance our mutual vision for a free, open, secure and prosperous world."
He said the US remained committed to partnering with any nation that shared its "devotion to protecting the international institutions and rules of the road that have helped safeguard global security and prosperity for decades".
Despite resuming dialogue, US-China tensions have remained high – especially over Washington's moves to block Beijing's access to American technology and investment.
Just last week, Biden tightened curbs on China's access to advanced semiconductor technology necessary in the application of artificial intelligence.