Was 'the first man to reach the North Pole' a fraud?
4 min read
Who was the first person to reach the north pole? According to American adventurer Frederick Cook, it was him. But now a new book will set out the evidence that the explorer's 114-year-old claim was an instance of fake news on a global scale.
In The Explorer and the Journalist, author Richard Evans has examined the greatest scandal in polar history, reigniting a debate that has smouldered since September 1909, when Cook, who had been missing for a year, sent out a telegram announcing he had reached the pole in 1908.
The son of German immigrants, Cook grew up in the foothills of New York state's Catskill Mountains. He quickly became a popular hero, embraced by scientists because of his humble attitude and the credit he gave to the Inuit. "He had a mild manner that made him seem genuine and believable," said Evans. "And he was seen as a kind of antidote to all the big personalities of other explorers, like his fellow American Robert Peary, and the Norwegian Roald Amundsen."
Cook's eventual undoing came in the shape of a British journalist, Philip Gibbs, who was sent by his newspaper, the Daily Chronicle, to secure the first interview with the triumphant American. Tracking him down to his berth on a boat off the coast of Denmark, Gibbs joined Cook for a fateful breakfast in the dining saloon, writing in his memoir: "I was favourably impressed by the first appearance of the man who says he reached the pole.
"Here, surely, was a typical sea rover. Under his Danish cap there was a mass of shaggy fair hair, a pair of smiling blue eyes, and a florid face with a powerful nose and a large mouth which, when he smiled, showed broken teeth. An honest face, surely, if any face is honest."
Gibbs was keen to get the polar scoop. But as the putative explorer started to avoid the topic of his exploits, the reporter's doubts grew. Cook had already made his name as part of the Belgica expedition, the first group to over-winter in Antarctica. And on that southern trip he had earned a favourable reputation by prescribing fresh meat to fight off scurvy and coming up with an idea to free the boat from ice. Also on board the Belgica was a young Amundsen, who remained a lifelong admirer of Cook even after scandal struck.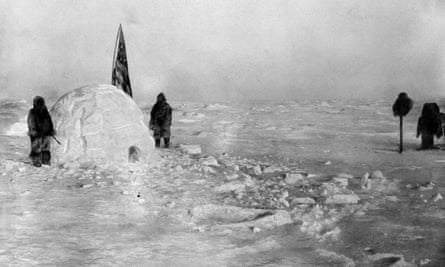 "I read Gibbs's memoir about six years ago and it kept drawing me back," said Evans, whose book was published last week. "I have set my book in Copenhagen in that year because at that moment it was like the centre of the world, with all the rival polar explorers and their backers in one place. Most journalists would have given their eye teeth for the kind of early access that Gibbs got. But although the Scientific Society in Copenhagen really believed Cook, Gibbs pushed on with his doubts and got his paper to publish this potentially libellous piece, suggesting that Cook was lying."
When Gibbs filed his sceptical, explosive accusations he was 32 years old and on his fifth job in Fleet Street. The Cook story permanently elevated him to the rank of the leading British journalists of his day. Polar scholars have obsessed over details of the competing claims ever since. But after assessing the case and laying out the counterclaims, Evans concludes Gibbs was on to the truth: "For what it is worth, I agree."
Lack of evidence was Cook's main problem. He had told Gibbs his notes would prove his claim, but said he had given them to someone to take to New York. Conclusive documents never materialised.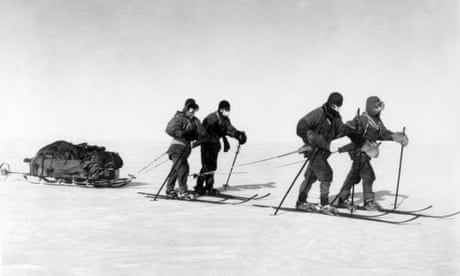 To complicate matters further, days after Cook got to Copenhagen, his former friend Peary also announced he had reached the north pole. Peary soon accused Cook of lying, while Cook attempted to rise above the allegations. Today, many believe both men were lying.
Cook went back to America to ride out the reputational storm, earning big money as a lecturer, but questions about his honesty persisted. Before his north pole expedition, he had been best known as the first person to reach the top of Mount McKinley – now called Denali – in Alaska. But when doubters looked back at this claim it seemed that the photograph of the summit Cook had submitted looked just like another much lower one in the range.
Some people still argue that Cook did reach the pole, and he himself spent the rest of his life trying to establish his claim. He went on to become a Texas oilman and was later accused of fraud, spending six years in prison.
While the race to the south pole has a clear winner in Amundsen, the truth about the race to the north pole is uncertain.
Some now give the credit to Amundsen once more, because he flew over it in an airship in 1926. American Ralph Plaisted reached it on a snowmobile in 1968 and British explorer Sir Walter Herbert got there on foot a year later.